Relax old wrinkles and stop new ones! Botox is the only treatment that works 100% of the time and no other place does it better but Skinly!
Botox is so popular that at Skinly the average patient is just 24 years old at the time of first Botox treatment. While initially it was considered a predominantly female oriented procedure, it has surpassed gender boundaries and now approximately thirty percent (30%) of the patients are men.
There is no better way to maintain a naturally attractive look than with the help of a safe and clinically proven miracle called Botox Aesthetic here at Skinly! It is the most natural, safe and effective way to eliminate the wrinkles and rewind the clock for a younger, more beautiful you.
Dubbed "lunchtime procedure" it will take only a few minutes to administer after the consultation is complete.
Dr. Schwarzburg, Skinly's leading physician, is the only and ultimate authority in New York when it comes to Botox treatment and other minimally invasive procedures with safest and most innovative techniques. You can rest assured that the treatment you receive will be exquisitely tailored to ensure you look your absolute best!
Botox NYC and Botox Injections
Botox is a well known neurotoxin that can be injected into a variety of muscles, primarily in the face, to prevent and eliminate fine lines and wrinkles, slim down the jawline, and even treat certain medical conditions such as hyperhidrosis (excessive sweating), chronic migraines, and TMJ. Dr. Schwarzburg, deemed one of the best botox doctors in NYC, provides extensive botox services at his cosmetic spa on the upper east side.
Most people are familiar with Botox NYC treatment to treat wrinkles in the face, around the forehead, between the eyebrows, as well as around the eyes and nose. What many people do not know is that botox is not only used for cosmetic purposes, but is also frequently used as a medical treatment for chronic headaches, sweating, and muscle tightness, particularly around the jaw area. Aside from botox, there are a few other neurotoxins on the market, including Dysport, Xeomin, and Jeuveau, that function the same way as botox but have different chemical compositions. Because botox was the first neurotoxin on the market, it is still the best known product and most commonly used product to treat anything from wrinkles in your face to excessive sweating in your feet.
Who invented botox?
Botox was invented in 1989 by dermatologist Alan Scott who sold the rights to the product to pharmaceutical company Allergan in 1991. Today, botox has become extremely popular, and the process of finding a good botox clinic has become much easier in larger metropolitan regions, such as New York. It is important to understand that finding dermatology clinics that offer some of the best botox in their area still requires research to confirm that where you are getting treated is a reputable place. You can do this by looking up "the best botox injectors near me," and looking into the clinic's reviews, before and after photos, and exploring the doctor's background and experience. This popular neurotoxin is now completely ubiquitous and is used by not only celebrities, but everyone from your mother, friends, and family, to your neighbors.
Who makes botox and where does botox come from?
Botox is manufactured by pharmaceutical company Allergan and new botox is distributed to botox clinics, such as Skinly Aesthetics. It will then be injected by Dr. Schwarzburg, MD, who is one of the best botox and fillers injectors in New York City. While botox is the most popular neurotoxin, there are a few other neurotoxins that serve the same purpose, such as Dysport, Xeomin, and Jeuveau, which have slightly different chemical compositions, but can be used interchangeably with botox.
What is botox made of?
Botox is made from botulinum toxin type A, produced by the bacterium Clostrium Botulinum. Botoxin is injected into specific muscles to paralyze the muscle and restrict muscular contractions that occur when making certain facial expressions, leading to prevention and elimination of fine lines and wrinkles. Botox is one of many neurotoxins that all work to paralyze the injected muscle, restricting muscle contractions and relaxing the muscle. While botox is the most commonly known neurotoxin, Dysport, Xeomin, and Jeuveau, are all neurotoxins that have slightly different chemical compositions, but work the same way that botox does, by paralyzing the muscle in which they are injected, reducing fine lines, wrinkles, sweating, headaches, and more.
What areas can you get botox injections in?
Botox can be injected into several muscle groups in the face and throughout your body. In the face the main muscles injected for wrinkle reduction are the frontalis muscle, located on your forehead, the corrugator and procerus muscles between your eyebrows, the orbicularis oculi muscle around your eyes, and the nasalis muscle in your nose.
These muscles are located on the top half of your face and are where most of your wrinkles will form, however, botox can also be injected in other muscles located on the lower half of your face, to reduce the size of your jaw, give you a lip flip (flip the top lip up a bit, often administered on people who don't want to get a full lip filler yet), and in your chin. Botox can also be injected into your neck for a non-surgical neck lift and tightening.
BOTOX FOR FOREHEAD WRINKLES
Getting botox for the horizontal lines on your forehead is one of the most popular botox treatments as the frontalis muscle in your forehead is often very active. You may have eyebrow wrinkles or a horizontal line through the eyebrow which can be easily eliminated with botox and filler if the lines are deep and no longer amenable to correction with neurotoxin. Constant facial contractions and facial expressions are what create these lines in the first place. When you raise your eyebrows and see the lines, they may not be visible when your face is completely relaxed, but over time will form more permanent lines, and eventually turn into deeper wrinkles, called static rhytids.
This is why botox is frequently used even by the younger population, like people in their twenties, as a preventative measure to avoid the transformation of dynamic wrinkles in the long run into static and irreversible lines. If you want to see what the results look like, there are plenty of before and after photos online that demonstrate the significant effects of botox on forehead wrinkles.
What is the glabella?
The glabella is the muscular complex located between your eyebrows, and is made of the procerus, which is triangular in shape and corrugators, which are slightly slanted and run along and slightly above the eyebrows. When this muscular unit is strong and overactive it leads to development of glabellar lines through constant facial contractions such as frowning, which can be treated with glabella botox. If left without attention, over time they have a tendency to develop into pesky and irritating lines and wrinkles that are formed because of decades long strong facial movements. These dynamic lines that we see in our faces while we make these facial expressions eventually stay and may even develop into deeper wrinkles. In this case, you can get botox between your eyebrows, which will not only eliminate or reduce the appearance of these frown lines, but prevent them from getting worse.
You can go online and look up "glabella botox before and after photos" or "botox between eyebrows before and after" to check out the incredible results that can be seen after glabella botox. Botox injected slightly below the area between your eyebrows, and more specifically botox between your eyes in the nasalis muscle, will eliminate the lines that appear when you scrunch your nose, often called "bunny lines", which go hand in hand with the glabellar region. If you get the neurotoxin for your frown lines, you may notice your nose scrunching up more when you frown and once the effects start to show, as your nasalis muscle sometimes compensates for the now relaxed procerus. In this case, it would make sense to get both areas treated, to avoid the formation of bunny lines after treating the above lying frown lines.
BOTOX INJECTIONS FOR CROWS FEET
Just like the lines and wrinkles on your forehead, most people develop crows feet lines through smiling and squinting. In order to prevent crows feet or remove crows feet, you can get botox injections to relax the muscles around your eyes and restrict movement and the formation of lines around them. Crows feet wrinkles are common and can also become more intense through excessive sun exposure and damage. If you are wondering how to fix, remove or reduce crows feet, there is a specific and advanced botox for crow's feet injection technique that is used by physicians to fix this nuisance once and for all.
Smiling is one facial expression that everyone makes, which is why crows feet are so common. In some cases for crows feet treatment, your doctor may use a filler, such as Juvederm, for crows feet. A filler will only be used if the lines are very deep, in which case crows feet botox alone will not entirely eliminate the lines. While consulting with your doctor, they will be able to establish if you need crows feet botox or fillers, based on the activeness and strength of the muscles around your eyes, and the depth and severity of the wrinkles. If you do get filler for crows feet, make sure that you are getting it together with botox for crows feet, not for bags under your eyes, which is another popular procedure involving under eye filler.
There are a few crows feet botox injection sites, so depending on the intensity of your wrinkles, your injector will know exactly where to place the medicine. It makes perfect sense to additionally look up before and after photos depicting fillers for crow's feet to see the difference that a filler can make and how deep the lines are in the before photos to evaluate your own crows feet and see if you are a candidate for fillers along with your wrinkle relaxer.
How long does botox last on crows feet?
It generally lasts 3 – 5 months long, depending on how your body responds to it. If you are someone who squints or smiles a lot, it is possible that the botox will wear off sooner rather than later. Also keep in mind that it takes 3 – 5 days to see botox results, so day by day your crow's feet will begin to disappear.
If you look at crows feet before botox treatment photos and then the ones after the muscle has relaxed you may notice that the results vary. Some people don't necessarily want the muscles around their eyes to be completely frozen and paralyzed. Many people have an unfounded general concern about crows feet botox affecting one's smile, which can be accurate, but only in the sense that you won't have wrinkles around your eyes when you smile after receiving the treatment, not that your actual smile will change and will become objectively different.
If you are looking to prevent crow's feet from forming if you don't already have them, you will likely only need a few units of this injectable solution. There is no specifically set number of botox crows feet units, or how many botox injections are needed for crow's feet. What helps crows feet for one person may not help another. Everyone has different activity levels in their facial muscles and have different facial movements that affect the intensity of their wrinkles. In addition, sun exposure and other factors can largely contribute to how deep your wrinkles are and how many units you will need to eliminate them.
How much does botox for crow's feet cost?
Correction of crow's feet, also known as periorbital rhytids is a complex procedure which requires extensive training to understand all the anatomical intricacies required to produce excellent results. It is most important to consider the qualifications of your provider when seeking advanced procedures rather than cost alone. In some dermatology clinics the cost is calculated per area injected and the usual cost for crow's feet runs anywhere from $250 to $500 per area. In other practices the cost of crow's feet injections is calculated per unit. It takes anywhere from 10 to 30 units for an effective treatment and most facilities charge anywhere from $12 to $20 per units and hence the overall price can range between $120 to $600 to achieve desired results.
Some places will happily tell you the exact cost prior to coming, but others may require a consultation with a physician before quoting the final cost. Whatever the case, you need to make sure that you go to a reputable place over the cheapest place to ensure that you get your treatment from some of the best and vetted Botox doctors in New York.
BOTOX UNDER EYES
We know that botox can be injected into the muscles around the eyes to reduce lines and wrinkles formed over time through constant facial expressions. Some people think that it can be effective to eliminate dark circles around the lower aspect of their eyes, which unfortunately is not the case. Will botox fix bags under the eyes? The answer is no. Botox for eye wrinkles works because as it is injected into the inferior palpebral muscle, the muscle becomes relaxed, leading to decreased muscle contractions and muscle weakening and in turn, fewer wrinkles.
Botox for sunken eyes or botox for puffy under eyes, however, does not work, because dark circles under eye eyes are usually caused by loss of volume in the fat pads in that area. For that reason, relaxing the muscle around the eye will not address the issue. Before you turn to botox for dark circles under your eyes, speak with your injector and explore different filler options that may be available to you.
A common filler used for under eye hollowness is Restylane, but there are multiple hyaluronic acid fillers that will do the trick. Just to understand the difference between getting botox for under eye circles and filler for under eye circles, you may want to check out various online forums that discuss topics of "botox under eye bags before and after" vs. "fillers for dark circles under eyes before and after", which may clarify the difference. If you still have doubts or need additional clarifications, it's a good idea to consult a board certified physician with extensive experience in these procedures.
Can you get botox under your eyes?
Yes, you can absolutely get botox under and around your eyes. While injecting botox to improve the appearance of eye bags will not give you the most optimal results you are looking for, aside from botox for crow's feet, you can get under eye wrinkles botox injections, which can eliminate the very tiny lines directly under your eyes in the lower palpebral area.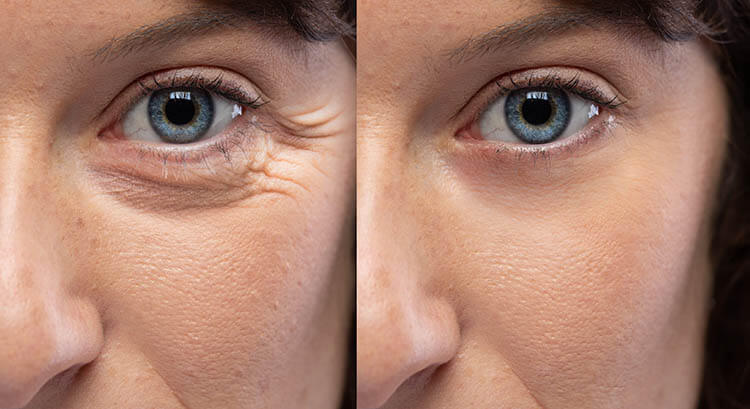 NECK BOTOX
One area prone to aging that is often neglected is the neck. Many of us focus on facial skin care but overlook the damage that aging causes to our necks. In order to prevent and reduce loose skin, bands and lines on and around the neck, botox is often injected in the platysmal bands, which when flexed, can protrude outwards, causing our skin to stretch over time. Loose skin on the neck is quite prevalent among the older population and can be caused by excessive exercising, tension in the platysma bands causing the skin to stretch, and weight gain and loss around the chin and jaw.
If you want to eliminate neck lines with botox, speak with your doctor to see how many units are appropriate for you. Neck botox injections are not only to prevent and eliminate lines and wrinkles, but can help with muscle spasms and pain. Botox for muscle spasms in the neck is injected into the sternocleidomastoid muscle as it can often get tense from exercise, or sitting slouched over a desk while working.
BOTOX BROW LIFT
On the upper half of your face, you can either get botox for wrinkles or you can get specific botox placement for a brow lift.
What is an eyebrow lift and can botox lift eyebrows?
There is a general misconception that botox will make your eyebrows droop, which is possible if too much was injected, or through improper injection technique and placement. It's important to understand that there are specific botox injection sites that create an eyebrow lift by raising your eyebrows. If you look at before and after selfies of celebrities and TV personalities who had their eyebrows lifted with botox it's easy to recognize the effects and you can then make a decision whether an eyebrow lift is something you want to pursue. To successfully and safely elevate your eyebrows with botox requires a very specific placement and elaborate technique, it is incredibly important to find the best botox doctor in New York who is educated, experienced, and knowledgeable.
How to lift eyebrows?
While searching for good medical spas and cosmetic dermatology clinics, be sure to explore their websites and reviews, as well as their botox brow lift before and after photos. If the neurotoxin isn't injected properly, there is a possibility of your eyebrows being overcorrected or being raised too much, leaving you with "spock eyebrows" after botox injections. If you want to avoid the spock eyebrows botox look, just make sure that your physician is well rounded and versed on botox brow lift injection sites.
Aside from getting an eyebrow lift, you can also get procedures called "hooded eye botox eyebrow lift" or "botox eye lift", which can reduce the sagginess around your eyelids for a more lifted and rejuvenated look. This particular botox brow lift technique once again involves exquisite placement and should be administered by a skilled professional who knows exactly where to inject botox for a brow lift to get optimal outcomes that make you look your best. To get a better idea of what an eye lift looks like, you can search online for before and after pictures that demonstrate clearly the results you can expect with botox eye lift to get a better understanding and to guide your expectations.
How much is an eyebrow lift?
The cost of a brow lift varies and depends on your individual muscles, how active they are, and how many units you in particular need. The price in larger cities like New York could be different compared to smaller cities. Botox cost in NYC depends on multiple factors including experience of the physician and location of the clinic to name a few, but on average you will likely be spending between $200 and $400 for an eyebrow lift. As you search for the most reasonable botox brow lift cost, you will likely find some clinics that have a price list advertised on their website. Keep in mind that it is more important to find the best place for botox in NYC than it is to find the cheapest botox, because technique and expertise always trumps cost, especially when it comes to your safety and the look of your face. Low priced clinics may not be able to offer the expertise of well trained physicians and other practitioners.
BOTOX FOR A LIP FLIP
A lip flip is a minimally invasive lip enhancement procedure that involves the injection of a very small amount of botox (between 5 and 10 units) right above the top lip into the orbicularis oris muscle. Once the medication settles, the top lip is flipped upward slightly, making the lip appear fuller and more vertically extended. A lot of people opt for this procedure before they get their first lip filler, to test out the waters and see if a lip enhancement is right for them. Because a lip flip is usually very subtle, it is a great option for those who are not one hundred percent sure about getting a full lip filler and have other reservations about getting their lips enhanced with lip injections.
MASSETER MUSCLE BOTOX AND CHIN BOTOX
Botox is most commonly known for its aesthetic rejuvenating qualities to reduce fine lines and wrinkles in the face, around the forehead and eyes. But it can also be used for masseter reduction. The masseters are the muscles around your jawline responsible for mastication and chewing food and when very strong can make your face and jaw appear square or boxy. For face slimming, botox is injected into the masseters in order to relax the muscle and slim down the jawline. Jawline botox can also be used medically for TMJ to reduce excessive grinding of the teeth.
If you are looking for jaw reduction, you may have considered jaw reduction surgery. While face slimming surgery is effective, it requires surgical intervention, which often comes with a lot of possible risks, side effects, and down time. Instead, it is safer to opt for a non surgical jaw reduction. Masseter injections are a safe and effective way to reduce the size of your jaw with the added benefit of less tension and teeth grinding. Along with botox for jaw slimming, you can also get botox under the chin for a non surgical chin reduction. You can explore botox lower face before and after photos online to see the difference that it will make if you are interested in moving forward with the procedure.
Botox face slimming cost
The pricing for botox in the masseters and chin varies depending on how strong your muscles are. The number of masseter botox units is based on the strength of your muscles and can range anywhere from 20 units to over 100 units. Based on the number of units, the masseter botox cost may vary. For the chin, the average number of units is 20, but again, depends on how strong and bulky that muscle is.
MICROBOTOX
In some cases, only a minimal amount of botox or "baby botox" is needed to achieve a certain look. Micro botox works the same way as botox does, by paralyzing the muscle in which it is injected. So what is micro botox? Essentially, the neurotoxin is sometimes slightly more diluted with sterile water to treat smaller and more delicate muscles.
What is a micro facial?
One of the more common uses for microdroplet botox is to minimize pore size. The way that this works is by injecting sterile, diluted micro botox into extremely superficial layers (0.2 to 0.3 mm deep) of the skin in order to refine and decrease the size of the pores. This botox micro treatment is called the aquagold facial and can be found at a ton of medical spas. Do not confuse this treatment with botox acne treatment. Even though the aquagold facial is a facial and can give you glowing results, botulinum toxin does not eliminate acne. If you have acne, it is best to seek help from your dermatologist to find the proper treatment for you.
BOTOX FOR TMJ
Botox Aesthetic can be injected into the masseters for aesthetic purposes as well as medical purposes. Because TMJ botox treatment is considered a medical necessity, it is commonplace that botox for tmj is covered by insurance. You can speak to your doctor to see if this is an option for you and if your insurance provider covers botox for jaw pain. Botox injections for TMJ are very common because it is really the only thing that can help relieve a tight and locking jaw. The TMJ botox injection sites are under your injector's discretion and where they think is the most appropriate placement for you and your masseters.
BOTOX FOR MIGRAINES
Because the main purpose and function of botox is to relax the injected muscle, it is no surprise that it can work wonders for people with chronic migraines and headaches. Ironically, some people actually experience headaches after receiving botox injections, however this side effect is short lived and is only present immediately post injection fading away in a few hours post treatment. So is botox for migraines the same as cosmetic botox? Yes. However, the injection sites typically involve botox in the scap for migraines, while botulinum toxin used for wrinkle reduction and prevention is injected in different areas of concern. Does botox for migraines help with wrinkles? If it happens to be injected in an area in which you have formed wrinkles, then you will definitely see wrinkle reduction in addition to headache relief.
How many units of botox are used for migraine treatment?
The number of units for any botox related treatment is variable and depends on the individual. Everyone's muscles have different strengths and activity levels which will affect the number of units appropriate for each individual. On average, around 100 units of botox should be a sufficient amount to treat migraines.
How much does botox for migraines cost?
While the number of units of botox for migraine treatment can be variable, on average, it requires around 100 units. That being said, botox for migraines cost may vary depending on where you go to get it done. While some clinics have a set price per area, many clinics also charge by the unit and the average cost per unit is around $20. Some of these clinics also lower the per unit price as the number of units increases.
How long does botox last for migraines?
The effects of botox last between 3 and 5 months. Depending on your individual response to the neurotoxin, it may last more or less than 3 or 5 months. If you want to maintain your results then you should get regular treatments every 3 to 4 months, or whenever you notice the effect fading away and potency decreasing. Some people prefer to wait for the effects of the treatment to completely diminish, while others prefer to get their botox treatments regularly so they never lose the full results.
Is botox covered by insurance for migraines?
Because the cost of botox for migraines can get a little high, often requiring around 100 units, you may want to look into your insurance policy and see if you can get your treatment covered. Lucky for you, it is considered a medical treatment for botox and often is covered by insurance.
BOTOX FOR HYPERHIDROSIS
Hyperhidrosis is abnormally excessive sweating that can be caused by a variety of factors including genetics, medical conditions, medications, and hormonal imbalances. The nerves in your body that prompt you to sweat, typically are stimulated by heat and even spicy foods, but may sometimes overreact, which is what often causes excessive sweating. Botox NYC can be injected into these sweaty areas of the body to paralyze the sweat glands, ultimately stopping the production of sweat. Just like any other botox injection, the results should last you between 3 and 5 months, which may be the perfect amount of time to get through a hot and sweaty summer. Typical injection sites for botox for hyperhidrosis include the under arms, hands, and feet, but botox injections anywhere will reduce sweating, even if you are getting the treatment for forehead wrinkles or a botox eyebrow lift.
BOTOX FOR MEN
There seems to be a huge stigma against men getting botox. Some men feel like it is not masculine or that it will take away their character. But do men get botox? The answer is yes. The idea that botox will inevitably make you look unnatural or frozen is a myth that is easily debunked by looking at some of your favorite male celebrities with botox who just don't seem to age. You can get botox to prevent further wrinkling without losing the character and facial expressions that make you, you. Male botox in NYC and in other large corporate run cities is particularly popular because today looks do matter. Everyone wants to look good and maintain their youth, and that doesn't only apply to women. Cosmetic injections for men in general have become increasingly popular as people are becoming more aware and accepting that minimally invasive cosmetic procedures can look very natural if administered properly.
Male botox injection sites
While men can get botox anywhere, there are some areas for botox injections that are more popular amongst men, for example the forehead. Men's deep forehead wrinkles are common as men have stronger muscles, making them more active, which will speed up the development of wrinkles. Aside from neurotoxins, forehead fillers for men are also very popular for the same reason and because the bone structure in men is different. Another familiar area for men to get botox injections is in the chin, to relax the mentalis (the muscle in your chin), which is often very active and can create a deep chin dimple, which can sometimes create a "caveman-like" appearance. This also applies to the glabellar region between the eyebrows, in which deep wrinkles are also very prevalent in men, where botox for frown lines can be a great option.
In addition to cosmetic injections, there are also multiple medical conditions that can be treated with the botulinum toxin. One common issue amongst many men is excessive sweating, or hyperhidrosis. Hyperhidrosis is a condition in which your body produces excessive amounts of sweat, even when it isn't necessarily needed. In order to reduce or eliminate this problem that unfortunately can not be addressed with even the strongest anti perspirant, men often get botox injections in the areas of the body that produce the most sweat, including, but not limited to, the under arms or arm pits, the chest, back, hands, and feet. Botulinum toxin will paralyze the sweat glands, just like it paralyzes the muscle, making them incapable of producing sweat.
CAN YOU DRINK ALCOHOL AFTER BOTOX?
Alcohol after botox is completely safe and will not affect the efficacy of the treatment. The only time you may want to limit or forgo your alcohol consumption is before you get your treatment, as alcohol can act as a blood thinner, which may cause you to bleed and bruise more than usual. There is some scientific evidence that suggests that alcohol consumption immediately after botox injections can affect the efficacy of the treatment, however, it is not commonly reported. If you want to play it safe, skip the drinking on the day of your appointment and save it for the following day.
Natural Looking Botox Results in NYC
It is important to realize that while botox therapy has become ubiquitous and a household name, it is a very potent substance that requires a thorough and extensive education and training to produce safe and natural looking results. Additionally, a physician must possess a critical and artistic eye to produce truly remarkable outcomes. Every single patient is unique and while there are generally accepted guidelines for injections they only remain guidelines. Naturally appearing botox injections are always a result of a complete understanding of your individual anatomical structure and functional anatomy. It is important to educate patients about what botox can and cannot do to avoid unrealistic expectation and dissatisfaction with service. This is one of the reasons why credentials and experience of your provider matter, because the injections will not settle naturally if you are treated as an average person without taking into account your individual characteristics and parameters.
IS BOTOX SAFE?
Botox New York is FDA approved and comes with a limited amount of possible risks and side effects. The post care treatment plan includes no rubbing or touching, exercising, or heat on the treatment area for 24 hours after the injections.
Possible risks and side effects include bruising, non-target diffusion (migration due to rubbing or touching post treatment), headaches, muscle weakness, and redness, swelling, or rashes, which will subside if they occur. Bruising after injections can be addressed by icing the treatment area on the day of the treatment, followed by applying a warm compress and arnica gel on day two until the bruising subsides. While most people experience headache relief after injections (which is why it is often covered by insurance if administered specifically to treat headaches), a small percentage of patients may experience mild headaches on the first day of their botox injections. The pain should subside within 24 hours. Muscle weakness and numbness is expected after treatment since it literally paralyzes the muscles. This is something that you will get used to over time and eventually won't even notice anymore.
How long does the procedure take?
Botox treatment time lasts approximately 10 minutes if it is for one or two common treatment areas such as botox for crow's feet or botox for the frown lines. If you are getting botox for hyperhidrosis, then it may take around 30 minutes.
Is botox painful?
It is not as painful as you may think it is, however, depending on the area and your pain tolerance, you may want to apply an ice pack before the treatment to numb the area a bit or take some tylenol about two hours before the procedure to avoid discomfort.
What are botox precautions?
You should avoid blood thinning medications such as aspirin, ibuprofen, or plavix at least 5 days before your procedure to avoid excess bleeding and bruising.
Botox before and after
The main difference that you will see after getting your botox aesthetic treatment is a more rested and youthful looking skin. Many people have the common concern that their friends, family, or coworkers will know that they got the treatment, however, thanks to the expertise of our professionals, you will have completely natural looking results that will only bring out your natural beauty, without showing evident signs of any kind of cosmetic treatment.
How much botox will I need?
The number of units needed is completely variable and depends on where you get injected, how active your muscles are, when your last treatment was, and what kind of results you are looking to achieve. During your consultation, all of these details will be addressed and taken into consideration by Dr. Schwarzburg, who will establish the perfect amount of botox for your unique goals.
Who is not a candidate for botox?
While it is incredibly rare for someone not to be a botox candidate, there are a few factors where you should hold off on the treatment. You should not get botox if you are pregnant. If you have an active skin infection at the injection site, you should forgo the treatment until it is cleared. If you suffer from a muscular disease such as myasthenia gravis, you should also avoid getting any kind of botox treatment.
Botox for lip plumping
While botox aesthetic will not actually increase the size of your lips, you can get a treatment that will make them appear fuller, called a lip flip. By injecting the neurotoxin into the orbicularis oris muscle, which runs like a circle around your lips, your upper lip will turn upwards, making your lips appear fuller. A lip flip will not give you the same result as a lip filler injection, but can be a great option for someone who wants to make a subtle difference in their lips.
I still see the wrinkles after injections. What should I do?
If the medication has completely settled and the treatment area is fully paralyzed but you still see lines, it means that your skin has lost its ability to recover and replace lost collagen. In this case, even though botox will prevent further wrinkling, you will need to get a dermal filler such as a hyaluronic acid filler to fill in the lines or other collagen stimulating therapies such as .
Are there different brands of botox?
Botox is the best known brand of neurotoxin and is the most commonly injected neurotoxin. However, there are a few other brands that work just as well including dysport injections, xeomin injections, and jeaveau injections. While they do have different chemical compositions, all four are neurotoxins and serve the same purpose, paralyzing the muscle and eliminating fine lines and wrinkles.
Botox for smile lines and tired under eyes
There is a common misconception that botox can eliminate smile lines and under eye circles. While botox does address several cosmetic issues, it does not produce soft tissue volume that is needed to fill in under eye circles or smile lines. In order to address these areas, you will need a dermal filler, such as restylane as an under eye filler, or juvederm for the smile lines.
What other treatments can complement use of botulinum toxin?
Botox relaxes the muscles under the skin to allow superficial wrinkles to recover and fill with collagen. Some other treatments that can be used to reduce the appearance of fine lines and wrinkles include Secret RF Microneedling as well as Fraxel laser, which create controlled damage to the skin, causing your skin to produce extra collagen and elastin to repair itself resulting in a fresher, plumper, more rejuvenated skin. The combination of neurotoxin injections and energy based collagen stimulating devices will provide the best skin care possible.
When will I see my botox results?
It will take 3 – 5 days to start seeing your botox results and about 10 days to see the final results.
Is botox permanent?
After injection, botox should last you up to 3 – 4 months. While some people respond very well to the treatment, leaving them with results for over 4 months, others may lose the effects after only 2 – 3 months, in which case they will simply need to get another treatment to maintain their results. The duration of the effects applies not only to the treatment of wrinkles, jawline reduction, headaches, and other botox treatments, but also to negative side effects, should you have experienced any.
How much does botox cost?
Botox is usually priced per unit administered, and can vary between $10 and $25 per unit. It takes on average 20 units to treat vertical frown lines in the forehead, so it will cost you anywhere from $200 to $500 for that region. Alternatively, it can be priced per area treated and ranges between $300 and $600 for your crow's feet. Additionally, the cost of your Botox treatment depends on the number of area(s) being treated, the number of units being injected, whether the clinic charges by the area or per unit and the experience of the doctor doing the procedure. If you see the best botox doctor in NYC, chances are the prices may be a bit higher than some other places, however, when it comes to getting any kind of medical procedure it is best to invest in quality work rather than to save money on something that could potentially alter your face.
What is the difference between botox and fillers?
Botox aesthetic is used to relax the muscles in which it is injected and fillers are used to add volume to certain areas of the face and body. If you are looking to eliminate fine lines and wrinkles, botox is needed to restrict muscle activity in the area of choice, which will reduce the appearance as well as the formation of wrinkles. Many people think that botox can eliminate under eye circles, for example, and while there are botox under eyes injection sites, they will only reduce wrinkles and the formation of wrinkles in the area. Can you use botox for under eyes dark circles? The answer is no. In order to eliminate dark circles under the eyes, more often than not, caused by loss of volume under the eyes, you will need to get an under eye filler to fill in the hollow area, which will eliminate the dark circles, or shadows cast by the loss of volume in the treatment area. While botox and fillers can complement each other, they are very different and both serve different purposes when it comes to cosmetic medicine.
Can you do microneedling after botox?
Botox can be combined with several other treatments. The best time to get botox if you are getting anything else done in the same treatment area, would be after the other treatment. If you want to get a microneedling treatment, it is best to give yourself about a week after receiving your botox injections before you move on to the next treatment so that the botox can settle. The reason why you shouldn't rub or touch the treatment area after receiving botox injections is because there is a possibility of the botox shifting to a different area, which may cause unevenness or asymmetry, and in the worst cases droopiness. Allow your botox to settle for seven days before you opt for the next treatment.
Aside from microneedling treatments, there are a variety of other treatments that are used in addition to Botox for rejuvenated and hydrated skin. This includes the aquagold treatment, which happens to contain the neurotoxin itself. An additional more mild facial treatment is the hydrafacial, which is designed for a variety of results and more than anything, hydration.
Where Can I Find New York's Best Botox Doctors And How Close Is Botox Clinic to Me?
Your search for Botox treatment in New York, NY is over. Skinly Aesthetics cosmetic dermatology practice led by world renowned physician Dr. Schwarzbug offers Botox injections on Manhattan's Upper East Side as well as select locations in Downtown New York, Midtown West, Chelsea, Soho and West Village. Overlooking Michelin star JoJo by Jean-Georges restaurant, Skinly Aesthtics' flagship location just a few steps from New York's beautiful Central Park you will find yourself a short distance away from magnificently posh Park Avenue and Fifth Avenue with it's exclusive array of architectural landmarks. The hustling and bustling Lexington Avenue. A lot of our clients enjoy taking a stroll after their rejuvenating procedures to New York's Bloomingdale's department store to stock up on their favorite beauty and fashion accessories. Clients looking for artistic inspiration after their Botox treatment usually flock to the Frick Collection in NYC. After having their wrinkles removed with Botox our clients indulge themselves into luxury shopping along the famous Madison Avenue exclusive boutiques. We also regularly host Botox at our pop up locations in New York's Chelsea, Soho and West Village, as well as the Financial District NYC.
How to Find The Best Doctor for Botox Injections in New York?
Finding your own very best Botox doctor in NYC is not an easy task. There are numerous medical offices that offer Botulinum toxin injections, but making sure you are getting the best treatment possible will take some of your time and effort. A lot of medical practices only employ MDs for certification purposes and the actual injections are performed by registered nurses or physician assistants. Their level of proficiency is sometimes hard to ascertain and you may find yourself being treated by a person with limited knowledge of this very exquisity and advanced procedure. If the procedure is performed by an actual medical doctor it is paramount to confirm that the doctor has a vast and sufficient experience performing this procedure. Some doctors perform only certain procedures and other procedures are done by their assistants.
Another important factor to consider is board certification, since a board certified doctor has gone through a rigorous training and certification process and only the most capable practitioners achieve this elite status. When your doctor is active in academic research on various minimally invasive procedures it is usually a tell-tale sign of vast expertise only very few practitioners are able to attain.
While academic excellence is important, equally important for a doctor is to listen to your concerns and the goals you are trying to achieve. It is not uncommon for plastic surgeons to implement their vision of an ideal image sacrificing patients' needs in the process. Essentially, the doctor with good bedside manners who takes into account your vision of your face and body will result in excellent results and a happy patient.
It's crucial to come prepared for your consultation and ask as many questions as possible regarding the Botox procedure, expectations and address all concerns to avoid any misunderstanding.
Front end of the medical office is also important to consider, as rude and uncaring receptionists and medical assistants are extensions of the physician and if they behave questionably your entire Botox experience may be suboptimal.
Also pay attention to the overall ambience of the office, how clean the space is, whether it is well scented (yes scents are important)  and how long the wait time is to make sure you are not being double or triple booked.
If you successfully cross off those check marks you can be confident that your botox experience will be unparalleled with excellent results that you will enjoy for the next few months.