Dr. Schwarzburg has been featured in:
CHEEK FILLER INJECTIONS: TIMELESS ELEGANCE MEETS MODERN AESTHETICS
Cheekbones have always been iconic markers of beauty, central to facial symmetry and the defining triangle of eyes, cheeks, and lips. In today's digital age, influencers and celebrities highlight the prominence of well-defined cheeks, echoing a blend of age-old charm and modern appeal.
With the innovation of cosmetic techniques, cheek fillers stand out as the sought-after non-surgical choice for those eager to either restore age-related volume loss or achieve a sculpted, contemporary look. This merge of traditional elegance with today's aesthetic desires positions cheek fillers at the forefront of cosmetic enhancements.
Dr. Schwarzburg, medical director of Skinly Aesthetics in New York, offers his insights on the cheek filler procedure he expertly administers. He demystifies the process, sharing insights on why one might consider this treatment, what the experience entails, and what to anticipate before and after the procedure.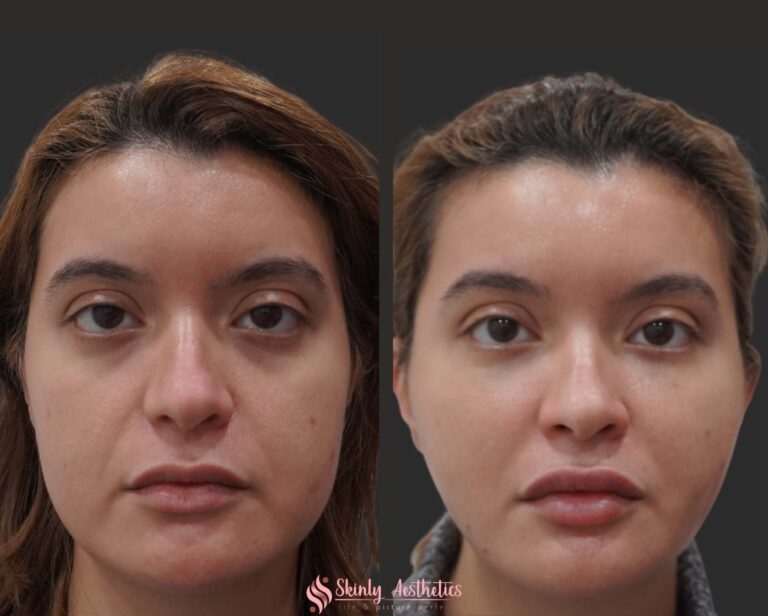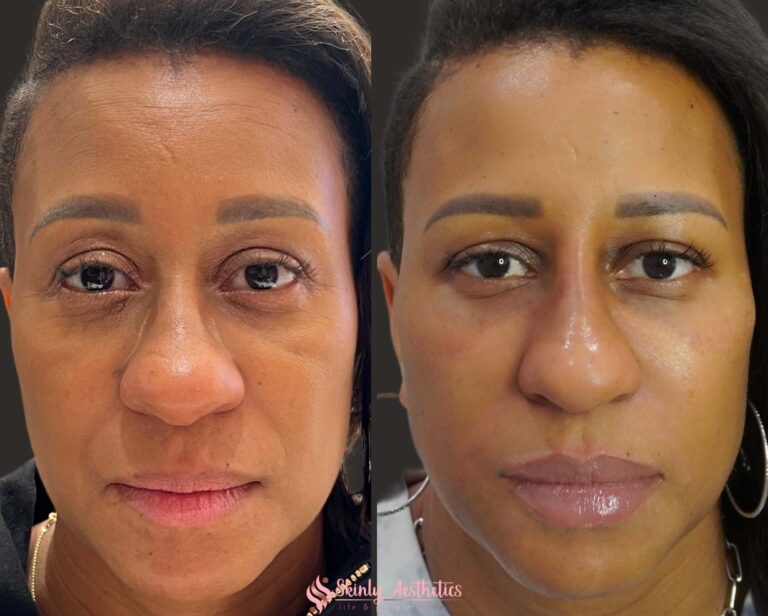 Clients
Clients
Testimonials
I had a great experience and great results. With only one section my eyes bag problem are gone, I tried a few different treatments before and nothing worked. I scheduled… read more an appointment at Skinly Aesthetics and I don't regret it I'm satisfied with my results and recommend this clinic 100%. Don't go by negative comments because every skin is different and everybody is different, just give it try and you won't regret it.

Maggie Reyes


i had such a pleasant experience at Skinlh Aesthetics. The office itself was so stylish and the staff were super friendly and helpful. The doctor was very knowledgeable and patient… read more and the procedure was stress free. I will definitely be coming back for future services!

Lucy Glendinning


Skinly Aesthetics was amazing. The Facility is beautiful, reception was ON top of things, and the medi- spa Dr made things quick and painless. Loved my results, will definitely be… read more going back and you should too!! 10/10

Jenny Oehlwein


Came to Skinly aesthetics for my Botox treatment on the upper East side and couldn't be happier! The staff was professional, facility clean, and Dr. Schwarzburg was very knowledgeable and… read more has an amazing eye. Love my results and will refer all my friends!

Mireille Deetjen


Great place! Nice salon and friendly staff. It's my first time getting Botox and she was really helpful and honest about how many units and where is needed. Will definitely… read more come back!

dutchess


Went to Skinly Aesthetics on the upper east side for my Botox treatment and loved my results. Friendly and professional staff, clean facility, and Dr. Schwarzburg is truly an artist!… read more Will definitely be back and recommending to all my friends!

Steph F


My experience getting my lips done was amazing. The staff were very welcome and very professional. I love the way my lips turned out. I would definitely recommend Skinly Aesthetics… read more if you want to get work done such as lip filler.

Zee Portugal


I've been Dr. Schwarzburg's returning patient for over a year! I love how he has improved my body, he is committed and perfectionist! The facility is sparkling clean and modern!! I… read more love Dr. Schwarzburg and I trust him 100%!!

LEYDIANA FERNANDEZ


Dr. Schwarzburg is a very polite and knowledgeable doctor. He had done my tear trough and check filler. He also does my sisters as well. She swears by him, and… read more so I went in for both treatments and was def satisfied! He is very skilled, and knows what he is doing. I don't trust many people with the tear trough procedure, but I trust him. I'll be back again for more treatments! Thank you!

Anna Bella


Cheers from CATALINA – Great spa and great services; As well as awesome treatments they offer! Dr Schwartzburg is a really funny guy and has a great sense of humor! -CATALINA

Catalina Burma DR


I'm new to medical aesthetics, and it was long overdue. I was always scared of needles and any change to my face, but the time has finally arrived, when I… read more just could look at my soggy face… I tried to find a place where I could do all the things that were necessary. I'm so happy I found Skinly! I had a few things done with them and the most life changing was PDO threads. My face is still my face but many years younger looking and absolutely natural. I told all my friends about them!

Miranda Boyle


This place is the best! The staff is super nice and my lips look amazing! Will definitely be back!

Sarah Kagasoff


Incredibly pleasant office and staff. Cannot recommend the doctor enough. He is super knowledgeable, honest, kind and most importantly, talented!

taylor segal


This is one and only place I would ever go to for any injectables. Dr. Schwarzburg was very thorough with his assessment and had fully explained to me what I… read more should expect from the procedure. The results were actually much better than expected and the nose hump that I had is now gone all because of his great injection technique. I already recommended a few friends.

Anna Berry


Unparalleled experience with lip fillers at Skinly. Dr. Schwarzburg used his custom technique to create a beautiful upper, which nobody was able to do before that. It looks 100% natural… read more and so beautiful. Will return and definitely recommend to my friends!

Theresa James


I was very impressed with my filler experience at Skinly. I just turned 40 and noticed how my face sank overnight. All of my friends have been doing this for… read more a long time, but I was always scared of the needles and how they would change me. But I trusted one of my friends who's been a client at Skinly for a long time and decided to move forward. I have absolutely no regrets. I haven't looked that good in a decade! Everything is natural and everyone thinks I'm rested and just came from a vacation. I'm hooked and can't imagine my life without these injections now!

Tracey Peters


Highly recommend if you're considering Kybella! The facility is very modern and clean; and kudos to the doctor for putting at ease throughout all of the injections. Would happily return… read more for future services.

Devon Ivie


Such a great experience! I highly recommend this place. Everyone is so friendly, and listened to my needs/gave me exactly what I asked for. I'll be returning! Excellent, 5/5.

Grace Kellogg


I loved my visit. Everyone was so friendly and made me feel very comfortable. The office is beautifully decorated and my results were amazing. My forehead wrinkles have disappeared!

Murphy McVey


My thin lips always made me feel insecure, but I was scared of injections as I thought they were painful and would look unnatural. I came along MiracleFace as I… read more was researching my options and was impressed with their before and after lip filler gallery. I decided to give them a try and wasn't disappointed! After a few days of swelling and minor bruising my lips looked gorgeous without anyone realizing what was done to them. They absolutely looked stunning and natural. I waited a few months to write this review to make sure results were lasting and they definitely are. I wholeheartedly recommend them for lip injections!

Yana Zalukin


My experience at Skinly Aesthetics has always been top-notch. The staff and doctor are absolutely professional and are always kind and helpful with any of my questions. I'm so glad… read more I was able to find this place and they are super responsive with making appointments. I highly recommend coming here – you will not be disappointed! 🙂

Michelle Song


I had a wonderful experience at Skinly Aesthetics! My best friend and I called last minute and the receptionist Leah went above and beyond to fit us into the schedule… read more before closing. Even weeks after treatment she followed up with me and made sure things were going well! This was my first time receiving treatment and I appreciated the doctor listening to my concerns and treating the areas. Thank you to the whole staff for your professionalism and letting my first experience with my best friend absolutely SUPERIOR!!

Antonia Marice Sotto


We called very last minute to get in and the receptionist and the aesthetics nurse made an effort for us to stay open and squeeze us in last minute. They… read more price matched our Groupon for us as well. After a few days my face is looking wonderful! They did a great job and were incredibly friendly. My friend and I went together and they kindly let us have the experience together and we were so grateful!

Samantha R Olmsted


I cant express how happy i feel when i come to this place! The doc is super professional with his work and until is not perfect wont give up untill… read more he succeeded his final result even if he adds on his behalf, Leah is also very attentive, nice and professional with her suggestions!! Wont stop coming here! 3rd time, and im happy with EVERYTHING! Don't doubt coming

Amanda Garcia


It's not easy to find a Dr to trust, but I've had great results every time. Staff is efficient and welcoming. I highly recommend!

Rani Balsamo


I got lip fillers for the first time a few days ago and I am OBSESSED! sarah the receptionist made me feel so at ease because I was so nervous… read more before. I stressed how I didn't want a fake or "duck" look and Dr. Schwarzburg did a phenomenal job! The swelling and bruising finally went down after a few days and I have the most natural beautiful look ever. 10/10 would recommend and will definitely be going back in about a year for more. The office was very clean and they were also very cautious with COVID. I felt so safe and secure and my results are AMAZING!!!!

Anna Benvignati


What a pleasant experience going to this office. I've been wanting to find a new cosmetic practice for a while. Chose Skinly on a whim and couldn't be happier. Aside… read more from an incredible personality and bedside manner, the doctor really knows what he's doing and is extremely meticulous. Also, he doesn't suggest things you don't need simply to make a sale. He's extremely straightforward, as well as selective in what he does. Can't wait to come back!

Tay Der


I had a terrific experience at Skinly with Dr. Schwarzburg. He is a great listener and took time to go through all the questions that I had about the procedures,… read more results and outcomes. My injections turned out so beautifully natural I can't believe it's real. I will be coming for other procedures too!

Victoria Mccann


My experience was wonderful! I will use this Dr. for anything I can. The office is clean and bright & Leah one of the receptionists was so helpful and accommodating.… read more 5 star service! Can't wait to come back

marissa sabatelli


I have had nothing less than an AMAZING experience here! The office is professional, especially clean, beautifully set up, safe & secure and most importantly of all; sanitary! They take… read more every precaution necessary and beyond to make sure no one gets/is sick. As for my experience with staff and the Doctor; Sarah is amazing. She is friendly, especially knowledgeable & gets back to you [seriously] immediately! Dr. Schwarzburg is awesome! He's professional, friendly, understands the face of each person and can see where and what needs fillers. He is amazing at what he does. As for my experience with my fillers; I first came in on 6/2/20 for a Juvederm Lip filller, which came out WONDERFUL. I was so satisfied and ecstatic about my new look! So as I was told by the Doc and his team, they will be swollen and we'll see the final result within about 2-3 weeks. So about after a month, they settled at just a little bit larger than my original lips (which were very thin to begin with). So I called in with my concerns which Sarah said it happens sometimes where your body basically eats up the filler. So her and the doc consulted and told me to come on in, the Doc was going to generously give me half of a syringe at no cost to me. So I went in and Dr. Schwarzburg ended up giving me an entire syringe of Juvederm Voluma to make sure I left completely satisfied. I would highly recommend ANYONE thinking about getting fillers to go to Dr. Schwarzburg at Skinly Aesthetics. I guarantee you won't regret it. And as for pricing- completely fair pricing, actually I might even say great pricing for the job the Doc does and the hospitality you get while there. Thanks so much Sarah and Dr. Schwarzburg for being amazing and helpful from beginning to end! You guys literally ch aged my life by giving me the confidence I've been yearning for since I was 12 years old. You WILL be seeing me again haha!

ToniAnn Brooks

Get Best Deals In Your Inbox!
CHEEK ANATOMY & THE GOLDEN RATIO
The human face operates on delicate balances, one of which is the Golden Ratio. Faces closer to this proportion often appear more attractive and cheekbones are crucial in this equation.
Prominent cheekbones give a youthful appearance, accentuate the eyes, and create a balance with other facial features. Dr. Schwarzburg believes in respecting this balance. With an intimate understanding of the Golden Ratio and facial anatomy, he ensures cheek fillers naturally amplify beauty without overdoing it.
WHAT ARE THE BENEFITS OF CHEEK FILLERS?
The decision to get cheek fillers stems from a blend of personal aesthetic desires and an appreciation for facial harmony. Here's why many patients in NYC are gravitating towards this treatment:
Addressing Asymmetry: A balanced face often aligns with notions of beauty, but nature doesn't always gift such symmetry. Cheek fillers offer an avenue for Dr. Schwarzburg, to fine-tune and balance the face, crafting a sense of harmony and alignment.
The High Cheekbone Appeal: Pronounced cheekbones have held a prominent place in beauty ideals across different cultures. Elevated cheekbones convey impressions of attractiveness and youth. By choosing cheek fillers, patients can accentuate this timeless trait, boosting their overall facial appeal.
A Cascade of Enhancement: The primary focus may be the cheeks, but their augmentation resonates throughout the face. Enhanced cheek structure makes eyes seem more vibrant and alert, while also refining the jawline, offering a structured and captivating facial contour.
Reversing Age-Related Volume Loss: Over time, our faces naturally lose subcutaneous fat and collagen, leading to sagging skin and a loss of volume, especially in the cheek area. Cheek fillers act as a countermeasure, restoring lost volume and lending a more youthful contour to the face, combating the signs of aging.
CHOOSING DR. SCHWARZBURG FOR CHEEK FILLERS IN NYC:
When considering cheek fillers, the choice of practitioner can make all the difference. Dr. Schwarzburg, an Ivy League trained physician, brings a wealth of experience and expertise to the table. At his NYC practice, patients receive personalized care that prioritizes both safety and the desired aesthetic outcome. With Dr. Schwarzburg, you're choosing a blend of skill, understanding, and precision.
TYPES OF CHEEK FILLERS AND THEIR UNIQUE PROPERTIES:
Cheek fillers have come a long way, with a range of products available to cater to different needs. Here's a breakdown of some of the most popular ones and their unique benefits:
Juvederm Voluma: A favorite for many, Voluma is a hyaluronic acid-based filler specifically designed to add volume to the cheeks. It's particularly known for its ability to lift and contour, offering results that can last up to two years.
Restylane Lyft: Another hyaluronic acid filler, Restylane Lyft provides a noticeable lift to cheeks and can also be used for the correction of age-related midface contour deficiencies. It's a versatile choice for those looking to achieve a more youthful appearance.
Radiesse: This calcium hydroxylapatite-based filler does more than just fill; it also stimulates the body's natural collagen production. Ideal for deep wrinkles and hollow cheeks, Radiesse provides a natural and longer-lasting lift.
RHA 3 or RHA 4: The latest innovations in filler technology, these Resilient Hyaluronic Acid fillers are designed to adapt to the dynamics of the face. They offer a more natural look, especially when the face is in motion, making them a top choice for those seeking subtle enhancements.
With the rapid advancements in filler technology, selecting the right product can be overwhelming. However, with a tailored approach and understanding of each filler's properties, achieving the desired results is more feasible than ever.
WHAT ARE BEST FILLERS FOR CHEEK LIFT?
Restylane Lyft: A top choice for many due to its robust hyaluronic acid formulation, ensuring effective lift and firmness in the midface region.
Restylane Contour: Featuring XpresHAn Technology, it's crafted to offer natural-looking enhancements across facial expressions, providing both lift and harmonious contour to the cheeks.
RHA 4: Proven for its adaptability to facial movements, it ensures a subtle yet effective lift, catering to those desiring volume without sacrificing natural movement.
WHAT ARE BEST FILLERS FOR CHEEK VOLUME?
Juvederm Voluma: Known for its thick consistency, this filler offers immediate volumizing effects, making it a go-to for deep cheek augmentation. Its long-lasting properties ensure that the enhanced fullness remains for an extended period.
Sculptra: Unlike traditional fillers, Sculptra works by stimulating collagen production to restore facial volume gradually. It offers a more natural enhancement and can last up to two years.
Radiesse: This calcium hydroxylapatite-based filler not only provides immediate volume but also encourages natural collagen growth, striking a balance between instant results and long-term benefits.
As facial anatomy and goals differ, a consultation with a seasoned expert like Dr. Schwarzburg is pivotal in selecting the ideal product for desired outcomes.
FREQUENTLY ASKED QUESTIONS
WHO IS A CANDIDATE FOR CHEEK FILLERS?
At Skinly Aesthetics, Dr. Schwarzburg believes that the ideal candidate for cheek fillers is someone seeking to enhance facial volume, address asymmetries, or lift sagging skin. Whether it's due to aging, genetics, or simply a desire for more defined cheekbones, those looking for a non-surgical solution to elevate their facial aesthetics are often suitable candidates.
WHAT IS THE THE CONSULTATION PROCESS?
At Skinly Aesthetics, the journey to facial enhancement begins with a comprehensive consultation. Dr. Schwarzburg believes in the mantra that every face tells a unique story and, therefore, mandates a tailored approach.
Facial analysis plays a crucial role in this process. By evaluating the natural contours, proportions, and unique features of the face, Dr. Schwarzburg ensures that cheek fillers augment and complement, rather than alter, one's inherent beauty.
HOW TO PREPARE FOR YOUR CHEEK FILLER TREATMENT?
Embarking on your cheek filler journey with Dr. Schwarzburg at Skinly Aesthetics requires minimal but essential preparations to ensure optimal results and a seamless experience.
Dietary & Medical Considerations: To reduce the chances of bruising and swelling, it's recommended to avoid supplements and medications like aspirin, ibuprofen, and vitamin E for about a week before the treatment. Additionally, abstaining from alcohol for at least 48 hours prior to the session is a prudent measure.
THE CHEEK FILLER INJECTION JOURNEY: WHAT TO EXPECT AT SKINLY AESTHETICS?
Stepping into Skinly Aesthetics for cheek filler injections guarantees a detail-oriented and holistic approach, courtesy of Dr. Schwarzburg.
The treatment initiates with a thorough skin cleaning, ensuring a sanitized base for the procedure. A marker is used to strategically map out injection points.
Prior to the injections, a topical anesthetic is applied to reduce any discomfort.
Different injection techniques come into play, such as bolus, fanning, and cross-hatching, depending on the patient's anatomy and Dr. Schwarzburg's preference.
The choice between cannulas and needles is equally significant. Cannulas, with their blunt ends, are usually preferred for their less traumatic nature, while needles offer ultimate injection precision.
With every step tailored to the individual, from skin marking to the chosen injection technique, Dr. Schwarzburg ensures an experience that prioritizes both safety and optimal results.
AFTERCARE AND DOWNTIME: HOW TO NAVIGATE THE POST-PROCEDURE PHASE?
Following a cheek filler session, aftercare plays a pivotal role in securing and enhancing the results. Dr. Schwarzburg emphasizes a few key guidelines:
Activity Restrictions: It's best to lay low and avoid strenuous physical activities for the initial 24 hours. This helps in preventing any undue pressure or movement in the treated areas.
Managing Swelling and Discomfort: A bit of swelling or redness at the injection sites is standard. These tend to diminish within a day or two. Applying cold compresses can offer relief and expedite the healing process.
Exposure Limitations: Direct sunlight, tanning beds, and saunas should be avoided for at least the first day. These can exacerbate swelling or even alter the filler's placement slightly.
Downtime Expectations: The beauty of cheek fillers is the minimal downtime. While individual experiences may vary, most patients can return to their daily routines immediately, with just a few precautions to keep in mind.
WHAT ARE THE RISKS, SIDE EFFECTS, AND THEIR SOLUTIONS?
Venturing into cosmetic enhancements means understanding both the promises and the pitfalls. Dr. Schwarzburg transparently briefs patients on the potential side effects of cheek filler injections and the remedies.
Common Side Effects: Initial responses involve swelling, redness, and mild bruising at the injection sites. These are temporary and tend to dissipate on their own within a few days. Cold compresses and over-the-counter pain relievers help alleviate these symptoms.
Lumps and Asymmetry: In some cases, patients may feel or see small lumps or experience slight asymmetry post-procedure. Often, these issues resolve as the filler settles. However, if they persist, adjustments can be made.
Misplaced Fillers: A rare event is when fillers are misplaced, potentially leading to aesthetic complications. The silver lining? Hyaluronic acid-based fillers, such as Juvederm and Restylane or RHA, can be dissolved and adjusted using an enzyme called hyaluronidase, effectively reversing the effects.
For patients at Skinly Aesthetics, an unexpected outcome isn't the end of the road. Dr. Schwarzburg is equipped with both the expertise and tools to address and rectify any concerns, ensuring patients achieve their desired aesthetic results safely.
WHAT IS THE IMMEDIATE IMPACT AND LONGEVITY OF CHEEK FILLER RESULTS?
Cheek fillers offer both immediate results and lasting enhancement:
Instant Results: After treatment, patients typically notice an immediate lift and added volume. Dr. Schwarzburg ensures this initial boost looks natural yet revitalized.
Settling Phase: Fillers have a brief "settling" period. Over a week or so, swelling decreases and the true outcome becomes apparent.
Duration: The longevity of cheek filler results varies. Juvederm Voluma and RHA 4 can last up to 15 months, while Sculptra might endure for 2 years. Dr. Schwarzburg gives patients clear expectations regarding each product's longevity during consultations.
WHAT IS THE COST OF CHEEK FILLERS IN NYC?
The cost for a single 1ml syringe of cheek filler in New York typically falls within the range of $700 to $2,000.
Several factors influence this price bracket, including the type and brand of filler, the expertise of the injector, and the clinic's location. Dr. Schwarzburg at Skinly Aesthetics ensures that patients receive top-notch care, and while quality comes at a price, the results are a worthy investment in one's self-confidence and appearance.
HOW MANY SYRINGES OF CHEEK FILLER WILL I NEED?
The specific number of syringes required for cheek fillers can vary widely, ranging typically from 1 to 4 syringes per treatment session. While minor volume loss or subtle contouring may necessitate just 1-2 syringes, profound volume restoration or a more significant lift often requires 3-4 syringes. Achieving a balanced and natural look is paramount, and a phased approach over multiple sessions is recommended. 
WHAT ARE COMPLEMENTARY TREATMENTS TO ENHANCE CHEEK FILLER OUTCOMES?
While cheek fillers already offer transformative results, pairing them with other treatments can lead to a harmoniously rejuvenated face. Here are some of the complementary procedures:
PDO Thread Lift: For those grappling with significant skin sagging, the PDO thread lift presents a non-surgical respite. Using barbed collagen threads, this method effectively elevates sagging skin, addressing areas that cheek fillers might not fully rectify.
Botox: Beyond its famed wrinkle-reducing prowess, Botox can enhance the results of cheek fillers. Especially effective against crow's feet and lines surrounding the suborbital area, Botox complements the plumpness and lift of the cheeks.
Under Eye Filler: To seamlessly address mid-face volume loss and under-eye hollows, under-eye fillers are the go-to. When combined with cheek fillers, they ensure a balanced, youthful visage, banishing traces of tiredness and aging.
CHEEK FILLERS: THE BEFORE AND AFTER TRANSFORMATION
The before and after photos of cheek fillers offer a clear look at the transformation. What starts as flat or sunken cheeks can be reshaped to give a fuller, more youthful appearance.
The results are immediate, turning uneven and dull contours into a lifted profile. With the right filler and technique, the changes are not only effective but also maintain a natural look, highlighting the subtle yet impactful effect of cheek augmentation.
And these patients' testimonials speak for themselves:
"After my session with Dr. Schwarzburg, I couldn't believe the woman staring back at me in the mirror. My cheeks have never looked better, and the confidence boost is undeniable." – Julia M.
"I was always skeptical about fillers, but the results are astonishing. The subtle lift has made such a difference. Thank you, Skinly Aesthetics, for this renewed version of me!" – Charlotte B.
HOW TO SCHEDULE YOUR CHEEK FILLER APPOINTMENT?
Don't wait to embrace the confidence that comes with enhanced cheek contours. Reach out to Dr. Schwarzburg at Skinly Aesthetics and take the first step towards a more rejuvenated facial appearance. Every journey to beauty starts with a single step – make yours today by scheduling your consultation by calling us (212)774-4264 or email info@skinlyaesthetics.com. Your refined, youthful glow awaits.