Dr. Schwarzburg has been featured in:
REVOLUTIONIZING FACIAL REJUVENATION: THE PDO APPROACH TO AGING AND SAGGING SKIN
Aging is a natural process that, over time, results in the development of wrinkles, sagging skin, and loss of facial volume. While traditional solutions to address these concerns have ranged from topicals to invasive surgical facelifts, the quest for less invasive yet effective solutions has never waned. Enter PDO thread lifting—a revolutionary, non-surgical technique that offers a unique and innovative approach to combating sagging skin and restoring a more youthful appearance. This method not only provides immediate lifting of the skin but also promotes collagen production, addressing the very root causes of facial aging.
UNDERSTANDING PDO THREAD LIFTING WITHOUT SURGERY
PDO thread lifting employs polydioxanone sutures – dissolvable threads equipped with barbs – to uplift sagging facial skin. This non-surgical approach avoids incisions and scars, guaranteeing a youthful and taut facial appearance. PDO thread lifting offers two primary advantages:
It preemptively acts against skin sagging, providing an early anti-aging solution.
For early signs of skin laxity, barbed PDO threads have shown commendable success in skin rejuvenation, restoring skin tightness and youthful vigor.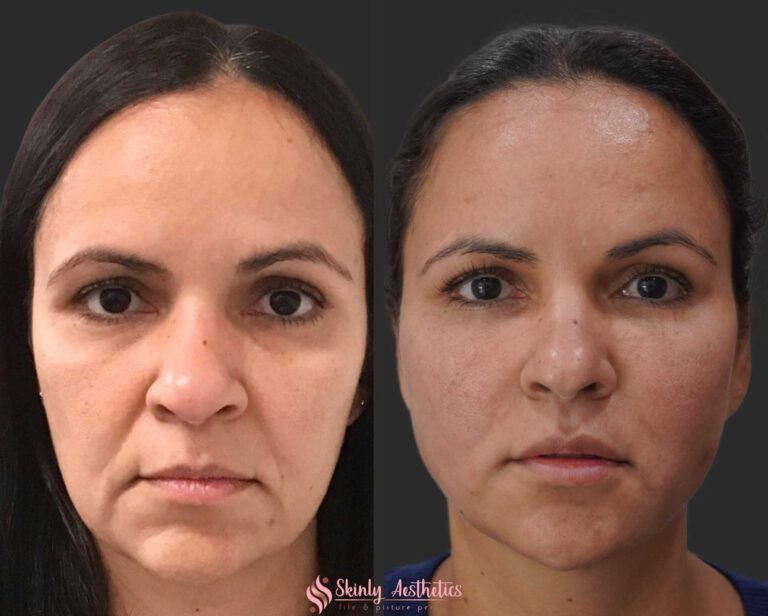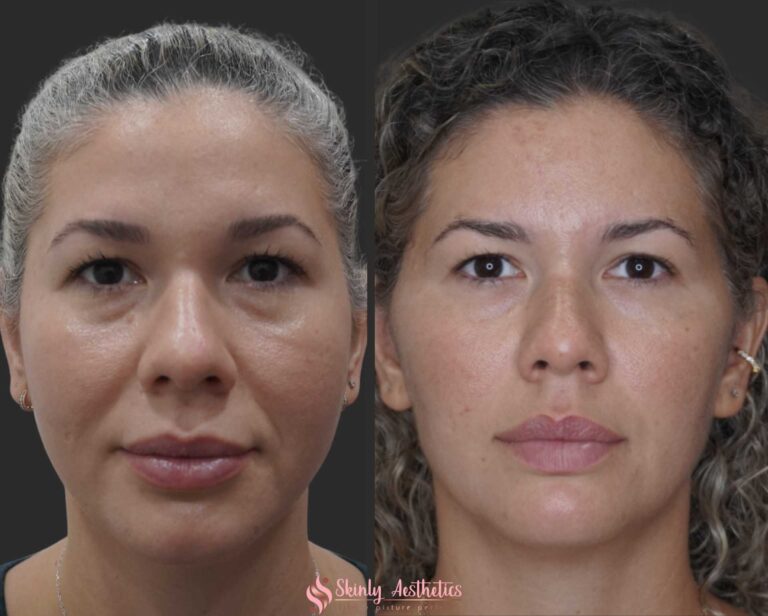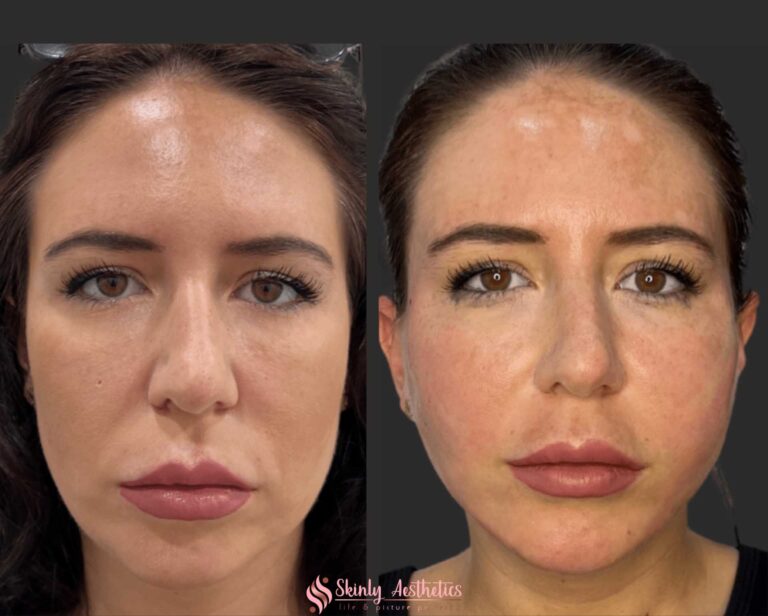 Clients
Clients
Testimonials
I had a great experience and great results. With only one section my eyes bag problem are gone, I tried a few different treatments before and nothing worked. I scheduled… read more an appointment at Skinly Aesthetics and I don't regret it I'm satisfied with my results and recommend this clinic 100%. Don't go by negative comments because every skin is different and everybody is different, just give it try and you won't regret it.

Maggie Reyes


i had such a pleasant experience at Skinlh Aesthetics. The office itself was so stylish and the staff were super friendly and helpful. The doctor was very knowledgeable and patient… read more and the procedure was stress free. I will definitely be coming back for future services!

Lucy Glendinning


Skinly Aesthetics was amazing. The Facility is beautiful, reception was ON top of things, and the medi- spa Dr made things quick and painless. Loved my results, will definitely be… read more going back and you should too!! 10/10

Jenny Oehlwein


Came to Skinly aesthetics for my Botox treatment on the upper East side and couldn't be happier! The staff was professional, facility clean, and Dr. Schwarzburg was very knowledgeable and… read more has an amazing eye. Love my results and will refer all my friends!

Mireille Deetjen


Great place! Nice salon and friendly staff. It's my first time getting Botox and she was really helpful and honest about how many units and where is needed. Will definitely… read more come back!

dutchess


Went to Skinly Aesthetics on the upper east side for my Botox treatment and loved my results. Friendly and professional staff, clean facility, and Dr. Schwarzburg is truly an artist!… read more Will definitely be back and recommending to all my friends!

Steph F


My experience getting my lips done was amazing. The staff were very welcome and very professional. I love the way my lips turned out. I would definitely recommend Skinly Aesthetics… read more if you want to get work done such as lip filler.

Zee Portugal


I've been Dr. Schwarzburg's returning patient for over a year! I love how he has improved my body, he is committed and perfectionist! The facility is sparkling clean and modern!! I… read more love Dr. Schwarzburg and I trust him 100%!!

LEYDIANA FERNANDEZ


Dr. Schwarzburg is a very polite and knowledgeable doctor. He had done my tear trough and check filler. He also does my sisters as well. She swears by him, and… read more so I went in for both treatments and was def satisfied! He is very skilled, and knows what he is doing. I don't trust many people with the tear trough procedure, but I trust him. I'll be back again for more treatments! Thank you!

Anna Bella


Cheers from CATALINA – Great spa and great services; As well as awesome treatments they offer! Dr Schwartzburg is a really funny guy and has a great sense of humor! -CATALINA

Catalina Burma DR


I'm new to medical aesthetics, and it was long overdue. I was always scared of needles and any change to my face, but the time has finally arrived, when I… read more just could look at my soggy face… I tried to find a place where I could do all the things that were necessary. I'm so happy I found Skinly! I had a few things done with them and the most life changing was PDO threads. My face is still my face but many years younger looking and absolutely natural. I told all my friends about them!

Miranda Boyle


This place is the best! The staff is super nice and my lips look amazing! Will definitely be back!

Sarah Kagasoff


Incredibly pleasant office and staff. Cannot recommend the doctor enough. He is super knowledgeable, honest, kind and most importantly, talented!

taylor segal


This is one and only place I would ever go to for any injectables. Dr. Schwarzburg was very thorough with his assessment and had fully explained to me what I… read more should expect from the procedure. The results were actually much better than expected and the nose hump that I had is now gone all because of his great injection technique. I already recommended a few friends.

Anna Berry


Unparalleled experience with lip fillers at Skinly. Dr. Schwarzburg used his custom technique to create a beautiful upper, which nobody was able to do before that. It looks 100% natural… read more and so beautiful. Will return and definitely recommend to my friends!

Theresa James


I was very impressed with my filler experience at Skinly. I just turned 40 and noticed how my face sank overnight. All of my friends have been doing this for… read more a long time, but I was always scared of the needles and how they would change me. But I trusted one of my friends who's been a client at Skinly for a long time and decided to move forward. I have absolutely no regrets. I haven't looked that good in a decade! Everything is natural and everyone thinks I'm rested and just came from a vacation. I'm hooked and can't imagine my life without these injections now!

Tracey Peters


Highly recommend if you're considering Kybella! The facility is very modern and clean; and kudos to the doctor for putting at ease throughout all of the injections. Would happily return… read more for future services.

Devon Ivie


Such a great experience! I highly recommend this place. Everyone is so friendly, and listened to my needs/gave me exactly what I asked for. I'll be returning! Excellent, 5/5.

Grace Kellogg


I loved my visit. Everyone was so friendly and made me feel very comfortable. The office is beautifully decorated and my results were amazing. My forehead wrinkles have disappeared!

Murphy McVey


My thin lips always made me feel insecure, but I was scared of injections as I thought they were painful and would look unnatural. I came along MiracleFace as I… read more was researching my options and was impressed with their before and after lip filler gallery. I decided to give them a try and wasn't disappointed! After a few days of swelling and minor bruising my lips looked gorgeous without anyone realizing what was done to them. They absolutely looked stunning and natural. I waited a few months to write this review to make sure results were lasting and they definitely are. I wholeheartedly recommend them for lip injections!

Yana Zalukin


My experience at Skinly Aesthetics has always been top-notch. The staff and doctor are absolutely professional and are always kind and helpful with any of my questions. I'm so glad… read more I was able to find this place and they are super responsive with making appointments. I highly recommend coming here – you will not be disappointed! 🙂

Michelle Song


I had a wonderful experience at Skinly Aesthetics! My best friend and I called last minute and the receptionist Leah went above and beyond to fit us into the schedule… read more before closing. Even weeks after treatment she followed up with me and made sure things were going well! This was my first time receiving treatment and I appreciated the doctor listening to my concerns and treating the areas. Thank you to the whole staff for your professionalism and letting my first experience with my best friend absolutely SUPERIOR!!

Antonia Marice Sotto


We called very last minute to get in and the receptionist and the aesthetics nurse made an effort for us to stay open and squeeze us in last minute. They… read more price matched our Groupon for us as well. After a few days my face is looking wonderful! They did a great job and were incredibly friendly. My friend and I went together and they kindly let us have the experience together and we were so grateful!

Samantha R Olmsted


I cant express how happy i feel when i come to this place! The doc is super professional with his work and until is not perfect wont give up untill… read more he succeeded his final result even if he adds on his behalf, Leah is also very attentive, nice and professional with her suggestions!! Wont stop coming here! 3rd time, and im happy with EVERYTHING! Don't doubt coming

Amanda Garcia


It's not easy to find a Dr to trust, but I've had great results every time. Staff is efficient and welcoming. I highly recommend!

Rani Balsamo


I got lip fillers for the first time a few days ago and I am OBSESSED! sarah the receptionist made me feel so at ease because I was so nervous… read more before. I stressed how I didn't want a fake or "duck" look and Dr. Schwarzburg did a phenomenal job! The swelling and bruising finally went down after a few days and I have the most natural beautiful look ever. 10/10 would recommend and will definitely be going back in about a year for more. The office was very clean and they were also very cautious with COVID. I felt so safe and secure and my results are AMAZING!!!!

Anna Benvignati


What a pleasant experience going to this office. I've been wanting to find a new cosmetic practice for a while. Chose Skinly on a whim and couldn't be happier. Aside… read more from an incredible personality and bedside manner, the doctor really knows what he's doing and is extremely meticulous. Also, he doesn't suggest things you don't need simply to make a sale. He's extremely straightforward, as well as selective in what he does. Can't wait to come back!

Tay Der


I had a terrific experience at Skinly with Dr. Schwarzburg. He is a great listener and took time to go through all the questions that I had about the procedures,… read more results and outcomes. My injections turned out so beautifully natural I can't believe it's real. I will be coming for other procedures too!

Victoria Mccann


My experience was wonderful! I will use this Dr. for anything I can. The office is clean and bright & Leah one of the receptionists was so helpful and accommodating.… read more 5 star service! Can't wait to come back

marissa sabatelli


I have had nothing less than an AMAZING experience here! The office is professional, especially clean, beautifully set up, safe & secure and most importantly of all; sanitary! They take… read more every precaution necessary and beyond to make sure no one gets/is sick. As for my experience with staff and the Doctor; Sarah is amazing. She is friendly, especially knowledgeable & gets back to you [seriously] immediately! Dr. Schwarzburg is awesome! He's professional, friendly, understands the face of each person and can see where and what needs fillers. He is amazing at what he does. As for my experience with my fillers; I first came in on 6/2/20 for a Juvederm Lip filller, which came out WONDERFUL. I was so satisfied and ecstatic about my new look! So as I was told by the Doc and his team, they will be swollen and we'll see the final result within about 2-3 weeks. So about after a month, they settled at just a little bit larger than my original lips (which were very thin to begin with). So I called in with my concerns which Sarah said it happens sometimes where your body basically eats up the filler. So her and the doc consulted and told me to come on in, the Doc was going to generously give me half of a syringe at no cost to me. So I went in and Dr. Schwarzburg ended up giving me an entire syringe of Juvederm Voluma to make sure I left completely satisfied. I would highly recommend ANYONE thinking about getting fillers to go to Dr. Schwarzburg at Skinly Aesthetics. I guarantee you won't regret it. And as for pricing- completely fair pricing, actually I might even say great pricing for the job the Doc does and the hospitality you get while there. Thanks so much Sarah and Dr. Schwarzburg for being amazing and helpful from beginning to end! You guys literally ch aged my life by giving me the confidence I've been yearning for since I was 12 years old. You WILL be seeing me again haha!

ToniAnn Brooks

Get Best Deals In Your Inbox!
NON-SURGICAL PDO THREAD LIFT BY DR. SCHWARZBURG IN NYC 
Dr. Schwarzburg was the pioneer in introducing this collagen-stimulating procedure, catering to a significant demand from clients seeking non-invasive skin lifting. His specialized training and unique contributions to cosmetic surgery make him a premier choice for PDO thread lifting in NYC. Over time, Dr. Schwarzburg has:
Successfully conducted countless PDO thread lifts, offering skin tightening without surgery-related downtime.
Delivered transformative results, with clients looking a decade younger post-treatment.
Skillfully combined PDO threads with treatments like dermal fillers for optimal aesthetic results.
PDO THREAD LIFT TARGET AREAS
Polydioxanone threads, or PDO threads, are versatile in their applications, and suitable for a wide range of facial, neck, and even some body regions. Their primary function is to reposition loose tissue, rejuvenate the treated areas, and stimulate collagen production to achieve a lasting tightening and lifting effect:
Mid and Lower Face Enhancement: PDO threads are particularly effective for the mid and lower face. They address the common issues of sagging cheeks and nasolabial folds, offering a firmer and more youthful appearance.
Reviving the Jawline: Aging often leads to jowls, which are saggy skin areas that droop past the jawline, extending towards the mouth. With PDO threads, these jowls are lifted, restoring a previously defined and contoured face shape. The procedure ensures an immediate, sculpted look with effects that can endure for 1-2 years, especially when complemented with routine maintenance visits.
PDO Fox Eyebrow Lift: A specialized technique in which PDO threads are strategically positioned along the forehead. This allows for a gentle elevation of the eyebrows, serving as an alternative to a surgical eyebrow lift or even a mini-blepharoplasty.
Thread-based Rhinoplasties: While PDO threads can be used for nose lifts, the results might sometimes be subtle. For those desiring a more noticeable change in the nose's structure without resorting to traditional surgery, Dr. Schwarzburg often advocates for liquid rhinoplasty as an efficient alternative.
PDO Neck Lift: One of the standout applications of PDO threads is in addressing the 'turkey neck' or the 'wattle neck' – signs of aging in the neck region. By using PDO threads, neck laxity is reduced, resulting in a rejuvenated neck contour that exudes youthfulness and elegance.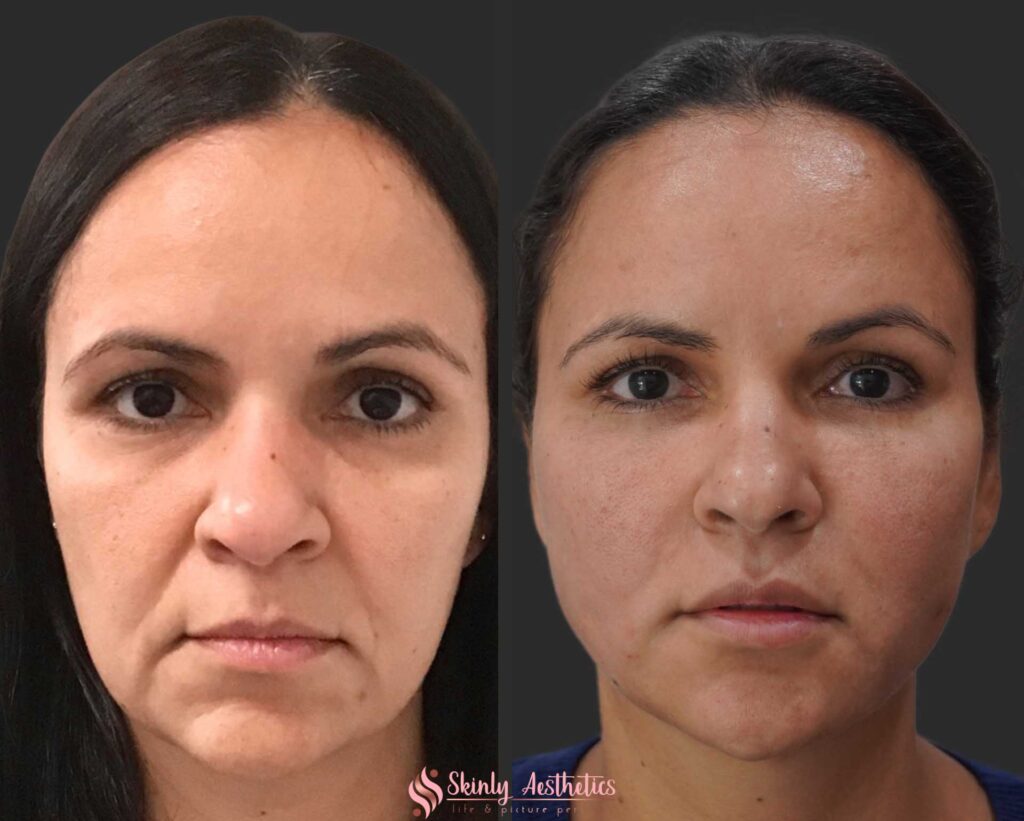 FREQUENTLY ASKED QUESTIONS:
HOW TO PREPARE FOR YOUR PDO THREAD LIFT AT SKINLY AESTHETICS
Achieving the best results from a PDO thread lift requires some simple yet crucial preparatory steps:
Consultation: Engage in a personalized consultation with Dr. Schwarzburg to understand the procedure, clarify doubts, and outline aesthetic objectives.
Medication: Halt the use of blood thinners like Aspirin and Ibuprofen at least one week prior.
Lifestyle: Abstain from alcohol consumption for at least 48 hours before to minimize bleeding risks.
Scheduling: Ideally, avoid social engagements for up to a week post-procedure to allow for potential recovery from temporary effects like bruising or swelling.
Cycle Considerations: It's recommended to schedule the procedure outside of menstrual periods to reduce the chance of bruising.
TIMEFRAME OF THE PDO THREAD LIFT
One of PDO threads' defining attributes is its efficient procedure duration. Generally, patients are in and out within 30 minutes to an hour. Moreover, the minimal downtime means you can quickly return to most of your daily tasks, all while enjoying immediate visual enhancements.
THE PDO THREAD LIFTING PROCEDURE WITH DR. SCHWARZBURG
At Dr. Schwarzburg's state-of-the-art suite, you'll experience premium care:
Preparation: The treatment area undergoes thorough cleansing and mapping for optimal thread placement.
Comfort First: Local anesthesia is applied, ensuring the process is as comfortable as possible.
Precision Insertions: Dr. Schwarzburg's technique involves meticulously placing threads, often using 10-18 threads for ideal results.
Post-Care: Post-procedure guidance includes providing ice packs to mitigate swelling and antiseptic solutions for pristine wound care.
PDO THREADS: A SAFE CHOICE
The FDA has given its stamp of approval to polydioxanone threads, lauding their safety in treating facial and neck laxity. As biodegradable materials, PDO threads harmoniously integrate without causing allergic reactions.
EXPERIENCING PAIN WITH PDO THREADS?
With Dr. Schwarzburg at the helm, discomfort is minimized. While there's a brief sensation during the anesthesia application, the thread insertion is predominantly pain-free. For those particularly sensitive, Pro-Nox – a soothing mixture of oxygen and nitrous oxide – is available.
ARE YOU SUITED FOR A PDO THREAD LIFT?
Dr. Schwarzburg identifies ideal candidates through:
Skin Conditions: Those with skin sag due to weight fluctuations, aging, or even genetics might benefit immensely.
Age Factors: Even individuals in their late twenties can be candidates, especially if they exhibit early signs of skin laxity.
Collagen Boost: The procedure is renowned for invigorating collagen production, returning skin to its former tautness.
CONTRAINDICATIONS FOR PDO THREAD LIFTS
While PDO threads are typically well-received, some conditions might render them unsuitable:
Material Sensitivity: A rare few might be sensitive to polydioxanone.
Skin Traits: A tendency to develop keloids could be a concern.
Health Considerations: Issues like blood disorders or weakened immunity can be deterrents.
Expectation Management: For those with considerable skin sag or seeking surgical results, alternatives might be more appropriate.
WHAT ARE THE RISKS AND SIDE EFFECTS ASSOCIATED WITH PDO THREADS?
While PDO thread lifts offer a less invasive option than surgical facelifts, it's essential to understand the potential risks and side effects. These typically dissipate over time, leaving you with the desired, rejuvenated appearance. Dr. Schwarzburg highlights:
Facial Swelling: An inflammatory response to PDO threads can cause swelling, which generally fades within a week.
Bruising: Minor bleeding due to the threads might cause bruising, lasting between 2-8 days.
Skin Dimpling: As the skin adjusts to the threads, especially near the hairline, puckering might occur but usually resolves in 1-2 weeks.
Thread Extrusion: Occasionally, a thread might become visible or move. A brief 10-minute procedure can address this.
Infections: Extremely rare and often a result of not adhering to post-procedure guidelines. Antibiotics typically treat it swiftly.
WHAT IS PDO THREAD LIFT AFTERCARE?
Post-procedure care is straightforward, ensuring a smooth recovery:
Take 600mg painkillers (Ibuprofen or Aleve) three times daily to manage swelling and pain.
Cold therapy during the initial 24 hours helps reduce inflammation.
Apply betadine on thread insertion points to mitigate infection risks.
Avoid rigorous exercise for up to a week to ensure threads stay in place.
Sleep on your back for the initial 48 hours to prevent thread migration.
WHAT IS THE DOWNTIME FOLLOWING PDO FACELIFT TREATMENT?
PDO thread lifts stand out for their brief recovery periods. Although you can resume most activities swiftly, it's advised to limit intense physical exertion and extreme facial expressions for about two weeks post-procedure.
WHEN WILL I SEE MY THREAD LIFT RESULTS?
Your rejuvenated appearance emerges almost immediately post-procedure. However, initial skin dimpling might mask the final outcome. Typically, this settles within a couple of weeks, revealing the enhanced contours of your face.
HOW DO PDO THREADS WORK?
PDO threads provide a dual-action effect. Firstly, they mechanically lift sagging skin. Once introduced, the threads latch onto the skin's deeper layers, specifically the SMAS layer, offering immediate elevation. Secondly, as the body breaks down the polydioxanone, it stimulates collagen production, ensuring sustained benefits even after thread dissolution.
WHAT ARE THE DIFFERENT TYPES OF PDO THREADS?
Various thread types cater to distinct aesthetic objectives:
Smooth PDO Threads (Mono Threads): These finer threads enhance skin texture, addressing concerns like acne scars, without lifting.
Barbed PDO Threads: Heavier, these threads contain hooks for efficient skin repositioning and are placed deeper to support weightier skin areas.
Screw Threads (Twisted Threads): Comprising two intertwined threads, they offer volume enhancement in areas like under the eyes.
CAN PDO THREADS LIFT THE NECK?
Neck rejuvenation is multifaceted, with factors like fat distribution, muscle activity, and skin laxity playing roles. While PDO threads can address skin sagging, other issues like platysmal banding or excessive fat might require treatments such as liposuction, neck Botox, or CoolSculpting.
HOW LONG DO PDO THREAD RESULTS LAST?
PDO thread lift outcomes are semi-permanent. The immediate benefits are visible post-procedure and can persist for 6-12 months. The longevity varies based on factors like age, treatment area, and thread type. For instance, mature skin or areas requiring more support might need frequent touch-ups.
HOW MANY PDO LIFTING SESSIONS ARE NECESSARY?
While many patients find satisfaction after just one PDO treatment, Dr. Schwarzburg recommends a maintenance session 6 months post-initial treatment. For those with considerable skin laxity, biannual sessions may be essential during the initial 1-2 years. Afterward, upkeep sessions can be spaced every 1-2 years or as required.
WHO IS QUALIFIED TO PERFORM PDO THREAD LIFTING?
Seek a board-certified doctor with extensive experience, like Dr. Schwarzburg in NYC. PDO threads, when misplaced, can cause irreversible damage. Unfortunately, few in the US, including New York, are adept at successful PDO thread lifts. Dr. Schwarzburg is among the elite capable of safely performing these procedures.
WHAT IS THE DIFFERENCE BETWEEN PDO THREADS AND PLLA OR PCL THREADS?
While PDO threads are biodegradable over several months, PLLA or PCL threads offer more durability, often lasting up to 8 months.
CAN I COMBINE PDO THREADS WITH OTHER COSMETIC TREATMENTS?
Yes. PDO thread lifts are often complemented with treatments like Botox or dermal fillers for comprehensive rejuvenation. Additionally, treatments like Secret RF microneedling and Fraxel laser resurfacing can enhance skin quality.
PDO THREAD LIFT COST IN NEW YORK
The cost ranges from $1000-$5000 per session, influenced by the doctor's expertise, thread type, number of threads, and treatment area. Dr. Schwarzburg emphasizes the importance of valuing expertise over cost for such intricate procedures.
ARE PDO THREADS WORTH IT?
PDO threads offer a promising solution against aging signs. Dr. Schwarzburg suggests addressing sagging facial skin early for best results. With its ability to rejuvenate various areas of the face, PDO thread lift boasts an impressive 89% approval rating on RealSelf.
BEGIN YOUR AESTHETIC JOURNEY WITH DR. SCHWARZBURG
Embarking on a cosmetic procedure is an intimate decision, and it's crucial to be in the most skilled hands. As a leading figure in the world of aesthetic medicine, Dr. Schwarzburg provides unparalleled expertise in PDO thread lifts and a range of other treatments. If you're based in NYC or considering a visit, take the first step towards rejuvenation by scheduling a consultation at Dr. Schwarzburg's esteemed clinic. Experience personalized care, where your aesthetic aspirations are heard, understood, and artfully realized.