PDO THREAD LIFT WITH DR. SCHWARZBURG IN NYC
PDO (polydioxanone) thread lift is a non-surgical skin lifting treatment that uses dissolvable barbed sutures to lift lax dermal layers, contouring the face and neck without the need for surgical intervention.
PDO threads were invented in Europe, refined in Asia, and taken to new heights in New York by board-certified cosmetic physician Dr. Schwarzburg.
Dr. Schwarzburg was the first doctor to introduce the groundbreaking concept of non-surgical facelifting through collagen-stimulating PDO threads in New York in 2020 to satisfy the demand of many patients looking to lift saggy skin without invasive surgery.
Since then, Dr. Schwarzburg became the ultimate authority on PDO thread lifting in New York with many patients seeking his expertise based on the following:
Successfully treated numerous patients who wanted to lift and tighten their skin without side effects and downtime associated with surgical procedures;
Consistently achieved exceptional rejuvenating results with patients looking 10-15 years younger after PDO thread lifting;
Seamlessly integrated PDO threads with other minimally invasive modalities including dermal fillers to achieve the best possible results
NON-SURGICAL PDO THREAD LIFTING IN NEW YORK
PDO threading is an advanced procedure utilizing dissolvable sutures with barbs and cogs to elevate droopy facial skin to achieve a non-surgical facelift. Dr. Schwarzburg is one of the few physicians qualified to perform this revolutionary face-lifting treatment in New York because of his advanced training and his own inventions in the field of cosmetic surgery.
Non-surgical facelift with implantable PDO sutures involves no skin incisions, stitches, or scarring, all the while leaving you with a tighter, lifted face and making you look 10-15 years younger.
There are 2 main reasons why patients choose PDO threading at Skinly Aesthetics:
Preventing skin sagging before it happens is an effective approach to stop the aging process from happening in the first place. Constant tension on the skin coupled with continuous collagen production is a sure way to keep skin youthful and smooth;
Reversing skin laxity at its early stage with barbed PDO threads has been clinically proven as a successful method of skin rejuvenation. The traction force provided via fixated PDO threads allows the skin to shrink on its own and recover its tightness and firmness for a fresh-faced look.
YOUR CONSULTATION FOR PDO THREADING PROCEDURE WITH DR. SCHWARZBURG IN NEW YORK
A one-on-one consultation with Dr. Schwarzburg is crucial to determine your candidacy for the PDO thread lift treatment as well as an opportunity to discuss any questions or concerns you may have.
During your consultation you will go over all pros and cons of the thread-lifting procedure, your concerns, and how your ideal aesthetic goals can be achieved.
Dr. Schwarzburg will conduct a thorough physical examination including your facial anatomy, and degree of skin laxity as well as your medical history and any relevant allergies.
Upon completion of the assessment a unique treatment plan will be devised and your actual appointment scheduled.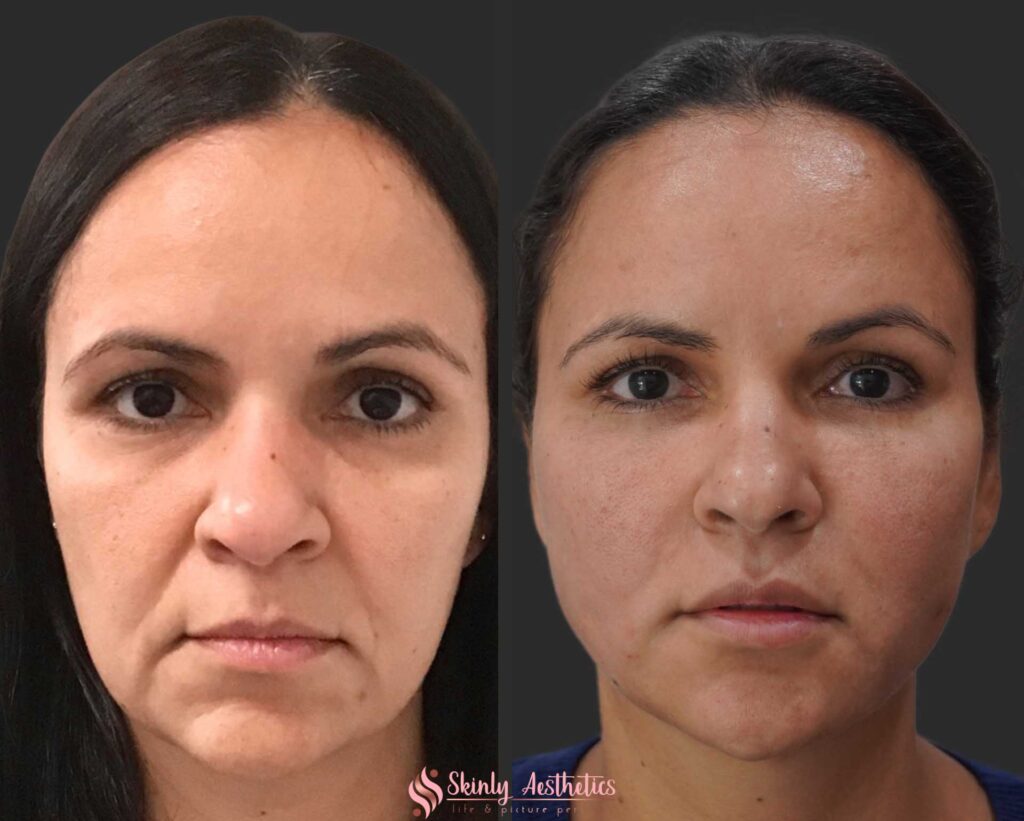 PREPARING FOR PDO THREAD LIFT AT SKINLY AESTHETICS
The efficacy of PDO thread lifting is similar to that of a surgical facelift the pre-procedural but the preparations are minimal and include the following:
You should discontinue blood thinning medications like Aspirin and Ibuprofen 1 week before you scheduled appointments;
Avoid drinking alcohol 48 hours prior to the procedure to minimize bleeding;
You should time your PDO thread lifting procedure around important social events because in certain cases you may appear "unpresentable" for 3-7 days following the treatment secondary to bruising, swelling and skin puckering or dimpling;
PDO threading should be postponed when you are on your period as the chances of bruising are significantly higher.
PDO THREAD LIFT PROCEDURAL PROCESS AT SKINLY AESTHETICS
Upon arrival to Dr. Schwarzburg's private non-surgical suite you will be guided by his staff members and comfortably seated in the treatment chair. The actual procedure entails the following:
Thorough disinfection of the treatment area with alcohol and chlorhexidine;
Marking the skin with dermapen to delineate the direction of insertion for PDO threads;
Injection with local anesthetic containing lidocaine and epinephrine to make procedure pain-free and minimize bleeding. The injections have been described as a few seconds of stinging and burning;
A small hole is punctured with an 18 gauge needle and a cannula loaded with a barbed PDO thread is inserted;
The distal end of the thread is then anchored in place and as the metal cannula is pulled out, the skin is pushed up to engage the barbs that will keep the newly elevated dermal layers in their newly suspended state;
The remaining proximal part of the thread is cut off and secured into the insertion point;
The steps are then repeated with as many threads and as many times as needed to achieve your optimal outcome. Dr. Schwarzburg routinely uses 10-18 threads to tighten and lift facial and neck tissues for best-looking PDO thread results;
Once the procedure is over you will be provided with ice packs to decrease swelling, painkillers to minimize discomfort, and betadine solution to keep small wounds free from bacterial contamination;
Finally, you will be scheduled for a follow-up appointment in 2 weeks to ensure the threads have properly settled.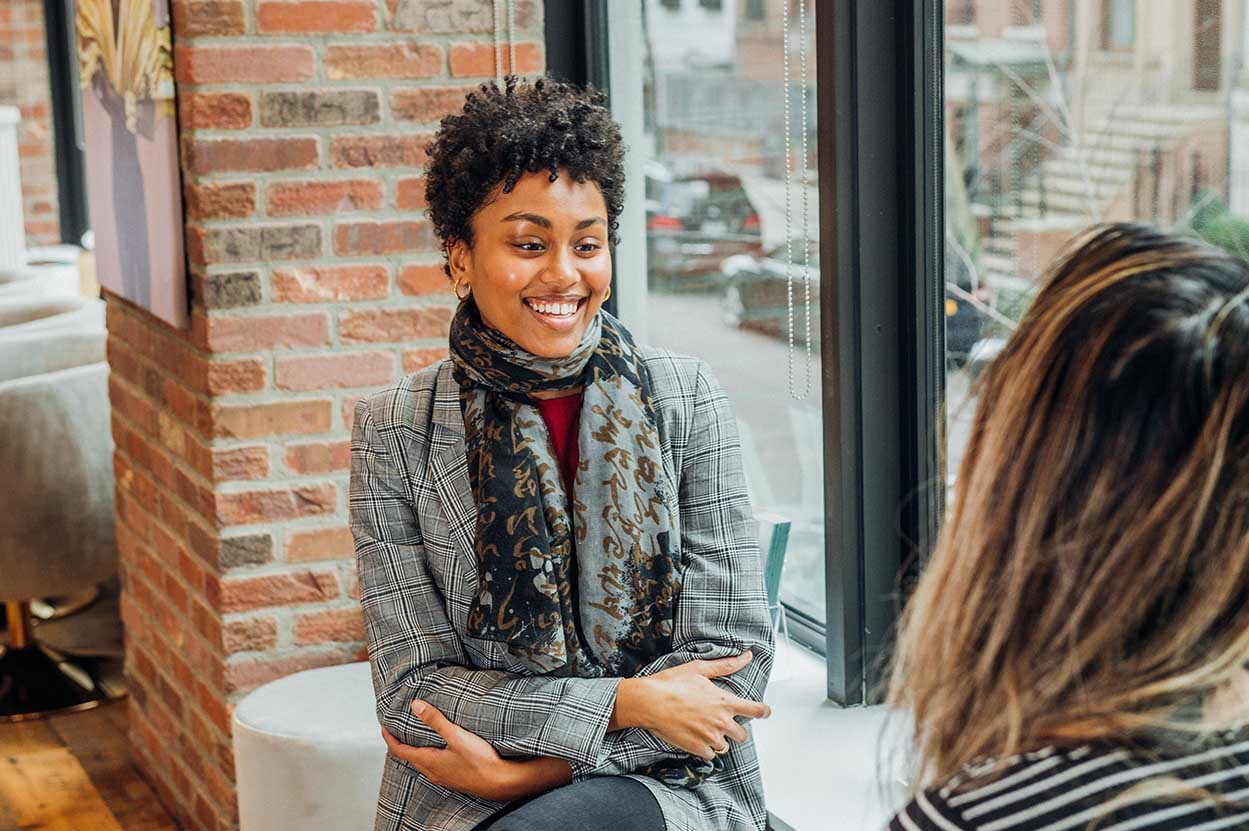 FREQUENTLY ASKED QUESTIONS:
After several successful clinical trials, polydioxanone thread lifts have been cleared by the FDA as a safe and effective way to treat skin laxity in the face and neck. As biocompatible, biodegradable synthetic polymers, PDO threads are reabsorbed by the body and don't trigger allergic reactions in humans or animals.
Dr. Schwarzburg's employs his own patented technique for thread insertion, which is virtually pain-free.
You will find that local lidocaine and epinephrine injection is the most unpleasant part of the procedure which is a stinging sensation followed by immediate numbness;
You should expect tugging and tightness as the threads are inserted and the skin is lifted;
If you have very low pain tolerance Dr. Schwarzburg offers Pro-Nox, which is a mix of oxygen and nitrous oxide for a complete pain-free experience.
WHO IS A CANDIDATE FOR A PDO THREAD LIFT?
Dr. Schwarzburg developed the following criteria to ensure you are a great candidate for this revolutionary non-surgical facelifting procedure:
Skin sagging secondary to substantial weight loss;
Moderately flaccid skin because of age-related collagen loss and weakening of the retaining ligaments in the face;
Minor skin laxity which is secondary to genetics and manifests itself at a relatively young age in the late twenties and early thirties;
Collagen thread lift will rev up collagen growth and firm up and tighten your skin to revert you back to your former youthful self!
WHAT ARE THE CONTRAINDICATIONS FOR A PDO THREAD LIFT?
PDO threads are non-allergenic and biodegradable, meaning that your body absorbs and metabolizes them over time and you are extremely unlikely to have an allergic reaction to them.
There are few contraindications to PDO collagen boosting treatment and Dr. Schwarzburg identifies the major following exclusions:
Sensitivity to polydioxanone;
Tendency to form keloids;
Bleeding disorders;
Patients with the compromised immune system;
Excessive skin laxity that necessitate plastic surgery intervention;
Unrealistic expectations including anticipation of surgical like results in patients with redundant skin or severe volume loss that requires replacement with dermal fillers;
Inability to comply with post-care protocols or tolerate transient minor to moderate skin dimpling following the completion of the procedure.
WHAT ARE THE RISKS AND SIDE EFFECTS ASSOCIATED WITH PDO THREADS?
The risks posed by a minimally invasive facelift are minor and insignificant when compared to those of a surgical facelift. While small skin folds and dimpling can occur, all associated side effects of a thread lift are temporary leaving you with the contoured face you've been longing for.
Dr. Schwarzburg notes the following common side effects after the completion of the procedure:
Facial swelling secondary to tissue inflammatory response to PDO threads lasting up to 7 days;
Bruising or ecchymosis because of threads causing minor bleeding lasting 2-8 days;
Skin puckering and dimpling that develop secondary to loose skin being bunched up at the level of thread insertion near the hairline. This subsides over the course of 1 – 2 weeks and is completely normal and necessary for adequate results;
Thread extrusion through the skin secondary to thread displacement or disengagement, which is easily clipped and excised through a 10 minute follow-up procedure;
Infection is extremely rare and secondary to inadequate sterility during the procedure or not following with post-procedural protocols. Regardless, it is easily treated with a short course of antibiotics.
WHAT IS PDO THREAD LIFT AFTERCARE?
PDO thread lifting procedure is non-surgical and the aftercare is minimal compared to its surgical counterpart. Dr. Schwarzburg recommends the following simple steps to ensure uneventful recovery:
600 mg of painkillers such as Ibuprofen or Aleve 3 times daily to decrease swelling and tenderness;
Cold therapy for first 24 hours to minimize bruising and inflammation;
Application of betadine along the thread placement points to decrease bacterial load and the risk of infection;
Avoiding high-intensity exercises for up to 7 days to minimize thread displacement and dislodging;
Sleeping on your back for first 48 hours to prevent threads from shifting.
HOW LONG IS PDO THREAD LIFTING PROCEDURE?
One of the major advantages of PDO threads is how quickly the procedure can be done compared to invasive plastic surgery. On average it takes 30 minutes to 1 hour to have all the threads inserted with instantaneously visible results and immediate return to most normal daily activities.
WHAT IS THE DOWNTIME FOLLOWING PDO FACELIFT TREATMENT?
One of the main advantages of PDO facelifting is minimal post-procedural downtime which involves restricting intense physical activity for 1 – 2 weeks, and dramatic facial expressions for 1 -2 weeks post-treatment.
WHEN WILL I SEE MY THREAD LIFT RESULTS?
Unlike surgical facelifts that take weeks to fully heal, your thread lift results are immediately visible and appreciated. Depending on the severity of baseline skin ptosis you can expect 1 – 2 weeks of minor skin dimpling and puckering which will veil your final results until you are fully healed. The amount of time that it takes to heal largely depends on your individual healing response and how quickly your body can produce new collagen to repair itself.
PDO THREAD LIFTING FOR A V-SHAPED FACE?
A V-shape face is a classical face shape that resembles that of a heart and is often associated with a healthy and youthful doll-like look. As we become older this V-shape begins to diminish leaving us with droopiness rather than a perky and chiseled jawline. A non-surgical PDO thread facelift procedure is designed to bring back this V-shape by lifting up drapes of loose skin. PDO thread insertion is quick, minimally invasive, and involves less downtime, allowing you to leave your appointment with a heart-shaped face and snatched jawline to show off right away!
HOW DO PDO THREADS COMPARE TO SURGICAL FACELIFTS?
Surgical facelifts have a long and proven track of being effective and have been performed numerous times over the past several decades; they were considered the gold standard approach to facial skin lifting until the advent of minimally invasive and non-surgical alternatives such as PDO thread lifting.
A surgical facelift, also known as rhytidectomy, typically involves an incision made along the hairline or under the chin for droopy skin to be pulled up, trimmed off, and sutured along the original incision. The recovery time of a rhytidectomy can last up to 3 weeks and can result in unwanted sequelae including infection, scarring, and loss of sensation if not handled with care;
PDO thread lift requires no surgery, incisions or stitches and typically only necessitates 2 – 4 insertion points for the barbed threads to be inserted via cannula. Over the following 2 – 3 months as the polydioxanone threads dissolve, they leave columns of collagen behind, giving you long-term tightness and a lasting lift. Downtime is nominal compared to a surgical facelift and has nearly zero restrictions in terms of social interactions and getting back to normal daily activities. Most patients recover within several days to 2 weeks following their PDO thread treatment without having to stay at home or limit their personal or professional life.
PDO threads work by elevating and mechanically fixing loose cutaneous and subcutaneous tissues in a new lifted position. When the PDO thread is inserted and attached to the undersurface of the skin along the superficial muscular aponeurosis or SMAS layer the barbs engage the overlying skin, keeping the newly lifted skin in place. Polydioxanone is hydrolyzed by the body over time, stimulating collagen production as a result of the inflammatory response posed onto the body as the threads dissolve.
WHAT ARE THE DIFFERENT TYPES OF PDO THREADS?
There are several shapes, sizes, and forms that these threads come in, including smooth, barbed, molded and twisted, that are suitable for different treatment areas and aesthetic goals.
Smooth PDO threads also known as mono threads are very small diameter threads that do not lift sagging skin. They are inserted in a grid-like pattern superficially into the deep dermis. Their main goal is to stimulate collagen generation to make the skin quality better, e.g. texture, acne scarring, skin dryness, etc. Smooth threads can also be used to treat fine lines and wrinkles in delicate areas such as around the eyes and lips.
Barbed PDO threads on the other hand are large diameter threads anywhere from 21G to 18G and have special sharp hooks, also called barbs attached bidirectionally along their length. Barbed PDO threads can not be placed into superficial dermal layers as they can cause scarring. They must be carefully placed along the SMAS layer, just above the muscle and below the subcutaneous layer. Barbed PDO sutures are created to withstand high loads of tension and can effectively reposition droopy skin in any direction. Barbed variety takes a long time to hydrolyze and their effects are longer compared to smooth PDO threads.
Screw threads or "twisted threads" consist of 2 intertwined threads and are generally used for mild volume enhancement under the eyes, in the cheeks, and mid-face.
WHAT HAPPENS TO REDUNDANT SKIN AFTER A THREAD LIFT?
With PDO thread lifts, excess and redundant skin is not trimmed off as it would be in a surgical facelift; instead, it is bunched up and puckered at the proximal end of the thread. Over time, the sophisticated internal signaling mechanisms cause this puckered tissue to gradually contract and shrink, diminishing over the course of 2 – 6 weeks. This process is quicker in younger patients who have more collagen reserves to begin with, which is why PDO threads are so commonly used and particularly effective for patients with mild to moderate skin laxity rather than severe ptosis.
WHY IS COLLAGEN PRODUCTION IMPORTANT FOR A SUCCESSFUL PDO THREAD LIFT?
Collagen is the most important protein that can be viewed as a building block for your skin. Without collagen, your skin essentially loses its structure, leaving you with weak, thin, flaccid skin. Unfortunately, our bodies produce significantly less collagen as we become older, which is why the primary visible signs of aging are manifested in the skin in the form of wrinkles, lines, and sagging. Dermal fillers and Botox can be useful to disguise some of these unattractive consequences of aging, though they can not get rid of skin flaccidity.
PDO threads not only lift the skin, but leave massive amounts of collagen behind, giving you back some of the structural integrity that has been lost in your dermal layers over time, and keeping the treated area plump and firm.
WHAT ARE PDO THREAD TREATMENT AREAS IN THE FACE?
Polydioxanone threads can be used on several regions of the face, neck and body to reposition loose tissue and stimulate collagen production for an overall tightening effect.
Mid and lower face are classically lifted and tightened to improve the appearance of sagging cheeks and nasolabial folds;
Jowls are those unsightly drapes of skin that sag past your jawline and trace to the corners of your mouth. PDO threads lift these jawline drapes, giving you back your prior face shape, with minimal downtime or side effects. A PDO thread lift to lift your jowls gives you the immediate effect of a sculpted and "snatched" jawline that will last you up to 1-2 years with appropriate maintenance visits;
PDO fox eyebrow lift is when PDO threads are inserted vertically along the forehead to gently pull up the eyebrows for a semi-permanent PDO eyebrow lift and in some cases, a mini-blepharoplasty. The beauty of using PDO threads to elevate the eyebrows is that they can be adjusted to various degrees. The brows can be pulled in various directions at different levels of intensity allowing for versatility in terms of cosmetic outcomes.
PDO thread rhinoplasties are possible using barbed threads. However, nose thread lift alone is rarely enough to achieve optimal results. PDO nose lifts tend to last a few weeks before they begin to loosen, leaving you back at square one. Dr. Schwarzburg typically recommends liquid rhinoplasty for patients looking to restructure the bridge of the nose without having to undergo surgical intervention.
CAN PDO THREADS LIFT THE NECK?
The neck plays a crucial role in the aesthetics of the head-neck region. A mature neck bears many signs of the aging process but can be revitalized with PDO threads.
Neck laxity is not just turkey neck or "wattle" neck as there are other contributing factors to consider to successfully rejuvenate the neck.
Fat compartments at the mandible-chin interface undergo abnormal fat distribution and effacement of the sharp mandibular border – a critical feature of youthfulness and beauty. The fat usually migrates inferiorly into submandibular and submental spaces, which is visually demonstrated by a double chin and full lateral neck without a sharp transition at the angle of the mandible.
Reduction of the cervicomental angle also accompanies this abnormal adipose tissue positioning. Solving this excess fat problem involves undergoing surgical neck liposuction or non-surgical treatments like CoolSculpting or Kybella.
Platysmal muscle hypertrophy is another nuisance that contributes to skin laxity in the neck. It includes platysmal banding with a bow-string effect that pulls away from the neck musculature. Platysmal overactivity can be counted with targeted Botox neck injections at an early stage or with surgical plication when the bands can't be simply reduced with a neurotoxin.
Dysfunctional fat accumulation and platysmal bands lead to stretching out of the skin, which loses its ability to retract and snap back into its healthy, tight former self.
Strategically placed PDO neck threads can significantly reverse mild to moderate neck laxity by draping the skin tightly around the neck. PDO neck threads work by both mechanically contracting the skin and by inducing intense collagen production.
WHAT IS THE PROCESS BEHIND SKIN SAGGING?
Sagging skin, particularly in the mid and lower face and neck, is one of the major hallmarks of the facial aging process. The classic signs of sagging skin include:
Loss of skin firmness and plumpness;
Sagging jowls and heavy, indistinct jawline;
Shifting of facial compartments downward reversing the youthful V profile for a more boxy and bottom-heavy face.
Dr. Schwarzburg explains that loose skin slowly occurs secondary to intrinsic and extrinsic factors:
Intrinsic – gradual weakening of the multiple retaining facial ligaments including orbicularis retaining ligament, zygomatic cutaneous ligaments and masseteric cutaneous ligaments. Once their integrity has been weakened they can no longer support the overlying cutaneous tissues resulting in unwanted skin sagging;
Extrinsic – the unrelenting force of gravity that over time pulls down even the most resilient facial tissues.
HOW LONG DO PDO THREAD RESULTS LAST?
A thread lift can be viewed as a semi-permanent facelift if you take the necessary steps to maintain your results. You will reap the benefits of your collagen threads immediately after your treatment, which will last 6 – 12 months before the results begin to fade.
How long your lift lasts depends on multiple factors:
Your individual anatomy and age – more mature patients will have less impressive results as their collagen production is overall diminished;
The area treated – jowls will require a stronger tension with more threads to maintain the lift with longer lasting results vs cheeks usually require fewer threads with shorter results;
Type and number of threads inserted – barbed threads tend last up to 12 months and the more threads get inserted the longer the results will last.
Dr. Schwarzburg, a cosmetic surgeon located in NYC, recommends a full second PDO thread lift session 6 months after the first round to solidify the original outcome and produce further lifting and tightening. After your second session, you can come back for annual or biannual treatments to maintain your youthful and structured face.
HOW MANY PDO LIFTING SESSIONS ARE NECESSARY?
One PDO treatment leaves most patients satisfied, though Dr. Schwarzburg recommends a follow-up or maintenance treatment 6 months after your first round. However, it must be noted that depending on your baseline presentation and the degree of skin laxity you may require biannual sessions to fully keep and preserve the results for the first 1-2 years. Your upkeep sessions can then be administered every 1 – 2 years or as needed to keep your skin from becoming loose again.
WHO IS QUALIFIED TO PERFORM PDO THREAD LIFTING?
It is extremely important to get your threads administered by a very well-trained, experienced, and skilled board-certified doctor in NYC. Improperly placed PDO threads can result in permanent damage to vascular, glandular, ductal, or muscular structures. A PDO thread lift is a complex procedure that, if carried out by an inexperienced or unqualified provider, can even cause long-term damage to facial nerves, in some cases resulting in partial facial paralysis.
With this in mind, it is salient to do extensive research on the clinic and the person who is going to be placing your threads to confirm that you are in the right hands. There are very few providers in the United States and in New York that are actually capable of executing successful PDO thread lifts. Dr. Schwarzburg is one of the few select doctors in New York capable of effectively and safely performing various thread-lifting techniques.
WHEN SHOULD I START GETTING PDO THREADS AND WILL THEY PREVENT AGING?
Dr. Schwarzburg's approach in this matter is to try to prevent the aging process altogether by implementing certain proactive minimally-invasive options.
Depending on genetics and environmental factors, skin laxity starts developing in the mid-20s when our collagen reserves start depleting. Visually this is evident by "sliding" and pushing the skin downward, creating classic nasolabial folds near the corner of the mouth and the corner of the chin;
This minimal skin ptosis can be completely reversed with a targeted placement of barbed sutures to lift and tighten the skin. In 30-60 minutes the clocks of your face will be completely reversed with no follow-up needed and going back to your favorite activities immediately after;
This simplicity of the aftercare process is what makes this non-surgical skin lifting a winner and an easy decision for you to stay youthful for a long time. The threads will provide immediate structural support and reinforcement to the overlying skin making you look 4-10 years younger.
Dr. Schwarzburg explains that this treatment can be conveniently and safely done once 1-4 years to successfully halt the aging process at its root through constant collagen production in your skin. Not only this, but many patients also consider other collagen-boosting treatments like Fraxel or RF microneedling that work in synergy a longer-lasting non-surgical threading facelift.
WHAT IS THE DIFFERENCE BETWEEN PDO THREADS AND PLLA OR PCL THREADS?
PDO threads dissolve over the course of several months and have different levels of durability and stiffness. In some cases, a more durable thread is ideal, which is when PLLA or PCL threads are more suitable. PLLA and PCL threads are much longer lasting compared to PDO threads and can stay in soft tissues for up to 8 months.
CAN I COMBINE PDO THREADS WITH OTHER COSMETIC TREATMENTS?
Because a PDO thread lift isn't always quite as dramatic as a surgical facelift and primarily is used to address skin laxity and sagging, many of Dr. Schwarbzurg's patients get a variety of other rejuvenating procedures to further enhance their aesthetic rejuvenation.
Neuromodulators including Botox, Dysport, Xeomin, and Jeuveau are used to treat lines and wrinkles that may not be affected or reduced after the insertion of threads. A botox brow lift may be administered in addition to a PDO eyebrow lift for optimal elevation.
Dermal fillers may be used to add volume in areas in which it is lacking, such as under eye filler and lip filler, two regions of the face that cannot be fixed using threads. Some thread-lifting techniques are able to create the illusion of a more structured cheekbone, though in cases in which the lower face is the area of concern, a Juvederm filler may be injected for a liquid cheek enhancement for an overall more contoured face shape.
Other collagen-stimulating treatments are frequently recommended for patients looking to improve the quality of their skin deep down to the SMAS layer using Secret RF microneedling and Fraxel laser resurfacing for a smoother and sleeker facial glow.
PDO THREAD LIFT COST IN NEW YORK
The cost of PDO thread lifting in New York ranges $1000 to $5000 per single treatment.
There are various factors that will affect the cost of your PDO thread lift including the following:
Doctor's expertise, experience, and level of training. A board-certified physician with an exquisite understanding of facial anatomy will charge more than a nurse or esthetician whose level of expertise may be impossible to assess;
The type thread itself, in terms of length, thickness, texture, and type as PCL and PLLA threads will cost more than PDO threads;
The number of threads needed to successfully achieve your desired result – the more threads that are used the more expensive the procedure becomes;
The area to be treated will also determine the cost, as a larger area such as the jawline and neck will likely take longer and require more detail and precision, than a mini-brow lift.
Dr. Schwarzburg, an esteemed board-certified cosmetic physician based in New York, advises against pinching pennies for this highly complex procedure, which can dramatically change the way you look if done incorrectly.
DOES INSURANCE COVER PDO THREAD LIFTS?
Collagen thread lifts are cosmetic and not strictly medical, which is why they are not covered by insurance. However, Skinly accepts FSA and HSA flexible spending cards as well as certain payment plans.
ARE PDO THREADS WORTH IT?
Whether your goal is to ward off or undo both subtle or advanced signs of the facial aging process the technology behind PDO threads is clinically proven to be consistently and predictively effective. It is best to consider the procedure once you have noticed the initial signs of facial skin sagging. As Dr. Schwarzburg explains it – the earlier you catch the problem the easier it is to fix.PDO thread lift is completely worth it because it completely reverses early signs of the aging process and dramatically improves mild to moderate skin laxity. Whether it's heavy eyebrows, early jowling or deflated cheeks, thread lifting has kept thousands of happy patients looking youthful and healthy. As reflected by multiple online reviews and patient feedback the thread lifting procedure enjoys an unprecedented 89% approval rating on RealSelf.
WHERE CAN I GET PDO THREADS NEAR ME IN NEW YORK?
PDO threads are only offered by a select number of physicians in the United States. Even fewer are able to successfully execute this treatment on a variety of patients with different anatomy and aesthetic goals.
Dr. Schwarzburg is one of the handful of board-certified plastic surgeons with the skill level, experience, and extensive training required to safely and effectively perform a PDO thread lift on any type of patient.
Skinly Aesthetics is located on the Upper East Side in Manhattan with close proximity to major routes of transportation including subway, trains, and buses. It's a short walk from major department stores such as Bloomingdales and also from the world-famous Central Park of NYC.
To schedule your personal consultation with Dr. Schwarzburg, M.D., you can contact Skinly at (212) 774-4264 or email us at info@skinlyaesthetics.com.
RELATED TOPICS