Dr. Schwarzburg is a board-certified, Ivy-League educated cosmetic physician with over a decade of experience in helping patients look and feel their best. As a specialist in minimally invasive cosmetic procedures ranging from skin rejuvenation treatments to facial and body contouring, he has contributed his expert opinion to publications including Forbes, Glamour, Harper's Bazaar and many others. Dr. Schwarzburg's patented injection technique has allowed him to help thousands of patients make their beauty goals a reality over the years, including obtaining a more flattering jawline.
When you make an appointment for non-surgical jawline sculpting and definition with Dr. Schwarzburg at Skinly Aesthetics, you will enjoy the following benefits:
A board-certified doctor with over ten years of expertise in minimally invasive facial augmentation procedures, who created thousands of chiseled and snatched jawlines in numerous patients;
Convenient and safe non-surgical jawline sculpting that doesn't disrupt your usual schedule and requires virtually no downtime, minimal risks, or side effects;
Subtle and natural-looking jawline shaping that boosts your confidence and self-esteem without the need for invasive surgery;
An instant and simple correction of a weak or receding jawline;
A clean, comfortable, and luxurious environment of highly rated Upper East Side medspa Skinly Aesthetics;
Top-quality care from one of the most sought after and highly experienced cosmetic physicians in NYC.
JAWLINE SCULPTING WITH DERMAL FILLERS IN NEW YORK CITY
The appearance of jawline, chin, and submental area is a source of insecurity for many patients. Reports show that even a slight double chin is enough to diminish one's self-esteem. There's no question as to why this area of the face feels so crucial – the shape of your jawline plays a key role in how people perceive your face overall. Studies show the contours of the chin and jawline may be the most important factor when it comes to determining facial attractiveness. In large cities such as New York, run by the fashion and beauty industry, alongside the constant pressure of meeting social standards of beauty both professionally and personally, jawline fillers are extremely popular and in high demand.
If you have a weak jawline, there's frustratingly little you can do to alter it on your own; exercise can help you lose a bit of weight and gain facial definition, but sometimes it simply comes down to genetics, age, and bone structure. Jawline augmentation improves your appearance by adding volume and definition in areas where you might otherwise lack it. Some people turn to chin or jawline implants that are inserted via surgery to restructure their mandibular line; however, minimally invasive jawline fillers provide an easier, safer alternative that allows you to achieve the look you want without lengthy and invasive procedures.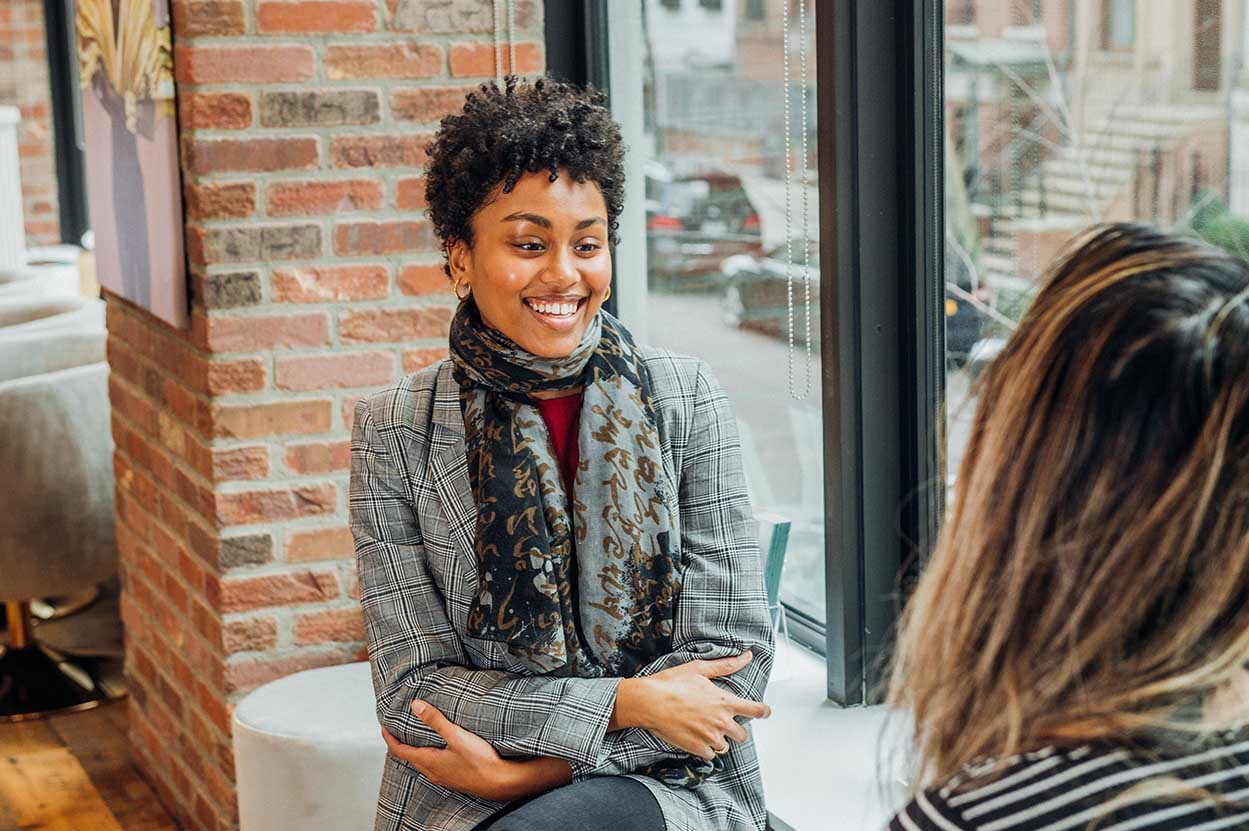 WHY SHOULD YOU GET JAWLINE FILLERS AT SKINLY AESTHETICS?
At Skinly Aesthetics, patients get jawline filler as a way to receive the following benefits:
Achieve balance in the face by adjusting the proportions and symmetry of the jawline;
Define the jawline for a more slender-looking neck;
Combat the look of a weak jawline or receding chin by adding prominence and sharpness and making the jaw more angular and snatched in appearance;
Create a more youthful look by restoring the structure to the jawline, which diminishes as you age;
Add volume to the mandibular area for a stronger or more masculine jawline;
Diminish the appearance of a double chin by highlighting the outlines of the jaw;
Elevate soft tissues for a slightly lifted look.
PREPARING FOR NON-SURGICAL JAWLINE SCULPTING AT SKINLY AESTHETICS
The process of preparing for jawline fillers is fairly simple and straightforward; it rarely requires any pre-appointment action on your part. To make sure your treatment goes as smoothly as possible, Dr. Schwarzburg advises you to take the following steps
If you take any blood thinning medications (such as Ibuprofen), cease taking them for up to two weeks before your procedure to minimize bruising;
If you have a low pain tolerance, take one to two Tylenol tabs 1 hour before your appointment;
Check your calendar to make sure you aren't getting filler right before a significant event – while there is no downtime associated with jawline filler, bruising, swelling, and redness may affect your appearance in the picture for a few days post-treatment
PROCEDURAL PROCESS OF RECEIVING JAWLINE FILLER WITH DR. SCHWARZBURG
When you come to Skinly Aesthetics, Dr. Schwarzburg and his staff go above and beyond to make sure your jawline treatment is comfortable, quick, and convenient. After you have made your appointment and gone over any questions and concerns, here's what you can expect when you arrive at the clinic on the day of your procedure:
Dr. Schwarzburg begins with a consultation in which he can evaluate your facial structure, establish your medical history and rule out contraindications, discuss your dream jawline and make a plan to achieve that result, and help you set realistic expectations;
Dr. Schwarzburg will take front and profile-facing pictures of your jawline for your personal records so you have a pre-existing photo to compare your final result with;
Before the procedure, Dr. Schwarzburg will sanitize the skin with alcohol and use a skin-safe marker to draw multiple lines along the jawline to delineate treatment area;
A numbing anesthetic cream is applied to the treatment area to prevent discomfort;
The injections themselves are administered with a long small needle or a cannula, which is typically inserted laterally to the prejowl sulcus;
The injections themselves only take around 10 to 20 minutes; they may be delivered into the deep plane, muscular plane, or subcutaneous plane of the jawline depending on how Dr. Schwarzburg plans out the procedure;
Post-treatment, Dr. Schwarzburg will cleanse the area with alcohol and provide you with a soothing ice pack, as well as a summary of aftercare;
Finally, you will book your follow-up appointment in which you can discuss your results and, if needed, schedule a touch-up.
FREQUENTLY ASKED QUESTIONS
IS JAWLINE FILLER SAFE?
Jawline fillers are a safe and effective method of jawline shaping, especially when compared to riskier methods like jawline implants or neck liposuction. The most commonly used jawline filler at Skinly Aesthetics is Radiesse, which is FDA approved.
DOES JAWLINE FILLER HURT?
Jawline filler may cause some slight discomfort, particularly during the injection process, but is usually well tolerated by the majority of patients. It's normal to be sore and feel tenderness following the procedure as well. In the care of a qualified and experienced injector like Dr. Schwarzburg patients find the experience relatively painless – especially since he uses a medical-grade numbing lidocaine cream in advance of treatment to reduce pain. More sensitive patients can request ProNox anesthesia, known as nitrous oxide laughing gas, to further minimize discomfort. Some patients benefit from taking 800mg of Tylenol pills prior to their appointment.
HOW LONG IS THE JAWLINE FILLER PROCESS?
Jawline filler injections don't take very long; in fact, people caught up in the hustle and bustle of New York City life find that this is an easy procedure to slip into their schedule. You should factor in approximately 30 to 60 minutes for your treatment, but the injection process itself usually doesn't exceed 20 to 30 minutes. This time frame might change depending on how many syringes of fillers you need and how long your consultation with Dr. Schwarzburg lasts, as patient expectations and concerns can vary.
HOW MANY SYRINGES OF FILLER ARE NEEDED FOR JAWLINE CONTOURING?
When it comes to shaping the jaw, the number of dermal filler syringes needed varies from patient to patient. Jawline contouring encompasses a large anatomical region and may require anywhere from 1 to 6 syringes or 1-6 ml of dermal filler.
1-2 syringes of Radiesse or Juvederm Voluma are typically sufficient for a subtle jawline lift and definition which equates to approximately 1-2 ml of gel product;
3-4 syringes of dermal fillers may be needed to supplement a more severe lack of jawline volume or angulation.
Dr. Schwarzburg prefers to take a conservative approach and typically starts with the minimum amount of filler, typically 1-2 syringes and, depending on how the patient feels after it has settled, gradually adds more as needed.
WHO IS A CANDIDATE FOR JAWLINE FILLER INJECTIONS IN NYC?
If a softness or lack of definition in the mandibular area is of concern to you, jawline filler can help restructure the lower region of your face and boost your self-image.
You are a candidate for jawline contouring if you don't have chronic medical conditions, bleeding disorders, and are generally in good health wanting to sharpen the appearance of your mandible.
WHAT ARE THE CONTRAINDICATIONS TO GETTING JAWLINE FILLER?
Certain conditions may bar you from jawline filler treatment, or require you to seek further counsel from a medical professional before moving forward. Such contraindications include:
Active infection or wounds in the area to be treated;
Untreated diabetes;
Connective tissue diseases like lupus;
Prolonged use of blood thinners like warfarin;
Pregnant or breastfeeding women;
Tendency to develop keloids;
Allergy or hypersensitivity to active ingredients of the selected filler or lidocaine.
The best way to rule out contraindications is by scheduling a consultation with Dr. Schwarzburg in advance of your treatment. He will conduct a thorough examination and medical background assessment to make sure you are good to go for your jawline filler procedure.
WHAT ARE RISKS AND SIDE EFFECTS OF A JAWLINE FILLER PROCEDURE?
As a minimally invasive, FDA-approved treatment, jawline fillers are generally considered safe and carry a low-risk factor when compared to surgical methods, such as jaw or chin implants. However, you should be aware of possible side effects and complications when deciding whether this is the right procedure for you.
The following side effects are associated with jawline filler procedure:
Temporary bruising or redness along the area of injection;
Swelling, which is normal and fades on its own within a few days and can be mitigated with ice packs;
Asymmetry because of erroneous filler placemenet by an inexperienced injector;
Infection, which is rare can be treated with antibiotics;
Skin discoloration secondary to long-term immunologic reaction;
Acne-like bumps, nodules, or granulomas, which fade on their own or can be dissolved using hyaluronidase or steroid injections;
Allergic reaction to any of the ingredients of the filler product.
The best way to avoid major side effects and complications is to visit an experienced, board-certified medical professional like Dr. Schwarzburg. Dr. Schwarzburg has intimate knowledge of the complexities of facial structure that make him well-suited to circumvent major risks and side effects.
WHAT IS THE AFTERCARE FOLLOWING JAWLINE FILLER PROCEDURE?
Jawline filler, like many other types of facial filler, is often referred to as a "lunchtime procedure." This refers to the fact that the treatment is quick enough to be carried out over a lunch break, and simple enough to allow you to return to work right after. With essentially no downtime and minimal recovery steps to take, jawline filler allows you to jump back into your professional life or social calendar with ease.
Dr. Schwarzburg advises his patients to do the following after their jawline filler procedure:
Apply a cold compress or ice pack for the first 24 hours following treatment to minimize swelling and bruising;
Tylenol or Aleve can be used to counter discomfort or pain;
Avoid strenuous exercise, heat, or extreme sunlight for 48 hours after your treatment to avoid excess swelling around the injection area;
Be gentle with your face and do not exert strong pressure or force to the jawline area;
Keep the area clean for the next 48 hours and skip make-up for the rest of the day to avoid infection;
After your procedure, you may head home or return to your day as normal. There is no necessary downtime or resting period, making jawline filler an easy and convenient option for many, without disrupting their busy NYC lifestyle.
WHEN WILL I SEE THE RESULTS FOLLOWING JAWLINE FILLER?
The effects of jawline filler are instantaneous. You will be able to see both the volume added and definition created added by jawline filler directly after your injections. Initial swelling following your treatment will obscure the final results, and it will be at least 1 week before you can fully enjoy your newly created jawline.
Radiesse filler also stimulates collagen production, meaning it will make your skin more plump and supple in the area – this process can take up to 4 weeks as it relies on your body's capacity to generate collagen.
HOW LONG DOES CONTOURING WITH JAWLINE FILLER LAST?
Jawline filler is temporary, which for many indicates both advantages and disadvantages. While the filler wears off over time, this means that you don't have to grapple with any major commitments and can take time after your procedure to decide if you want to maintain the results in the future.
Dr. Schwarzburg explains that multiple factors influence duration of jawline fillers:
On average they tend to last anywhere from 6 months to 2 years;
Different fillers tend to vary in terms of longevity; for example, Juvederm Voluma and Radiesse, which are most frequently used for jawline shaping, tend to last around 15 months;
Patient lifestyle can affect how quickly filler breaks down in the body. Patients with a high metabolism and active lifestyles often notice that their fillers fade quicker compared to those with a low metabolism;
Excessive smoking, drinking, or sun exposure can also lead to filler dissipating more rapidly due to its effects on the aging process.
HOW MUCH DO JAWLINE FILLERS COST IN NEW YORK?
The price of jawline filler is a more cost-effective option compared to surgical implants.
Overall, you can expect your jawline filler procedure to cost around $1000 to $4000.
Keep in mind that the price can vary depending on the following factors:
Number of Syringes – You may pay between $800 and $1200 for a single syringe of dermal filler, which is around 1ml of gel product, used on the jawline. Some clinics also offer discounts or package deals for multiple syringes of filler;
Facial Anatomy – Depending on your facial structure, you may need more or fewer syringes of jawline filler; a particularly weak or receding jawline may require more syringes than others;
Desired Result – Depending on how subtle or dramatic you want your results to be, you may require multiple syringes or follow-up sessions; if you decide that you want a more prominent jawline after your initial treatment, you may pay extra for an adjustment.
Credentials of your provider – A board-certified cosmetic physician with years of experience in the field will typically charge more than a registered nurse due to their level of expertise and deeper understanding of the facial anatomy.
WHAT KIND OF FILLERS ARE USED IN A JAWLINE SHAPING PROCEDURE?
There are various kinds of fillers that are used when it comes to the augmentation of the chin and jawline region. The best fillers for the jawline feature a high G prime rating (G'). A high G' means that a filler has a denser, thicker consistency – this kind of filler is more like "liquid bone," and is able to mimic the firm, bony structure of the jaw. A rigid gel that leans towards inflexibility is best suited for the jawline as it will hold its shape and add precise, defined volume, rather than just volume and plumpness.
Here is a breakdown of why Dr. Schwarzburg prefers the following fillers when it comes to jawline shaping treatments:
Juvederm Voluma is a hyaluronic acid-based dermal filler that also has a high G prime factor; however, it does not measure up to the rigidity and stress-resistance of Radiesse;
Restylane is another dense HA-based filler; because of their hydrophilic nature (aka water absorbency) HA-based fillers are also more difficult to predict; for these reasons, Dr. Schwarzburg advises against them when it comes to jawline shaping.
Radiesse is known for its particularly high G prime factor, making it the densest filler option on the market and ideal for creating a firm jawline shape. Radiesse consists of a biocompatible, biodegradable ingredient called calcium hydroxylapatite (CaHA) suspended in a carboxymethylcellulose gel carrier. Radiesse is Dr. Schwarzburg's preferred filler for jawline sculpting treatments.
WHAT OTHER TREATMENTS CAN COMPLEMENT JAWLINE FILLERS?
Dr. Schwarzburg offers various minimally invasive and non-invasive treatments that can be used in conjunction with a jawline filler treatment for facial restoration and aesthetic augmentation of the jawline area. Some of these procedures include:
Kybella for submental fat – Kybella is a minimally invasive fat reduction treatment that involves injecting a deoxycholic acid solution into the treatment site; this solution breaks down fat cells in smaller regions and permanently reduces fat beneath the chin;
CoolSculpting for double chin – CoolSculpting is a noninvasive treatment that utilizes cryolipolysis and vacuum suction technology to freeze and permanently destroy fat cells around the jawline that are then gradually digested by the body's lymphatic system;
Botox for masseter reduction –– Sometimes the culprit of dissatisfaction with one's jawline is not excess fat, but rather overactive masseter muscles that give the appearance of an overly wide fat;
PDO Thread Lift –– If your goal is to combat sagging or lax skin caused by aging then collagen-stimulating PDO threads can give you a subtle, non-surgical facelift for a more snatched look.
HOW ARE JAWLINE FILLERS INJECTED DURING A JAWLINE AUGMENTATION PROCEDURE?
Dr. Schwarzburg has 10 years of experience when it comes to administering jawline filler injections. This procedure requires deep and intricate comprehension of facial anatomy and aesthetic beauty standards both to minimize risks and to create an ultimately flattering outcome.
The placement of jawline filler is a complex matter that necessitates intricate knowledge of facial anatomy – injection at an overly superficial level can cause swelling;
If the filler is injected too deep, you may lose definition (due to the thickness of the skin layer of the mandible) and be left with an unsatisfactory outcome;
A qualified injector must have extensive knowledge of how to navigate the facial arteries, veins, and nerves in the mandibular area;
A board-certified physician like Dr. Schwarzburg with years of experience in minimally invasive cosmetic facial procedures is ideal to avoid adverse effects and deliver the best results with his precise and patented injection technique and expertise in facial anatomyю
HOW DOES YOUR JAWLINE CHANGE AS YOU GET OLDER?
A well-defined and angular jawline can be a huge indicator of physical fitness as well as youth. While plenty of people are born with soft or ill-defined jawlines, many of us notice that the jaw, chin, and neck region change as we age. Several factors play a role in the gradual softening, receding, or obscuring of the jawline, including:
Lipoatrophy – As you get older, you gradually lose fat compartments that give your face support and structure;
Change in Bone Structure – As you age, your bones atrophy and change; the angle of the mandible, which are the lateral bones of the jaw, increases, while your chin may recede;
Skin Laxity – The older you get, the less collagen and elastin your body produces; these are the proteins that give skin its structure and elasticity, and their decline allows the skin to slowly sag rather than tightly hug the jawline;
Jawline filler can address these issues by essentially replacing the presence of bone and visually restoring the structure of the mandible.
WHAT ARE THE BENEFITS AND DISADVANTAGES OF GETTING JAWLINE FILLER INJECTIONS?
Getting jawline filler can be a saving grace for people who have struggled for years or even their whole lives with being dissatisfied with the appearance of their jawline. Here are some of the major advantages that patients experience when getting jawline filler:
A more affordable and safer alternative to surgery;
Add volume, sculpt and define the jawline with long lasting results;
Instant results without downtime or recovery;
Few side effects that are easily corrected or reversed.
Jawline filler does have a few downsides that are worth considering before you make the choice to proceed with your treatment. A few drawbacks to take into account are:
While the results are long lasting, they are only temporary, requiring yearly or biennial touch-ups;
Can not replace plastic surgery in patients with severe skin laxity or overabundance of fatty tissue.
WHAT IS THE BEST PLACE TO GET JAWLINE FILLER IN NEW YORK CITY?
Your face is precious and deserves the highest quality in care and consideration when it comes to jawline sculpting. Skinly Aesthetics on the Upper East Side of Manhattan is an excellent choice when it comes to meeting and exceeding your aesthetic needs. Dr. Schwarzburg and his team at Skinly make your comfort a priority; we constantly strive to give you safe, convenient, and fantastic outcomes in all minimally invasive and non-invasive facial procedures. If you're interested in learning more about jawline filler, or if you are ready to book your appointment, you can email us at info@skinlyaesthetics.com or call us at (212) 774-4264.
RELATED TOPICS