GETTING NASOLABIAL FOLD FILLER IN NEW YORK WITH DR. SCHWARZBURG
Dr. Schwarzburg is a board-certified and Ivy League trained cosmetic physician who specializes in minimally invasive cosmetic treatments and cosmetic dermatology. With over a decade of experience, Dr. Schwarzburg has gained a high reputation as one of the top cosmetic physicians in NYC with thousands of satisfied patients – specifically in the field of minimally and non-invasive aesthetic medicine. Dr. Schwarzburg has extensive training in a wide range of unique and advanced injection techniques that are not easily acquired in the U.S. With his exceptional skill and unique approach to treating each of his patients based on their distinctive anatomy and individual needs, his expertise is highly sought after for nasolabial and smile line injections.
When you come to his private medical spa on the Upper East Side of Manhattan you will receive the following:
Strategically placed nasolabial filler injections based on your unique anatomy and aesthetic goals, performed by Dr. Schwarzburg himself;
Flawless and natural-looking results, without your smile lines looking overdone or noticeable;
A comfortable environment, accommodating staff, clean and professional facility, and an effortless booking and treatment process;
Minimal discomfort or downtime, and instant results.
NASOLABIAL FOLD FILLERS IN NYC
Smile lines are the folds that run from the corners of your nostrils and extend down in a convex shape to the edge of your mouth. Due to daily facial movements, such as talking, frowning, and smiling, this region is particularly active, leading to the development of nasolabial folds, also known as parenthesis lines.
While not everyone wants to look like Kim Kardashian, dermal fillers for nasolabial folds are one of the most popular aesthetic treatments across the globe, particularly in cities like New York, which are hot spots for the fashion and beauty industry. Due to their minimally invasive nature, people are more likely to turn to smile line fillers than surgeries to correct nasolabial folds for the following reasons:
Creating a smoother, more youthful look while still maintaining the ability to make natural facial expressions such as laughing and smiling;
Rejuvenating the overall appearance of the mid-face by restoring lost facial volume without having to go under the knife;
Quick and painless, with minimal to no downtime, risks, or side effects.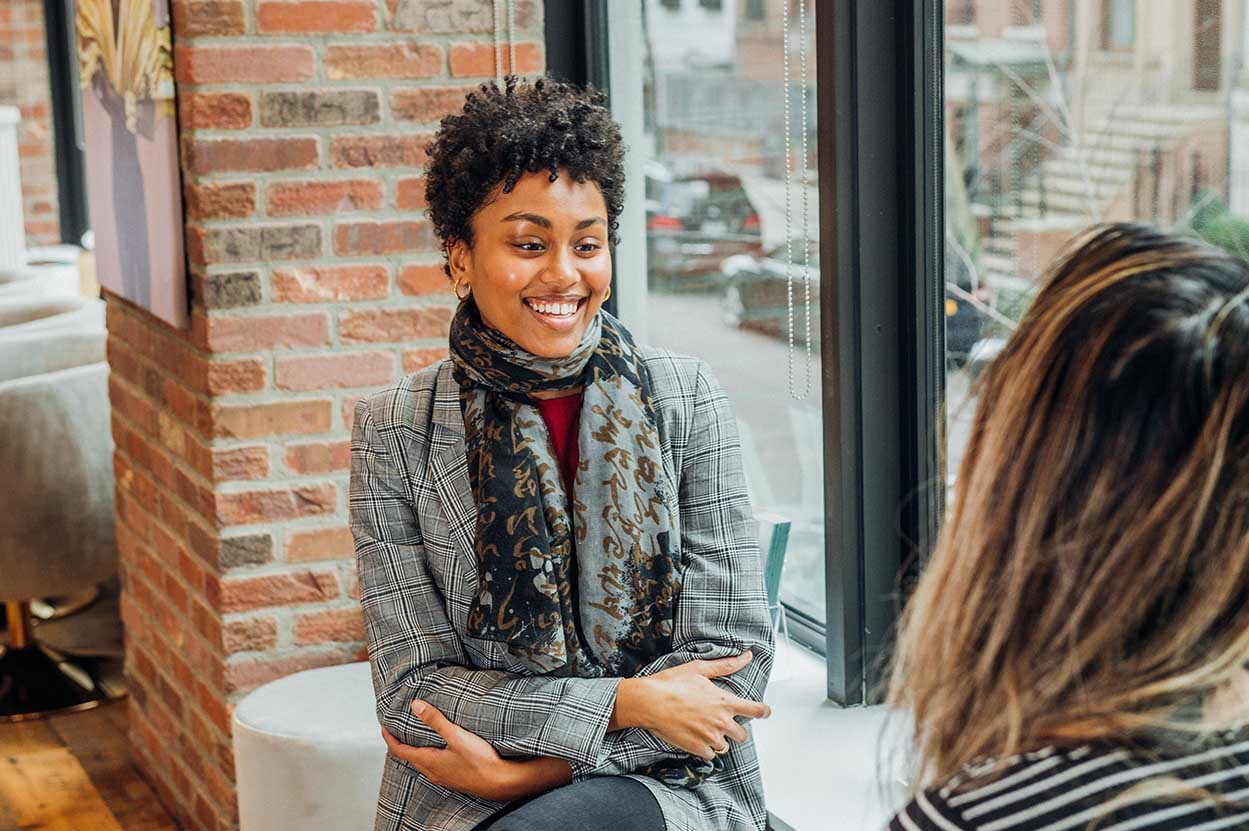 PREPARING FOR LAUGH LINE FILLER PROCEDURE AT SKINLY AESTHETICS
Laugh line filler is minimally invasive and does not involve much preparation. While these steps are not required, Dr. Schwarzburg recommends the following before your nasolabial fold injections to minimize potential side effects:
Avoid alcohol, blood thinners, fish oil supplements, and NSAIDs, like aspirin and ibuprofen for 1-2 days prior to your appointment, as they may lead to excessive bruising.
Take 2 Tylenols (800mg) 1 hour before your injections to minimize pain;
Understand that you may bruise, which could last up to 1 week. Plan accordingly if you have a special event coming up and want to look your best.
WHAT IS THE PROCESS FOR SMILE LINE FILLERS AT SKINLY AESTHETICS?
At Skinly Aesthetics, the process of getting a smile line filler is quick, comfortable, and stress-free. Once you arrive at the clinic for your appointment and are checked in, you can expect the following:
You will first have a consultation with Dr. Schwarzburg in his private Manhattan office where he will assess the state of your facial wrinkles and nasolabial folds. At this point, you will have the opportunity to vocalize your questions, concerns, and aesthetic goals;
Medical photographs will be taken before the injection process for your patient records and to monitor your progress for your next visit;
The skin will be sanitized and a topical, medical-grade lidocaine numbing cream will be applied and left to settle for approximately 20 minutes;
Once numb, Dr. Schwarzburg will carefully inject the mid-dermal layer of your nasolabial folds with a hyaluronic acid-based dermal filler such as Juvederm or Restylane using a fine 31 or 27 gauge needle. For this region, Dr. Schwarzburg typically uses a retrograde multiple puncture approach, known as the fanning technique;
Depending on how much product is needed and the severity of your case, the injection process will take 15 – 30 minutes;
After your injections, the skin will be sanitized once more and you will be provided with ice packs and post-care instructions;
Dr. Schwarzburg encourages his patients to come in for a follow-up appointment 1-week post-procedure to confirm that the filler has settled properly.
FAQ
HOW SAFE ARE SMILE LINE FILLERS?
Injecting dermal fillers along the nasolabial folds is safe as long as the procedure is performed by a skilled and experienced physician like Dr. Schwarzburg, with a deep understanding of the anatomy of subcutaneous tissue and muscles to avoid complications.After several successful clinical trials confirming the safety and efficacy of the treatment, Hyaluronic acid based dermal fillers are FDA approved to treat moderate to severe nasolabial folds with limited downtime, risks, or side effects.
HOW PAINFUL ARE FILLERS FOR NASOLABIAL FOLDS?
While any injectable can be unpleasant, most of Dr. Schwarzburg's patients tolerate their filler injections for smile lines very well. Using a medical grade 25% lidocaine-containing numbing cream, the discomfort during the injection process is significantly reduced. In addition, most fillers are infused with lidocaine to further minimize pain. For highly sensitive patients, Dr. Schwarzburg can provide Pro-Nox, an anesthetic gas to calm their nerves.
HOW LONG IS THE SMILE LINE FILLER INJECTION PROCESS?
On average, you can expect your appointment to last 45 minutes from start to finish. The duration depends on how much product is needed and the intricacy of your individual case. The numbing cream typically settles within 15 – 20 minutes, while the injection process itself takes approximately 30 minutes.
HOW MANY SYRINGES OF FILLER ARE NECESSARY FOR MY SMILE LINE TREATMENT?
Dr. Schwarzburg actively takes on a "less is more" approach when it comes to dermal fillers. Every patient is different, meaning that there is no "one size fits all" in terms of how many syringes of dermal filler are needed to treat your smile lines. Some may need only 1ml syringe of dermal fillers and others may require 1 – 2ml syringes of Restylane or Juvederm fillers for satisfactory results. The amount of product needed depends on the following factors:
The severity and depth of your nasolabial folds;
Your desired outcome;
Your biological response to the filler itself – you will see Dr. Schwarzburg for a follow-up appointment one week after your initial treatment to see if more filler is needed for optimal results.
WHO IS A CANDIDATE FOR A NASOLABIAL FOLD FILLER?
Smile lines can begin to manifest in patients of all ages, even those in their early 20s. Nasolabial fold filler is ideal for any healthy male or female adult looking to:
Rejuvenate and refresh their facial appearance by eliminating their smile lines;
Restore volume loss in the mid-face for a more youthful aesthetic;
Eliminate their smile lines without the risks, side effects, and complications associated with surgical alternatives.
WHAT ARE THE CONTRAINDICATIONS TO GETTING SMILE LINE FILLERS?
While most patients are eligible for smile line fillers, the following factors may exclude you from being a candidate for the treatment:
History of allergic reactions towards medications or any ingredients contained in the dermal filler, lidocaine, or gram-positive bacterial proteins;
Chronic inflammatory skin conditions or active skin infections in the treatment area;
Pregnant or breastfeeding women;
Bleeding disorders;
Severe skin laxity or volume deficit in the mid-face, in which case a skin lifting procedure such as a PDO thread lift would be more appropriate as dermal fillers alone will not treat excessive loose skin.
WHAT ARE THE RISKS AND SIDE EFFECTS ASSOCIATED WITH SMILE LINE FILLERS?
Smile line fillers are minimally invasive and thus, come with minimal risks and side effects. However, there are some potential risks and side effects to be aware of including the following:
Mild to moderate swelling, bruising, redness, and tenderness are common, temporary side effects that may last for up to 1 week;
Minor lumpiness can occur and has been reported in approximately 50% of patients, though this resolves over the course of a few days;
In rare cases bumps and nodules may form, which can be reversed via hyaluronidase injections or steroids;
More severe complications, like skin necrosis or stroke, can be the result of vascular occlusion of the facial artery which runs below the course of injection.
All of the above-mentioned risks and complications can be completely avoided or mitigated by seeing a board-certified, extremely knowledgeable, and well-trained doctor like Dr. Schwarzburg who has performed thousands of nasolabial fold filler injections at his private NYC clinic. With his extraordinary understanding of facial anatomy, severe complications such as skin necrosis or retrograde displacement of the filler are highly unlikely.
WHAT IS THE AFTERCARE AND RECOVERY FOR SMILE LINE FILLERS?
There is little to no downtime after a nasolabial fold filler. Due to the potential side effects, Dr. Schwarzburg encourages his patients to take the following steps for a speedy recovery:
Apply ice packs for the first 24 hours to reduce swelling and mitigate bruising;
Steer clear of high temperatures such as saunas, and steam rooms, and skip heavy exercise for 48 hours post-injection as this may increase swelling and the risk of filler migration;
On day 2, you may apply a hot compress if bruising occurs;
Do not apply pressure, rub, or massage the area for 3 days to avoid displacement of your new filler.
WHEN WILL I SEE THE RESULTS OF MY SMILE LINE FILLERS?
The results after nasolabial fold injections are immediate as the skin becomes smooth and the deep folds are filled from within. However, the final outcome can take a few days to become apparent, as erythema and bruising may take up to 48 hours to go down, disguising your initial results. One of the markers of success is the degree of dermal and subdermal thickness as a result of collagen production. Dermal and subcutaneous thickness has been shown to increase from 1.5 cm to 2 cm in just two weeks after a facial filler procedure, at which point you will be able to show off your youthful plump, and glowing smile without the unflattering lines that used to accompany it.
HOW LONG DO FILLERS FOR SMILE AND MARIONETTE LINES LAST?
Most fillers are sustainable for approximately 1 year after treatment. Certain fillers, such as Juvederm Vollure, are formulated using a special cross-linking technique to last for up to 18 months.
Nasolabial folds run superior to the corners of the mouth, whereas marionette lines are inferior to the lips and are essentially the downward extension of smile lines. Both are located in a very mobile region of the face as we laugh, smile, speak, and eat. Due to the heavy animations of this area and depending on how quickly your body metabolizes hyaluronic acid fillers, you can expect your results to last 9 – 12 months.
Many satisfied patients come in every 6 months for touch-up appointments to further maintain their smile line filler outcome.
WHAT IF I DON'T LIKE MY SMILE LINE FILLER RESULTS?
Dr. Schwarzburg prefers to take a conservative approach when treating smile lines, sometimes with only half a syringe or 0.5ml of hyaluronic acid filler, to avoid overfilling the area for unsatisfactory results. It is always possible to return for a touch-up and add more filler if needed than to dissolve filler afterward or look overdone. Nevertheless, Dr. Schwarzburg frequently treats patients who seek his expertise to dissolve and correct a poorly placed smile line filler performed by an inexperienced injector. If you don't like your botched smile line filler results, they can easily be reversed and it takes just 24 hours for filler to dissolve using hyaluronidase injections.
WHAT IS THE COST FOR LAUGH LINE FILLERS IN NYC?
In NYC 1 syringe of dermal filler for laugh lines can cost you anywhere from $700 and $2000. The prices vary based on a series of factors and your individual case:
Clinics in large cities as New York tend to charge more than clinics in the suburbs;
The credentials of your doctor – a board-certified physician with years of experience will charge more compared to an allied healthcare professional;
The number of fillers needed – while some patients only need one syringe, which is typically 1mL to fill in their smile lines, others may require up to four 1mL syringes to satisfy their aesthetic needs. Skinly Aesthetics often offers package deals for those who need several syringes;
The severity and depth of your smile lines will determine how much product you need, affecting the final price.
WHAT ARE THE BEST FILLERS FOR SMILE LINES?
There is a wide range of dermal fillers that can be used to improve your smile lines, all of which are formulated with unique properties, varying levels of G-prime (viscosity and elasticity), and molecular weights. The best type of filler to use in this delicate yet mobile region of the face is a softer, low G-prime hyaluronic acid gel composition that allows natural facial movement and expression.
Juvederm Vollure is one of the softest fillers in the Juvederm line and is ideal for the nasolabial folds. Vollure utilizes Vycross cross-linking technology and consists of both high and low molecular weight hyaluronic acids leaving you with long-lasting (up to 18 months), natural-looking, and beautiful results;
Other medium HA fillers with similar consistencies and density levels are within the Restylane family and RHA fillers. Hyaluronic acid-based dermal fillers are typically preferred by most injectors to treat smile and marionette lines due to their broad variety of soft and flexible formulations alongside the benefit of being dissolvable via Hylenex injections;
Denser fillers, such as Radiesse, a calcium hydroxylapatite filler also known as "liquid bone", are not ideal for nasolabial folds and should be used with caution, if necessary, in their diluted form.
The best way to find out which filler is right for you is to consult with Dr. Schwarzburg at his private practice in Manhattan to select the perfect filler to meet your individual medical and aesthetic needs.
HOW DOES DERMAL FILLER CORRECT NASOLABIAL FOLDS?
The formation of smile lines is a multifactorial process involving collagen, gravity, and fat depletion. Physicians must have a thorough understanding of all anatomical intricacies to effectively reverse the unflattering creases in this complex region of the face;
A simple way to understand nasolabial fold formation is to imagine a piece of paper being folded over the same line multiple times until the paper loses its integrity, leaving behind a permanent crease along that folded line;
In terms of the anatomical formation of smile lines, the levator muscles (zygomaticus major, zygomaticus minor, and levator labi superioris) and overlying skin contract in a predetermined pattern over the same vector, resulting in deep skin folds that form over time along those lines of contraction. In addition, the collagen in this area is rapidly recycled, and thus, no longer able to fill the lines. As we become older and the integrity of our skin decreases and facial fat pads in the middle and lateral malar regions shift, our laugh lines are further exacerbated with lax skin.
Correction of nasolabial folds is done by injecting any of the FDA-approved dermal fillers directly into these folds through the subdermal plane. In addition, cheek filler injections are often used to lift the sagging skin more superiorly due to malar fat pad deflation, further minimizing the severity of the nasolabial folds.
Dr. Schwarzburg is a thorough, thoughtful, and experienced injector and will take into account all of the above-mentioned variables when creating a treatment plan for his patients in New York.
WHAT TO EXPECT IN TERMS OF SMILE LINE FILLER RESULTS AT SKINLY AESTHETICS?
Before your filler treatment, you may be dealing with deep indentations along the inner part of your cheeks, or thin crepey skin both superior and inferior to your mouth. These lines are visible even when your face is relaxed, and can appear as prominent folds.
After your treatment you can expect the following improvements:
The prominence of these lines will be greatly reduced;
More youthful-looking skin that appears firm and flexible;
When you smile, several facial muscles are activated. These muscles are not impacted by filler, allowing you to maintain your beautiful, natural smile, without the appearance of unflattering folds.
WHAT OTHER TREATMENTS CAN BE USED IN CONJUNCTION WITH FILLER FOR LAUGH LINES?
Dr. Schwarzburg often combines nasolabial fold filler with other procedures to amplify his patient's results as needed, including the following:
DOES NASOLABIAL FOLD FILLER WORK?
Nasolabial fold fillers have been shown to significantly increase dermal thickness, particularly after hyaluronic acid injections. The cross-linking technology present in HA gels also leads to longer-lasting results.
Hyaluronic acid is naturally found in the body, though its production decreases as we age, making wrinkles and sagging skin more evident. Hyaluronic acid filler works on multiple levels:
It replaces lost tissue volume, plumping up the skin;
It is hydrophilic, meaning it attracts water and moisture to keep the skin hydrated.
It encourages the proliferation of fibroblasts – cells that keep connective tissue intact – and promotes collagen production.
IS NASOLABIAL FOLD FILLER WORTH IT?
Multiple clinical trials have convincingly demonstrated that correcting mild to moderate or severe nasolabial folds and smile lines with Juvederm fillers is extremely effective, with a patient satisfaction rate approaching 95%. Multiple online review platforms such as RealSelf provide evidence of patients raving about this procedure and how it helped them regain their confidence. With millions of patients getting this procedure done every year it is safe to say that, yes, nasolabial fold fillers are worth it. They can also be used as a preventative measure for those with minor laugh lines to halt the development of this nuisance once and for all. 
WHAT ARE THE ADVANTAGES AND DISADVANTAGES OF NASOLABIAL FOLD FILLERS?
Smile line fillers have many benefits including the following:
Minimally invasive, meaning that they do not involve the extensive downtime, risks, and side effects associated with surgical intervention;
Quick procedure and instant results;
Eliminate deep parentheses around the mouth, leaving you with a more youthful and refreshed appearance;
Are dissolvable when the results are botched if hyaluronic acid based filler was used. Non-hyaluronic based fillers can't be dissolved.
There are very few downsides to NLF fillers, though the following should be taken into consideration:
Results are not permanent and require touch-ups every 9 – 12 months;
Temporary minor hematoma (bruising) may occur due to the high vascularity in the nasolabial fold region;
Edema (swelling) and puffiness may occur due to excess fluid and inflammation, though this is a temporary side effect and resolves on its own within 1 – 2 days;
WHERE IS THE BEST PLACE TO GET MY SMILE LINE FILLER TREATMENT IN NYC?
Dr. Schwarzburg at Skinly Aesthetics is your number-one choice for getting nasolabial folds corrected using filler. He specializes in a long list of non-invasive and minimally invasive procedures, boasting many years of experience and expertise in this field. For your ultimate smile, it's best to see a board-certified physician who knows the ins and outs of such a procedure. Dr. Schwarzburg takes great care to ensure your procedure goes smoothly, getting you the best rewards with minimal risk.
To book your one-on-one consultation and filler session with Dr. Schwarzburg, you can contact Skinly Aesthetics on the Upper East Side of Manhattan in NYC at info@skinlyaesthetics.com, or call or text us at (212) 774-4264. 
RELATED TOPICS