EMBRACING MODERN BEAUTY SOLUTIONS: THE RISE OF UNDER EYE FILLERS
In today's world, merely accepting the natural aging process without intervention is no longer the prevailing sentiment. Influencers, celebrities, and beauty enthusiasts alike champion the idea of maintaining a youthful exuberance.
Eyes, being central to our expressions, hold immense importance. The modern beauty regimen values an awakened and youthful eye appearance, free from signs of fatigue or aging.
As such, under eye fillers have become increasingly popular as a non-surgical way to address issues like under-eye dark circles, hollows, and eye bags, ensuring our eyes remain as vibrant as our spirits and reflect inner vitality.
WHY CONSIDER UNDER EYE FILLERS?
Dr. Schwarzburg often underscores the importance of a revitalized under-eye region, noting how it profoundly affects our overall appearance and self-perception. He elucidates:
Tackling Tear Troughs: The unsightly hollows and dark circles under the eyes, commonly termed "tear troughs," can be effectively diminished with under eye fillers, presenting a brighter and refreshed look.
Combatting Age-related Volume Loss: As we age, the under-eye region can lose its volume, causing a sunken appearance. Fillers help in reversing this, restoring the face's youthful plumpness.
Boosting Confidence and Social Interactions: Beyond the aesthetic boost, rejuvenated eyes can significantly influence how we're perceived and how we feel, uplifting self-esteem in personal and professional scenarios.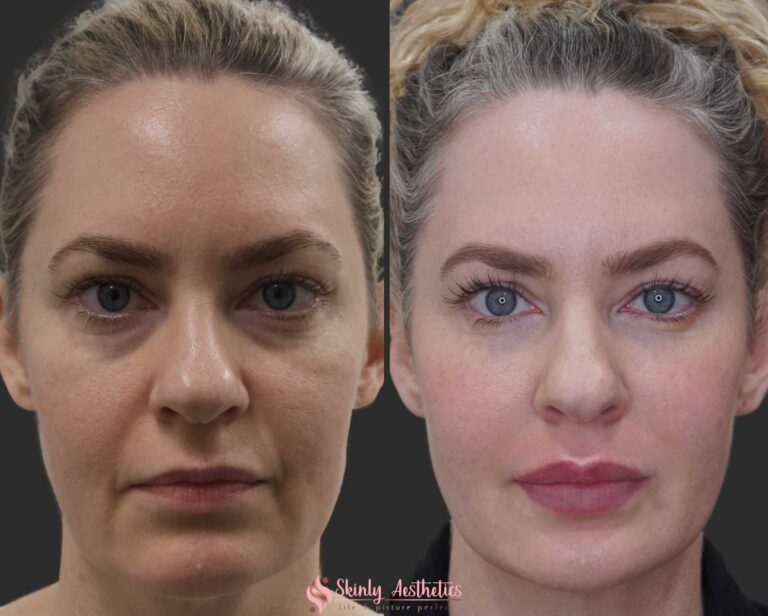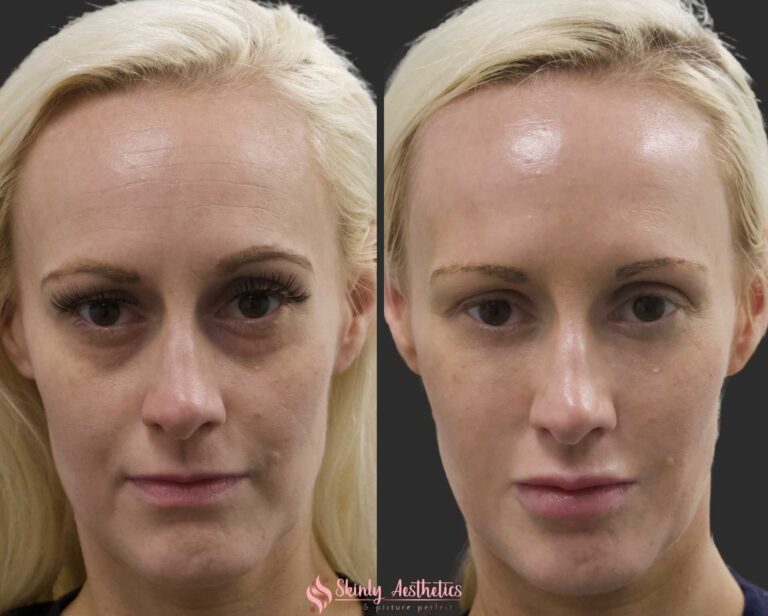 DISTINGUISHING TEAR TROUGHS, DARKNESS, AND EYE BAGS: A CLOSER LOOK
The under-eye region can manifest various concerns, each with its unique set of characteristics and underlying causes. Dr. Schwarzburg clarifies the nuances between these common complaints:
Tear Troughs: These are the indentations that run from the inner corner of the eye down to the cheeks. Aging, genetics, or bone structure can lead to the deepening of these troughs. Fillers, when applied to this area, can provide volume, reducing the shadow and depth of the trough, lending the face a more refreshed appearance.
Darkness: Often misconstrued as mere fatigue, under-eye darkness can result from a combination of factors. They can be due to thin skin revealing the blood vessels underneath or a result of pigmentation. While fillers can't alter skin color, they can help by reducing the hollowness, which can often cast shadows and exacerbate the appearance of darkness.
Eye Bags: Unlike the hollowness of tear troughs, eye bags protrude and are often the result of fat pads pushing forward as we age or due to genetics. Under-eye fillers can be strategic in these cases, working around the bag to create an even plane, making the protrusion and eye bags less noticeable.
In essence, while the symptoms might appear similar, the causes and treatments can vastly differ. Fillers provide a versatile solution, adjusting to the specific under-eye concern, and ensuring optimal results. As Dr. Schwarzburg often emphasizes, understanding the precise issue is half the battle in achieving rejuvenated, bright eyes.
WHY TRUST DR. SCHWARZBURG WITH YOUR UNDER EYE FILLER TREATMENT?
When seeking cosmetic enhancements, especially in the delicate under-eye region, expertise and trustworthiness are paramount. Dr. Schwarzburg boasts an in-depth knowledge of facial aesthetics, underpinned by a meticulous approach to achieving the best possible outcomes for his patients.
Skinly Aesthetics, under his guidance, has built a reputation for delivering consistently natural-looking results, ensuring patients walk away feeling rejuvenated and confident in their appearance. Choosing Dr. Schwarzburg is a decision to invest in excellence and experience.
DECIPHERING THE BEST UNDER EYE FILLERS: PRECISION FOR DELICATE NEEDS
The under-eye region is distinctively sensitive, characterized by its thin skin. This uniqueness demands fillers that are both gentle and meticulous in their application. Only soft, non-volumizing fillers are apt for this delicate zone to ensure natural, lump-free outcomes. Here's a closer look at the leading fillers Dr. Schwarzburg endorses for this intricate, non-surgical task:
Restylane Silk: Crafted with finer particles, it's precisely tailored for the delicate skin around the eyes, promising smooth and natural results.
Juvederm Volbella: Celebrated for its consistency, Volbella adeptly addresses fine lines and subtly augments the tear troughs, bestowing a rejuvenated look.
Belotero Balance: Its hallmark lies in its ability to blend seamlessly into the skin, making it an ideal choice for diminishing under-eye hollows without any hint of lumpiness.
RHA 2: A contemporary entrant, RHA 2 boasts of resilient hyaluronic acid technology, acclimating perfectly to the dynamic movements of the under-eye area, ensuring consistent fluidity with every expression.
At Skinly Aesthetics, Dr. Schwarzburg's commitment to using only the latest and most suited filler technology is unwavering. Every patient is guaranteed a tailored approach, where the perfect filler is chosen based on their unique needs and the desired aesthetic.
FREQUENTLY ASKED QUESTIONS
WHO IS A CANDIDATE FOR NON-SURGICAL UNDER EYE REJUVENATION?
Under eye fillers are suitable for a wide range of individuals, but it's essential to ascertain candidacy. Key indicators include:
Age-related volume loss: Those noticing hollowness or shadows beneath the eyes.
Genetics: Individuals with a hereditary predisposition to dark circles or hollows.
Lifestyle factors: Sleep deprivation, stress, or dietary choices leading to under-eye concerns.
Limited surgical interest: Those seeking non-nonsurgical alternatives to eye surgery.
Dr. Schwarzburg emphasizes the importance of a thorough consultation to determine suitability and to ensure the best outcomes.
WHEN UNDER EYE FILLERS MIGHT NOT BE RIGHT FOR YOU: CONTRAINDICATIONS TO CONSIDER
While under eye fillers can work wonders for many, there are specific conditions and scenarios in which Dr. Schwarzburg, a renowned NYC-based cosmetic dermatologist, would advise against the procedure:
Septal Fat Herniation: This condition may not be compatible with under eye fillers.
Orbicularis Oculi Muscle Hypertrophy: Thickening along the lower eyelid's length needs a different approach. Instead of fillers, Botox is the recommended treatment.
Severe Skin Hyperpigmentation: If your primary issue is deep-set darkness due to significant skin pigmentation, topical creams or lasers are better suited than fillers.
Festoons or Malar Bags: These swollen bags below the eyes result from muscle loosening and severe fluid retention. Surgery, not fillers, is the go-to solution for these conditions.
WHAT IS THE CONSULTATION AND PREPARATION FOR UNDER EYE FILLER TREATMENT?
At Skinly Aesthetics, the journey to rejuvenated eyes begins long before the actual procedure. Dr. Schwarzburg firmly believes in the significance of understanding each individual's unique facial anatomy, especially the intricate orbital region. This foundational knowledge guides him in tailoring a customized treatment plan, addressing specific concerns and aesthetic goals.
Preparation plays a pivotal role in achieving optimal outcomes. Patients are advised on dietary and medical considerations, such as certain supplements, drugs, or alcohol to potentially avoid pre-treatment. Furthermore, setting realistic expectations is crucial. While fillers are transformative, understanding what they can and cannot achieve ensures patient satisfaction and clarity throughout the process.
THE INJECTION PROCESS: WHAT TO ANTICIPATE?
When you venture into the realm of non-surgical under eye fillers, it's essential to know the steps involved, ensuring a seamless experience. Dr. Schwarzburg adopts a meticulous approach to ensure precision and comfort:
Marking the Treatment Area: Before the actual injections, the under-eye region is marked to outline the exact areas of filler placement. This aids in accuracy and ensures symmetric outcomes.
Cleaning and Anesthetizing: Safety and comfort are paramount. The targeted area is cleaned to prevent any infection. A topical anesthetic is then applied to numb the region, making the procedure virtually painless.
Technique Selection – Cannulas vs. Needles: The choice between cannulas and needles is critical for the under-eye area. Cannulas, being blunt-tipped, reduce the risk of bruising and offer a smoother product distribution. Needles, on the other hand, allow for more precise placement. Dr. Schwarzburg discusses the pros and cons with patients, ensuring an informed decision tailored to individual needs.
IS THE UNDER EYE FILLER PROCEDURE PAINFUL?
Many patients are concerned about discomfort during under-eye filler treatments. However, the under-eye area isn't as sensitive as perceived. Most fillers used, like Juvederm and Restylane, contain lidocaine, a numbing agent, ensuring patient comfort. While topical numbing cream is an option, it's often avoided to prevent pre-treatment swelling or redness that decreases precision of the treatment. Additionally, Dr. Schwarzburg uses ultra-fine needles and cannulas, making the procedure minimally invasive and further reducing any potential discomfort.
WHAT IS AFTERCARE, DOWNTIME, AND RECOVERY?
Diving into the world of tear trough fillers, one can't help but wonder about the journey post-procedure. Here's a brief roadmap crafted by Dr. Schwarzburg, guiding you through the recovery:
Minimizing Swelling and Bruising: Post-injection, some swelling and minimal bruising are natural. Dr. Schwarzburg recommends gentle cold compresses, elevating the head while sleeping, and avoiding strenuous activities for the initial days. Over-the-counter Arnica gel or tablets can also help expedite the healing process. Applying a warm compress on the second day following the procedure will help resolve bruising even faster.
Timeline for Results: Patience is key. While some improvement is immediate, the final contouring and effect come to fruition in about 1 week, once all the swelling has settled and the filler integrates into the skin.
WHAT ARE RISKS AND SIDE EFFECTS OF TEAR TROUGH FILLERS?
While hyaluronic acid fillers in the periocular area generally have a strong safety profile, especially when administered by an expert like Dr. Schwarzburg, there are certain side effects to be aware of:
Tyndall Effect: This is a bluish tint that can occur if the filler is placed too superficially. It can be immediately and fully corrected with a Hylenex injection.
Overcorrection: If too much filler is used, it can lead to puffiness, especially in patients with specific dietary habits or allergies. This can also be addressed with the hyaluronidase enzyme.
Post-inflammatory Hyperpigmentation: Common in darker-skinned patients, this results from an immune system response leading to increased melanin. Treatments can include hydroquinone creams or specific laser therapies.
Nodules or Granulomas: These can form due to an allergic response to the filler, but can be treated through massages or by dissolving the filler.
DURATION OF RESULTS: WHAT TO EXPECT WITH UNDER EYE FILLERS
Under eye bag fillers, though a temporary solution, offer long-lasting aesthetic improvements. On average, the effects of under eye fillers can persist anywhere from 6 to 18 months, with some newer formulations even lasting up to two years.
Several factors influence the duration:
Filler Type: Different brands and formulations have varied lifespans. For instance, hyaluronic acid fillers like RHA2 and Juvederm Volbella tend to last longer than other types of fillers.
Body Metabolism: Each individual's body metabolizes fillers at a unique rate. Those with faster metabolisms might notice the results diminish sooner than others.
Lifestyle Factors: Habits like smoking, frequent sun exposure, and excessive alcohol consumption can expedite the breakdown of the filler.
Facial Movement: Areas with more facial movements, like the mouth, tend to metabolize fillers faster than areas with less movement. While the under-eye region experiences relatively less movement, blinking and eye expressions can play a role in filler longevity.
HOW MUCH DOES UNDER EYE FILLER COST?
In New York City, under-eye filler treatments range from $700 to $1500 per 1 syringe. This cost varies based on the product used and the clinic's reputation. Always prioritize quality and expertise. At Skinly Aesthetics, Dr. Schwarzburg ensures top-tier, consistent results, making the investment worthwhile.
HOW MANY SYRINGES ARE NEEDED FOR TEAR TROUGH CORRECTION?
Determining the number of syringes for tear trough fillers varies per individual, factoring in the depth of hollows and desired outcomes. Typically, patients need one to two syringes for optimal results. Dr. Schwarzburg always tailors the treatment to each person's unique requirements and aesthetic vision.
WHAT IS THE CONNECTION BETWEEN CHEEK VOLUME AND UNDER EYE HOLLOWS?
Hollow under eyes can sometimes be an illusion, a result not just from the tear troughs themselves but from a volume deficiency in the upper cheek volume. Age-related volume loss in the cheeks can emphasize under eye hollows.
In such scenarios, merely filling the tear trough may not provide the desired outcome. Without the supporting "shelf" of the upper cheek, under eye fillers might make the eyes appear puffy and unnatural. Addressing the upper cheek with cheek filler is integral to achieving a balanced and youthful appearance.
WHAT TREATMENTS CAN COMPLEMENT UNDER EYE FILLERS?
For a comprehensive rejuvenation of the under-eye area, Dr. Schwarzburg often recommends integrating other treatments alongside under eye fillers. Botox injections can be expertly administered to address crow's feet and fine lines, further smoothing the skin. For those looking to enhance skin texture and tone, chemical peels, Fraxel laser treatments or Plasma skin resurfacing can be a valuable addition, offering both rejuvenation and lightening effects.
BEFORE AND AFTER UNDER EYE FILLERS: WHAT TO EXPECT?
The before-and-after photos of under eye filler treatments provide a candid peek into the transformative potential of this procedure. Shifting from weary, shadowed eyes to a luminous and refreshed appearance, these photos narrate a story of rejuvenation.
Adding depth to this visual narrative is a testimonial from Clara, a recent patient: "I always looked tired, no matter how much sleep I got. After my under eye filler treatment with Dr. Schwarzburg, I not only look rested, but I feel a renewed sense of confidence. It's like I've been given a second chance at my 20s!" The magic lies not just in the treatment but in the renewed zest for life it instills.
TAKING THE LEAP: SCHEDULE YOUR UNDER EYE FILLER CONSULTATION TODAY
Ready to embrace a brighter, more youthful gaze? NYC based Dr. Schwarzburg and the team at Skinly Aesthetics invite you to experience this transformative journey firsthand. Whether it's to gain insights, ask questions, or simply to see if under eye fillers are right for you, our doors are open. Get in touch with us via email at info@skinlyaesthetics.com or give us a call at (212) 774-4264. Let's embark on this journey towards a refreshed and revitalized you. Schedule your consultation today!