SCULPTRA BUTT LIFT AT SKINLY AESTHETICS IN NYC
Dr. Schwarzburg, medical director at Skinly Aesthetics, is the ultimate authority in NYC for non-surgical Sculptra butt lift augmentation.
Sculptra butt lift is an advanced non-surgical procedure that involves an injection of collagen-generating Sculptra dermal filler that gradually increases the size of your buttocks.
If you dream about having a perky, peachy, and bubbly butt, but do not want to undergo an invasive surgical procedure then Sculptra BBL in NYC is the ideal solution for you!
SCULPTRA BUTT INJECTIONS IN NEW YORK
Sculptra belongs to a large family of dermal fillers that naturally help restore volume lost through the aging process. Unlike other fillers, it takes time for Sculptra results to show as the filler product doesn't expand under the skin similar to hyaluronic acid fillers like Juvederm. Instead, Sculptra induces collagen production over 2-4 months following the injection, which creates new tissue volume in the injected area. Waiting a few months is well worth it to get the most flattering appearance of your backside.
Unlike a surgical Brazilian Butt Lift, Sculptra butt lift NYC is known for its natural-looking results because your body gradually adjusts and adapts to your growing booty and doesn't stretch the skin and surrounding structures excessively. As collagen levels rise, so will your bottom!
GETTING SCULPTRA BBL WITH DR. SCHWARZBURG
It took Dr. Schwarzburg years to refine and perfect the non-surgical Sculptra butt lift, so that you get the best possible results from the butt augmentation procedure and shape your bottom the way you want it.
If you feel your butt is too small, flat, or simply not where you want it then rest assured that you are not alone! As much as you want to sport a perfectly plump and perky bottom, it's unrealistic for many of us. Everything from lack of exercise to plain old genetics can be the culprit of why your butt is lacking the shape and form you want it to be.
The decision to enhance and transform your body is both difficult and scary, but you can rest assured that when you come to see Dr. Schwarzburg at Skinly Aesthetics cosmetic dermatology in New York you will be getting the best care coupled with a decade of experience in advanced cosmetic surgery!
WHAT IS THE PREPARATION FOR SCULPTRA BBL?
Not much is required from you in terms of prep for your Sculptra butt lift appointment.
The planning process is as simple as making a phone call to Skinly Aesthetics and having your consultation with Dr. Schwarzburg at his private NYC outpatient clinic. This is the time to bring up any questions or concerns you may have;
Once the consultation is complete, you can book your Sculptra NYC session with Dr. Schwarzburg;
If you smoke or take any blood-thinning medications like aspirin or any of the NSAIDs like Ibuprofen, you should quit doing so 2 weeks before your session to ensure seamless procedure and healing process;
Abstain from alcohol for 2 days prior to your butt augmentation procedure;
Take 600mg of Tylenol 2 hours prior to the procedure.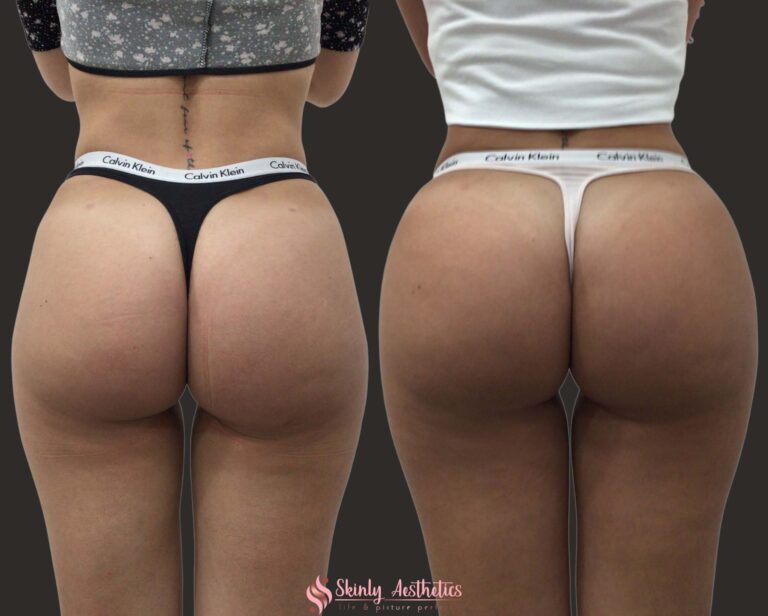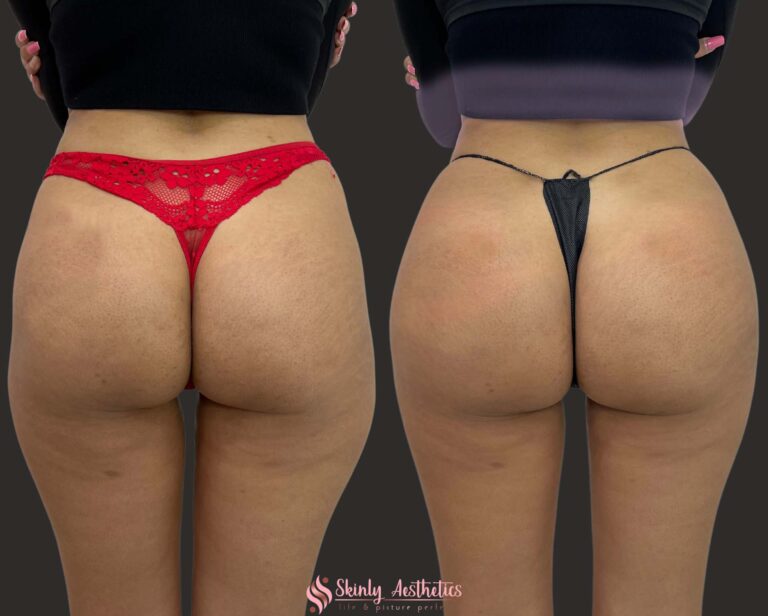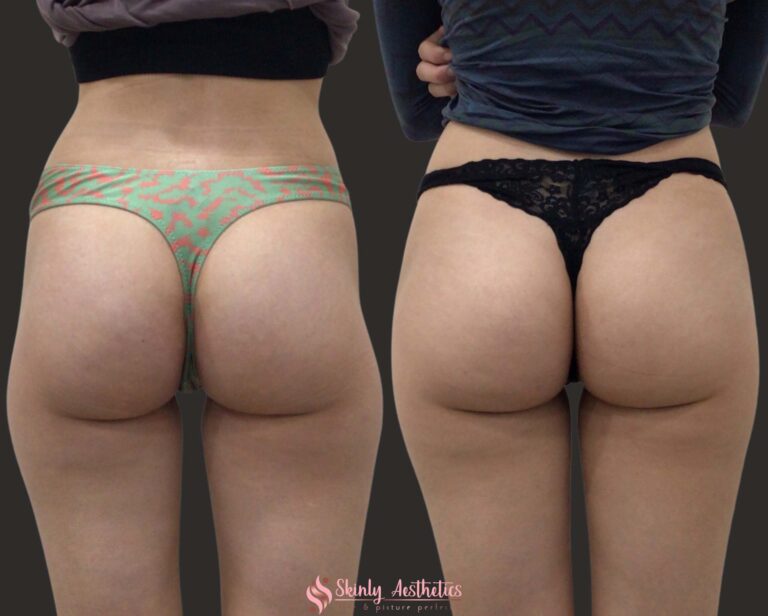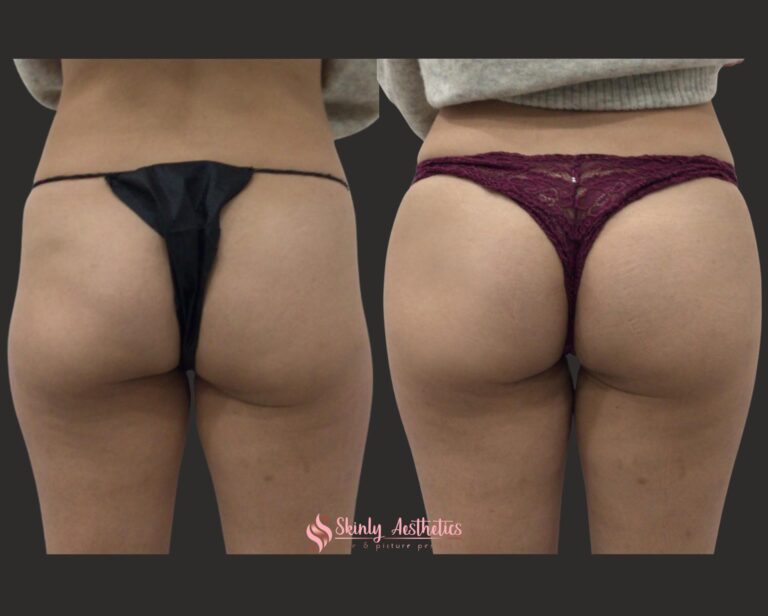 WHAT IS THE PROCEDURAL PROCESS FOR SCULPTRA BUTT LIFT AT SKINLY AESTHETICS?
If you've gone long enough researching and trying out all kinds of booty-building methods, this should come as a relief to you: the Sculptra butt lift protocol is very simple. At Skinly Aesthetics medspa in NYC, we make your comfort and convenience our priority. No more agonizing over a lifetime with an unremarkable bum – the turnaround is quicker than you think.
Dr. Schwarzburg will help you set realistic expectations taking into account your body type, fat distribution and body's response to treatment – all will determine how many vials of Sculptra are needed to bridge the gap between your current and your desired buttocks;
At the commencement of your Sculptra butt lift procedure, Dr. Schwarzburg will sanitize and mark up your glutes. This marking up serves to plan the correct injection layout; the proper layout helps ensure symmetry as well as achieving the buttocks shape you discussed.
Once you are lying prone on the bed you will get local anesthesia via 2 lidocaine shots where the cannula enters the skin;
A larger needle will make a small hole in the skin so that the cannula can be inserted;
A blunt tip cannula is then advanced under the skin into the subcutaneous layer in the middle of the fat layer above the gluteus muscles and multiple passes are made to make room for Sculptra filler. There is essentially no bleeding or damage to the surrounding tissues because the tip of the cannula is not sharp;
A syringe with previously mixed Sculptra is attached to the cannula and the filler is deposited in a predetermined fashion to ensure equal distribution of the product;
Once all of the filler is injected, the cannula is removed, the skin is sanitized and bandages are applied
You will be advised on the appropriate postcare regimen and sent home
FAQ
WHAT ARE THE BENEFITS OF SCULPTRA BUTT LIFT?
Here is a quick overview to weigh all the benefits of getting a liquid Sculptra butt lift at Skinly Aesthetics in New York:
Help your body bounce back – Weight gain, weight loss, childbearing, growing old take their toll on our bodies. But you don't have to sit back and let it happen as Sculptra butt injections can erase the effects of all those years, returning your butt to its fuller and more bouncy state!
Minimal downtime – Just a few days of skipping your favorite gym is the all the downtime needed following your treatment.
Natural looking results – Sculptra induced collagen production is a gradual process and you won't end up with odd, uncanny or exaggerated results. Instead, your bottom will look as organic as can be – just new and improved!
Low-risk and minimally invasive – Compared to Surgical BBLs, liposuction, and implants Sculptra butt lift comes with a few temporary and insignificant side effects.
Biodegradable and biocompatible – The poly-L-lactic acid found in Sculptra fillers is biocompatible and doesn't cause a foreign body reaction.
Long-lasting results – While a Sculptra BBL isn't permanent, it will last for around 3 to 5 years; that's plenty of time to enjoy and show off your juicy and firm bottom.
Create a flattering figure. Saying that a Sculptra butt lift only makes your butt bigger or better looking is simplifying things – the truth is, when your butt is more shapely and proportional, your entire body ends up looking a lot more flattering.
WHAT ARE THE CONS OF SCULPTRA BUTT LIFT?
There are very few drawbacks associated with Scuptra butt lift:
You may need multiple sessions to get the most optimal and desired results
Sculptra butt lift results are not immediate and take a few months to become fully apparent and visible
WHO IS A GOOD CANDIDATE FOR A LIQUID SCULPTRA BUTT LIFT?
A proportional, luscious backside is for everyone! There's no need to go under the knife – and all of us can benefit from extra volume along the backside. Below are the major criteria to make you eligible for Sculptra butt lift:
Overall healthy individuals without chronic advanced conditions like diabetes that make healing difficult;
No significant bleeding or autoimmune disorders that may preclude you from getting the procedure;
No medical allergies to Sculptra ingredients;
Any active skin infection in the area of injections;
History of severe skin sensitivity and proclivity to forming keloids;
Unrealistic expectations – some patients expect to double or triple the size of their butts in a single procedure or using only 4 vials of Sculptra. To achieve optimal results you should follow Dr. Schwarzburg's recommendations and his plan of action.
ARE SCULPTRA INJECTIONS PAINFUL?
The pain during the Sculptra procedure is kept to a minimum because Dr. Schwarzburg uses:
Injectable lidocaine to virtually eliminate unpleasant sensations;
Atraumatic blunt tip cannula to make the entire process smooth and uneventful.
WHAT IS THE DOWNTIME AND POSTCARE AFTER SCULPTRA BBL?
Sculptra BBL requires minimal aftercare with the following simple steps to follow:
There is no downtime as you can return to normal activities immediately;
Gentle massaging of the buttocks to help distribte the PLLA filler and avoid forming small knots by following 5-5-5 (triple 5) rule: this stands for 5 minutes, 5 times a day, for 5 days after your treatment;
Avoid sitting on hard surfaces for 24 hours; feel free to carry a cushion around you for extra comfort;
Forgo strenuous exercise for 5 days allow the filler to settle and to prevent infection;
Avoid smoking or drinking for 2 days following the butt augmentation procedure;
Take over-the-counter painkillers like Ibuprofen and Motrin to decrease post-procedural discomfort
HOW LONG IS SCULPTRA BUTT LIFT PROCEDURE?
One of the reasons Sculptra treatments for non-surgical butt enhancement are so popular is that they don't take up much of your time. An entire session will only take around 45 to 60 minutes total. That's less time than it takes to watch a movie or go out to dinner.
HOW EXACTLY IS SCULPTRA INJECTED IN THE BUTTOCKS?
Dr. Schwarzburg exclusively uses a sterile, long, medium-sized cannula when administering Sculptra liquid butt injections. These cannulas are part of his custom technique to decrease the chance of side effects and ensure the best aesthetic outcome.
The filler is precisely deposited in the mid adipose layer and above the gluteus muscles. Given the amount of collagen that can grow as a result of the Sculptra injections it is crucial that is has room to expand; injecting more superficially and close to the skin will inhibit the proper production of collagen and tissue volume that are necessary to achieve your desired results. Dr. Schwarzburg is aware of YouTube videos where a superficial approach to Sculptra injections is used leading to mixed outcomes because the production of collagen is stalled. Using a cannula additionally avoids major bruising associated with injections via needles.
Dr. Schwarzburg uses his custom blend of Poly-L-lactic acid and Hyaluronic acid gel molecules in his Sculptra mix – this hybrid version of the classic Sculptra mixture offers more immediate, longer lasting, and more voluptuous results that cannot be matched using Sculptra filler alone. Dr. Schwarzburg has worked on this special creation for years, so you can finally get your Sculptra NYC results faster, fuller, and skip the 1 – 2 month wait to see that peachy bootie!
WHAT ARE SCULPTRA BUTT AUGMENTATION SIDE EFFECTS?
The side effects following your Scuptra butt treatment are minimal and insignificant when performed by Dr. Schwarzburg, a board-certified provider with over a decade of experience.
The following list makes up the most frequently encountered side effects:
Mild bruising at the site of cannula insertion, which tends to resolve over 2-5 days;
Mild soreness and tenderness, which is alleviated with any over-the-counter pain killers like Ibuprofen, Motrin or Aleve;
Mild swelling lasting up to 48 hours before the fillers fully settle;
Infection at the site of insertion is extremely rare, but is quickly resolved with a short course of antibiotics;
Formation of tiny granulomas that are not visible under the skin is also a rare occurrence and tends to fade over 2-4 months;
HOW LONG DOES IT TAKE TO SEE THE RESULTS OF SCULPTRA BUTT INJECTIONS?
Remember that Sculptra injections require some patience – the changes will only become noticeable around 6 weeks after your treatment.
Initial swelling is secondary to sterile water in which Sculptra is reconstituted and takes 1-2 days to be absorbed by the body tissues;
Sculptra relies on your body's immune response to boost collagen levels – some patients may be more responsive than others;
The number of vials you used, and whether or not they were combined with HA or Radiesse fillers;
If you are planning to get more Sculptra injections, you have to wait at least 6 weeks before doing so; many patients who want to see quicker, more dramatic results go for around 3 sessions within a 2 to 4 month period;
If you elect to get a custom fusion of Hyaluronic acid gel, Radiesse, and Poly-L-lactic acid you be getting plumper and bigger butt as soon as you leave your appointment. This patented combination is highly sought after and only offered at Skinly Aesthetics.
HOW MANY VIALS OF SCULPTRA DO I NEED TO SEE THE BEST BUTT ENLARGEMENT RESULTS?
Many patients who come for a consultation with Dr. Schwarzburg have the same question: "Will 4 vials of Sculptra be enough to see a difference?" The answer to that question is that it depends. Based on Dr. Schwarzburg's experience and the results he has seen over the years 4 vials will produce the bare minimum results, and most of his patients start with 8-10 vials of Sculptra mixed with 4-6 vials of hyaluronic acid filler.
It is not uncommon for patients to have 60-100 vials over the course of 1 year to achieve the best results possible, however, the standard average number of vials used through the course of treatment is around 40 vials.
The total number of Sculptra vials can be adjusted based on patients' individual response to Sculptra induced collagen production and their desired outcomes.
HOW LONG WILL MY SCULPTRA BUTT FILLERS LAST?
Liquid butt lift tends to stick around for 3 to 4 years. You can rejuvenate the results of your butt lift by booking follow-up appointments periodically over the course of 1 to 3 years. You don't need to resign yourself to the pull of gravity and aging as repeated Sculptra injections over many years will keep your bum looking timeless.
WHAT IS THE COST OF SCULPTRA BUTT LIFT IN NYC?
Sculptra butt lift is an advanced non-surgical procedure that is offered at a few select medical practices with highly skilled and experienced providers. The following factors determine the cost of your Sculptra butt lift:
The cost of 1 vial of Sculptra is between $400 and $1000;
Number of vials that can be injected in a single session is 8-30 vials;
Total cost per single session of Sculptra BBL can range from $2000 to $10000
The geographical location of the clinic – clinics in large cities tend to charge more than suburban and rural practices;
The experience and degree of your injector – Medical Doctors will charge more than a nurse;
You can receive "volume" discounts when you commit to a large number of vials, which is usually at least 20 vials.
SCIENCE BEHIND SCULPTRA BUTT LIFT
If you've ever looked into surgical butt augmentation procedures, you may be curious about how you can achieve the perfect bottom using only butt fillers. You are likely jaded from trying every trick in the book to improve a "pancake" type booty, from endless squats and weight training to fad diets. Not seeing the changes we hope for can be really discouraging – so how is a liquid butt lift going to help?
Let's get dive into how Sculptra and other fillers for non-surgical butt enhancement work:
It's a blend of poly-L-lactic acid (PLLA for short) and sterile water with one vial of Sculptra containing 377.5 mg of PLLA and 7 to 10 ml of sterile water.
When injected into the subcutaneous fat layer the PLLA in Sculptra filler jumpstarts a process of targeted collagen production.
The collagen triggered by the PLLA molecules surrounds PLLA particles in a three-dimensional grid, building the desirable plump look and volume in the buttocks. The butt-lifting effects of collagen won't be noticeable right away as the first results are visible 2 or 3 months after your initial session. This is the time it takes for your body to naturally produce collagen in your butt with the help of Sculptra filler.
As collagen-building process takes a few months to reach its full potential many of Dr. Schwarzburg's patients in NYC, Brooklyn and Queens opt to get multiple treatments for the best Sculptra butt results.
COMBINING SCULPTRA WITH OTHER DERMAL FILLERS
For best butt augmentation results Dr. Schwarzburg prefers to combine Sculptra with other biocompatible dermal fillers.
Sculptra takes a few months for results to fully visualize and combining Sculptra filer with other dermal fillers, such as Radiesse (Calcium Hydroxylapatite) or hyaluronic acid (HA) fillers like Juvederm or Restylane, improves both short term and long term results.
Hydrophilic gel molecules of hyaluronic acid fillers produce instantly recognizable results as they absorb water and immediately increase in size upon injection. Both Radiesse and hyaluronic acid fillers can be used on their own or in combination with Sculptra to boost the efficacy of the liquid BBL.
WHAT PARTS OF THE BUTT CAN BE ENHANCED WITH SCULPTRA FILLER
Dr. Schwarzburg notes the most common areas of concern that his patients present include hip dips, saggy buttcheeks and flat glutes. For many of his patients a fun day at the beach turns into a nagging voice reminding them of oddly shaped buttocks – thankfully, getting a liquid BLL with Sculptra filler can actually address all of these issues.
Rounding out hip-dips for a more fluid body line or creating the look of a higher, more lifted bum, or achieving that upside-heart bottom shape that is so popular are all possible with the liquid filler boost.
WHAT MAKES SCULPTRA BUTT LIFT SO POPULAR IN NYC?
Plump and lifted bottom has become a desirable look in NYC literally for everyone including professionals, actors, performers, fitness junkies and just about everyone not blessed with shapely buttocks. Sculptra butt lift makes everyone feel more confident at the beach in their bikinis, in their favorite shorts in selfies, or just in daily lives walking around and fitting well in their own jeans.
The desire to have a perfect butt is fueled by many factors including:
Social media influencers like Kim Kardashian flash and emphasize their bottoms publicly at every photographic opportunity and you may want to fit perfectly in your tight jeans or favorite swimsuit;
Aging process – With age the butt size decreases and the butt sags and flattens secondary to volume loss and skin laxity. One day your bum is youthful and crisp as a ripe apple, and then suddenly you wake up with a limp version that has seen better days. Sculptra butt enhancement will bring back the body you once loved, turning back the clock to a more youthful you!
Genetics – If you have a genetically small, narrow, and flat butt then Sculptra booty boost is a clinically proven solution to augment your backside!
Professional requirements – In New York having an attractive and well-shaped booty could be necessary to succeed as a runway model, Broadway performer or aspiring actress, or any other career where looks matter the most!
WHAT IS MY BUTT SAGGING AND WHY IS IT STILL FLAT WHEN I WORK OUT A LOT?
If you have a modest or frankly flat booty, then you know what it's like to gaze at more shapely bums and wonder how you can get there. Below are major factors that influence how your butt looks:
Lifestyle and genetics work together to determine how fat is distributed in the body; some people lack the natural anatomy and fat reserves for the lush buttocks they desire. A lot of people opt for rigorous workouts, putting time and sweat into training glutes. While toning the thighs, trimming down the waist, and bolstering the gluteus muscles can certainly help, frequently nature stands in the way.
Getting older makes you susceptible to the dragging force of gravity, causing your butt to lose fat and its natural shape and pert.
Pregnancy and fluctuations in weight can also diminish the plumpness of your bottom.
That's why so many turn to butt enhancement procedures like the Sculptra butt lift to lend a helping hand when it comes to shaping their dream hourglass figure. The collagen production brought on by Sculptra butt fillers can rejuvenate your buttocks by reversing the degrading effects of aging and enhancing your own anatomy.
WHY SHOULD YOU CHOOSE SCULPTRA FILLER INJECTIONS FOR YOUR BUTT AUGMENTATION?
It's a natural process – Liquid butt injections sculpt and build up your buttocks by instigating your body's intrinsic collagen production. As collagen levels in your buttocks rise over the months following your procedure, your glutes and hips become supple, full and more voluminous.
It's a gradual process – The gradual evolution associated with Sculptra butt lift also leads to a more natural outcome; the volume of your buttocks will grow over time, much in the way it would if you were simply pursuing your body goals through exercise.
Dr. Schwarzburg, the #1 butt injections specialist in NYC, explains that patients enjoy their plump buttocks from Sculptra butt injections for 3 to 5 years and nobody will know they had a little help along the way.
The results of non-surgical butt lift with Sculptra are discreet while still turning heads. The degree of butt projection that is achieved with Sculptra bum injections often exceeds patients' expectations.
WHAT ARE THE WAYS FROM EXERCISE TO SURGERY TO ENHANCE THE LOOK OF THE BUTTOCKS?
Working out and exercising – Hitting the gym is one way to try and scupt a flattering butt. Slimming down the waist will eliminate love handles resulting in a better looking backside. However, when it comes to the size and roundness of the butt, many of us end up disappointed with the results of exercise. A lot of that just has to do with the shape of your pelvic bones, muscles, and natural distribution of fat. In fact, while losing weight might help you look better overall, it can actually end up giving you a smaller butt through fat loss.
Plastic Surgery – A lot of celebrities really aren't born that way and expensive plastic surgeries including Brazilian butt lift, are what gives them the curves that are the subject of so much envy.

With a Brazilian butt lift, fat is extracted from another part of the body through liposuction to then be injected into the buttocks.
Silicone implants is another option, which yields instant, and often dramatic, results, however this surgery carries a high risk of adverse effects, high prices, and significant downtime.

Biocompatible Dermal Fillers

Sculptra butt injections marry the idea of minimally invasive cosmetic procedures with effective volume-building solutions for the ideal buttocks. Optimally placed liquid butt injections stimulate collagen production, creating the proportions you have always hoped for. Sculptra non-surgical butt lift comes with a low risk of side effects, as well as a quick and relatively painless procedure.
Radiesse Butt Fillers: Radiesse butt fillers fall under the umbrella of liquid butt injections – this dermal filler consists of calcium hydroxylapatite and can be diluted and combined with Sculptra for a quicker, more powerful effect. By promoting collagen in the body, Radiesse fillers ensure a firm and bouncy behind almost instantly.
Hyaluronic Acid Butt Fillers: Similarly to Radiesse fillers, hyaluronic acid-based fillers can be used in conjunction with Sculptra for a more striking end result. When used as butt injections, HA fillers emphasize the body's response to Sculptra for more pronounced buttocks with immediate results.
WHAT ARE THE BEST FILLERS FOR BUTT ENHANCEMENT AND CAN SCULPTRA AND HYALURONIC ACID FILLERS BE COMBINED?
Dr. Schwarzburg pioneered a technique where Sculptra and hyaluronic acid fillers are mixed together to create a compound with new properties. Because hyaluronic acid molecules produce immediate volume and Sculptra has delayed response, combining them leads to immediate results influenced by hyaluronic acid, which are later enhanced by Sculptra induced collagen growth.
The proportions matter a lot and Dr. Schwarzburg's proprietary formula produces head turning results his patients have come to appreciate over the years.
WHAT IS THE DIFFERENCE BETWEEN SCULPTRA BUTT LIFT AND THE BRAZILIAN BUTT LIFT?
While you may want to look like a popular, curvaceous celebrity, and have seen bubbly booties on social media feeds it's important to understand what Brazilian Butt lift is:
Requires full anesthesia;
Necessitates liposuction from other body parts and may leave them unsightly after fat is removed;
Significant recovery time with a lot of pain, bruising and restrictions of normal activities;
Significant time away from work, exercise, and social life while you recover;
While the results are immediate, contour irregularities are common. That means the end result can look botched and asymmetric and the total butt volume can decrease as much as 60% over the few post-surgical months;
Butts after BBL may look hard and unnatural;
Surgical BBLs come with the risks of infection, seroma, oil cysts, and even fat embolisms that can, in the worst scenarios, lead to death.
Sculptra butt injections, on the other hand, have a very low frequency of any side effects at all, most of which are minimal and temporary:
Sculptra BBL is virtually painless with local anesthesia;
Minimal bruising and tenderness for a few days;
Butt injections are quick and take about 40 minutes from start to finish;
Immediate return to normal activities except for strenuous exercise;
No risk of infection or contour irregularities;
Sculptra BBL before and after results always look and feel natural as your own collagen makes the butt bigger.
WHAT TREATMENTS CAN I USE IN CONJUNCTION WITH MY SCULPTRA BBL?
CoolTone or EmSculpt – Butt augmentation isn't just about creating a bigger butt. If you want a more toned figure to go along with it then one way to achieve this is through the application of CoolTone or EmSculpt electromagnetic muscle stimulators. These non-invasive treatments sculpt and tone muscles in ways that would otherwise require hours and months of going hard in the gym. Through repetitive muscular contractions, certain areas like the abdomen and thighs can be tightened for an extra butt lift.
QWO Cellulite Treatment – Blemished or uneven skin can be just as much a source of self-esteem issues as anything else. Most women have cellulite, yet most also struggle with its appearance. While losing weight, growing taller, and childbearing can be wonderful things, they both tend to leave women with these unwanted dents. Sculptra alone does not eliminate cellulite, but it can be combined with QWO cellulite treatment to this effect. QWO breaks up the fibrous bands that are responsible for cellulite for an overall smoother skin texture.
WHAT ARE THE BEFORE AND AFTER RESULTS OF SCULPTRA BUTT LIFTS?
Before the Sculptra butt lift you may feel dissatisfied with your body, which can lead to poor self-esteem, lethargy, and feeling like you want to hide away from the world. A lot of people deal with butts that are flat, sagging, tiny, or asymmetrical. They may have been born that way, or become that way after years of stress, weight fluctuations, or pregnancy weighed them down. You can even feel like you don't want to expose your backside at all – after all, who wants to post a bikini picture feeling less than stellar?After your Sculptra butt lift, you will want to be posting swimsuit pics every day! It's incredible the kind of confidence boost you can get from even subtle changes to your posterior. The formation of new collagen driven by PLLA growth in the body gives your butt a bolster like you've always dreamed about. Sculptra liquid butt injections work over time, leaving you with natural-looking and full buttocks.
CAN INSURANCE PAY FOR MY LIQUID BUTT LIFT?
While body image certainly plays a major role in mental health, insurance companies typically don't recognize elective cosmetic procedures as something they cover. The exception to this would be cases in which there is a proven correlation to a patient's health – for example, in the case of a gender reassignment process.
WHAT DETERMINES THE EFFICACY OF SCULPTRA BUTT LIFT AND DOES IT REALLY WORK?
Sculptra butt lift does work and it's a reliable and reproducible procedure when properly administered. It requires exquisite knowledge of gluteal anatomy and complete understanding of how the filler behaves in the butt tissues. At his NYC cosmetic dermatology clinic Dr. Schwarzburg takes ample time to cover these essential details related to Sculptra BBL, to keep his patients educated and informed.
There are 3 main factors that determine whether Sculptra BBL results will match your expectations and produce excellent outcomes.
The greater the number of Sculptra vials used during a single session the better and more pronounced and impressive the results. However, there's an important caveat because injecting too many vials can actually overwhelm your body's response system. Instead of growing, PLLA particles can simply stick together under the skin and not grow collagen at all, because they are so overconcentrated and oversaturated in a small amount of space.
Second, is the density of the subcutaneous fat. There are various fat densities from light and loose to very heavy and dense. This histological aspect determines whether there's going to be enough space for collagen to grow. Loose fat has weak interstitial matrix and has a lot of potential space for Sculptra filler to expand. You can think about it as a very loose sponge that gets filled with water when submerged. Dense fat on the opposite has restricted potential space and the newly created collagen will have trouble enlarging. An experienced doctor will pick up those subtle details and adjust the injections accordingly.
Third, is the actual intrinsic response to PLLA molecules. Unlike other fillers, Sculptra doesn't create new volume directly via expansion of the filler itself; instead, it induces a complex immunologic cascade where collagen fibers form around the injection site. This actual intrinsic response is the only variable that is completely unknown and unpredictable and patients can have a whole spectrum of responses ranging from low to average to good and excellent. This biochemical property must be thoroughly explained to patients to avoid any potential misunderstanding.
IS A NONSURGICAL BUTT LIFT WITH SCULPTRA WORTH IT?
If you don't believe dry numbers then you should look at reviews and feedback that patients leave online and on social media about their doubts, expectations and final results.
For the overwhelming majority of people who have undergone non-surgical butt enhancement with Sculptra fillers, the procedure has changed their lives and was totally worth it!
The booty transformations are sometimes so dramatic and fabulous that patients have a hard time keeping their emotions under control and flood their social media accounts with before and afters of themselves showing off their new backside at the beach, in the club or in the gym.
Imagine you are finally being able to fit into your tight leggings with the butt looking gorgeous and bubbly and round – that look you always dreamt about when having your favorite workout! Or think about that bikini that you always wanted to wear on the beach, but your buttocks didn't have the right shape and that made you feel insecure – with Sculptra buttocks injections this is now a reality too!
WILL MY BUTT LOOK AND FEEL NATURAL AFTER SCULPTRA BUTT INJECTIONS?
When it comes to any kind of butt augmentation, you may have concerns about your backside looking fake and plastic and feeling hard to a touch. This is applicable in case of silicone butt implants, which sometimes take on an unnatural appearance because of the dense fibrous capsule that body forms around them and their propensity to break and dislodge.
But Sculptra BBLs are different – they actually look and feel real! The natural look of a Sculptra BBL is thanks to the way the filler spreads and gradually replaced by your body's own collagen. Within a few months, you are left with a bottom that looks naturally fabulous. You will be happy to hear that not only does it look organic – it feels that way, too! There is no hardness as there is with surgical implants. Every curve and contour will be fully yours to own and enjoy!
HOW TO GET STARTED WITH YOUR SCULPTRA BUTTOCKS TRANSFORMATION?
Now that you have an idea of how Sculptra fillers work, you may want to know how to best take advantage of this kind of cosmetic procedure. After all, you've got your sights set on the perfect booty – so what steps can you take to get there?
At Skinly Aesthetics, we are committed to guiding you through the process of a Sculptra butt enhancement with care and transparency. Dr. Schwarzburg is one of the most qualified and in-demand physicians in New York City when it comes to performing non-surgical butt augmentations. With great thoughtfulness, competence, and expertise, he will use his years of knowledge gathered from carrying out Sculptra butt lifts to provide you with top-notch results – meaning a well-formed, symmetrical, attractive backside.
Feel free to reach out to us with any other questions at 212-774-4264 or info@skinlyaesthetics.com. Skinly Aesthetics is located in Manhattan, New York, on the Upper East Side.