Dr. Schwarzburg has been featured in:
THE RENAISSANCE OF SKINCARE: INJECTABLES AND THE EMERGENCE OF SKIN BOOSTERS
The skincare industry has witnessed a paradigm shift in recent years, with injectables playing a pivotal role in this revolution. These treatments, such as Botox for wrinkles, Juvederm for fuller lips, and Sculptra for facial contouring, have offered solutions that are not only remarkably effective but are also minimally invasive, enabling quicker recovery times and less downtime.
They've efficiently bridged the gap between extensive surgical procedures and traditional topical treatments. These injectables provide immediate, tangible results, often visible within just days or even hours after a session. Their precision and adaptability mean they can be tailored to individual needs, ensuring natural, yet transformative outcomes.
Amidst this new wave of treatments, Skin Boosters have carved a unique space for themselves. As the latest entrants in the injectable family, they complement the benefits of their counterparts, adding an extra dimension of hydration, elasticity, and overall skin rejuvenation. Together, this arsenal of advanced treatments heralds a new age in skin care, where achieving one's desired aesthetic is more accessible and convenient than ever before.
Clients
Clients
Testimonials
Went to Skinly Aesthetics on the upper east side for my Botox treatment and loved my results. Friendly and professional staff, clean facility, and Dr. Schwarzburg is truly an artist!… read more Will definitely be back and recommending to all my friends!

Steph F


Great place! Nice salon and friendly staff. It's my first time getting Botox and she was really helpful and honest about how many units and where is needed. Will definitely… read more come back!

dutchess


Came to Skinly aesthetics for my Botox treatment on the upper East side and couldn't be happier! The staff was professional, facility clean, and Dr. Schwarzburg was very knowledgeable and… read more has an amazing eye. Love my results and will refer all my friends!

Mireille Deetjen


Skinly Aesthetics was amazing. The Facility is beautiful, reception was ON top of things, and the medi- spa Dr made things quick and painless. Loved my results, will definitely be… read more going back and you should too!! 10/10

Jenny Oehlwein


i had such a pleasant experience at Skinlh Aesthetics. The office itself was so stylish and the staff were super friendly and helpful. The doctor was very knowledgeable and patient… read more and the procedure was stress free. I will definitely be coming back for future services!

Lucy Glendinning


I had a great experience and great results. With only one section my eyes bag problem are gone, I tried a few different treatments before and nothing worked. I scheduled… read more an appointment at Skinly Aesthetics and I don't regret it I'm satisfied with my results and recommend this clinic 100%. Don't go by negative comments because every skin is different and everybody is different, just give it try and you won't regret it.

Maggie Reyes


My experience getting my lips done was amazing. The staff were very welcome and very professional. I love the way my lips turned out. I would definitely recommend Skinly Aesthetics… read more if you want to get work done such as lip filler.

Zee Portugal


I've been Dr. Schwarzburg's returning patient for over a year! I love how he has improved my body, he is committed and perfectionist! The facility is sparkling clean and modern!! I… read more love Dr. Schwarzburg and I trust him 100%!!

LEYDIANA FERNANDEZ


Dr. Schwarzburg is a very polite and knowledgeable doctor. He had done my tear trough and check filler. He also does my sisters as well. She swears by him, and… read more so I went in for both treatments and was def satisfied! He is very skilled, and knows what he is doing. I don't trust many people with the tear trough procedure, but I trust him. I'll be back again for more treatments! Thank you!

Anna Bella


Cheers from CATALINA – Great spa and great services; As well as awesome treatments they offer! Dr Schwartzburg is a really funny guy and has a great sense of humor! -CATALINA

Catalina Burma DR


I'm new to medical aesthetics, and it was long overdue. I was always scared of needles and any change to my face, but the time has finally arrived, when I… read more just could look at my soggy face… I tried to find a place where I could do all the things that were necessary. I'm so happy I found Skinly! I had a few things done with them and the most life changing was PDO threads. My face is still my face but many years younger looking and absolutely natural. I told all my friends about them!

Miranda Boyle


This place is the best! The staff is super nice and my lips look amazing! Will definitely be back!

Sarah Kagasoff


Incredibly pleasant office and staff. Cannot recommend the doctor enough. He is super knowledgeable, honest, kind and most importantly, talented!

taylor segal


This is one and only place I would ever go to for any injectables. Dr. Schwarzburg was very thorough with his assessment and had fully explained to me what I… read more should expect from the procedure. The results were actually much better than expected and the nose hump that I had is now gone all because of his great injection technique. I already recommended a few friends.

Anna Berry


Unparalleled experience with lip fillers at Skinly. Dr. Schwarzburg used his custom technique to create a beautiful upper, which nobody was able to do before that. It looks 100% natural… read more and so beautiful. Will return and definitely recommend to my friends!

Theresa James


I was very impressed with my filler experience at Skinly. I just turned 40 and noticed how my face sank overnight. All of my friends have been doing this for… read more a long time, but I was always scared of the needles and how they would change me. But I trusted one of my friends who's been a client at Skinly for a long time and decided to move forward. I have absolutely no regrets. I haven't looked that good in a decade! Everything is natural and everyone thinks I'm rested and just came from a vacation. I'm hooked and can't imagine my life without these injections now!

Tracey Peters


Highly recommend if you're considering Kybella! The facility is very modern and clean; and kudos to the doctor for putting at ease throughout all of the injections. Would happily return… read more for future services.

Devon Ivie


Such a great experience! I highly recommend this place. Everyone is so friendly, and listened to my needs/gave me exactly what I asked for. I'll be returning! Excellent, 5/5.

Grace Kellogg


I loved my visit. Everyone was so friendly and made me feel very comfortable. The office is beautifully decorated and my results were amazing. My forehead wrinkles have disappeared!

Murphy McVey


My thin lips always made me feel insecure, but I was scared of injections as I thought they were painful and would look unnatural. I came along MiracleFace as I… read more was researching my options and was impressed with their before and after lip filler gallery. I decided to give them a try and wasn't disappointed! After a few days of swelling and minor bruising my lips looked gorgeous without anyone realizing what was done to them. They absolutely looked stunning and natural. I waited a few months to write this review to make sure results were lasting and they definitely are. I wholeheartedly recommend them for lip injections!

Yana Zalukin


My experience at Skinly Aesthetics has always been top-notch. The staff and doctor are absolutely professional and are always kind and helpful with any of my questions. I'm so glad… read more I was able to find this place and they are super responsive with making appointments. I highly recommend coming here – you will not be disappointed! 🙂

Michelle Song


I had a wonderful experience at Skinly Aesthetics! My best friend and I called last minute and the receptionist Leah went above and beyond to fit us into the schedule… read more before closing. Even weeks after treatment she followed up with me and made sure things were going well! This was my first time receiving treatment and I appreciated the doctor listening to my concerns and treating the areas. Thank you to the whole staff for your professionalism and letting my first experience with my best friend absolutely SUPERIOR!!

Antonia Marice Sotto


We called very last minute to get in and the receptionist and the aesthetics nurse made an effort for us to stay open and squeeze us in last minute. They… read more price matched our Groupon for us as well. After a few days my face is looking wonderful! They did a great job and were incredibly friendly. My friend and I went together and they kindly let us have the experience together and we were so grateful!

Samantha R Olmsted


I cant express how happy i feel when i come to this place! The doc is super professional with his work and until is not perfect wont give up untill… read more he succeeded his final result even if he adds on his behalf, Leah is also very attentive, nice and professional with her suggestions!! Wont stop coming here! 3rd time, and im happy with EVERYTHING! Don't doubt coming

Amanda Garcia


It's not easy to find a Dr to trust, but I've had great results every time. Staff is efficient and welcoming. I highly recommend!

Rani Balsamo


I got lip fillers for the first time a few days ago and I am OBSESSED! sarah the receptionist made me feel so at ease because I was so nervous… read more before. I stressed how I didn't want a fake or "duck" look and Dr. Schwarzburg did a phenomenal job! The swelling and bruising finally went down after a few days and I have the most natural beautiful look ever. 10/10 would recommend and will definitely be going back in about a year for more. The office was very clean and they were also very cautious with COVID. I felt so safe and secure and my results are AMAZING!!!!

Anna Benvignati


What a pleasant experience going to this office. I've been wanting to find a new cosmetic practice for a while. Chose Skinly on a whim and couldn't be happier. Aside… read more from an incredible personality and bedside manner, the doctor really knows what he's doing and is extremely meticulous. Also, he doesn't suggest things you don't need simply to make a sale. He's extremely straightforward, as well as selective in what he does. Can't wait to come back!

Tay Der


I had a terrific experience at Skinly with Dr. Schwarzburg. He is a great listener and took time to go through all the questions that I had about the procedures,… read more results and outcomes. My injections turned out so beautifully natural I can't believe it's real. I will be coming for other procedures too!

Victoria Mccann


My experience was wonderful! I will use this Dr. for anything I can. The office is clean and bright & Leah one of the receptionists was so helpful and accommodating.… read more 5 star service! Can't wait to come back

marissa sabatelli


I have had nothing less than an AMAZING experience here! The office is professional, especially clean, beautifully set up, safe & secure and most importantly of all; sanitary! They take… read more every precaution necessary and beyond to make sure no one gets/is sick. As for my experience with staff and the Doctor; Sarah is amazing. She is friendly, especially knowledgeable & gets back to you [seriously] immediately! Dr. Schwarzburg is awesome! He's professional, friendly, understands the face of each person and can see where and what needs fillers. He is amazing at what he does. As for my experience with my fillers; I first came in on 6/2/20 for a Juvederm Lip filller, which came out WONDERFUL. I was so satisfied and ecstatic about my new look! So as I was told by the Doc and his team, they will be swollen and we'll see the final result within about 2-3 weeks. So about after a month, they settled at just a little bit larger than my original lips (which were very thin to begin with). So I called in with my concerns which Sarah said it happens sometimes where your body basically eats up the filler. So her and the doc consulted and told me to come on in, the Doc was going to generously give me half of a syringe at no cost to me. So I went in and Dr. Schwarzburg ended up giving me an entire syringe of Juvederm Voluma to make sure I left completely satisfied. I would highly recommend ANYONE thinking about getting fillers to go to Dr. Schwarzburg at Skinly Aesthetics. I guarantee you won't regret it. And as for pricing- completely fair pricing, actually I might even say great pricing for the job the Doc does and the hospitality you get while there. Thanks so much Sarah and Dr. Schwarzburg for being amazing and helpful from beginning to end! You guys literally ch aged my life by giving me the confidence I've been yearning for since I was 12 years old. You WILL be seeing me again haha!

ToniAnn Brooks

Get Best Deals In Your Inbox!
THE RENAISSANCE OF SKINCARE: INJECTABLES AND THE EMERGENCE OF SKIN BOOSTERS
The skincare industry has witnessed a paradigm shift in recent years, with injectables playing a pivotal role in this revolution. These treatments, such as Botox for wrinkles, Juvederm for fuller lips, and Sculptra for facial contouring, have offered solutions that are not only remarkably effective but are also minimally invasive, enabling quicker recovery times and less downtime.
They've efficiently bridged the gap between extensive surgical procedures and traditional topical treatments. These injectables provide immediate, tangible results, often visible within just days or even hours after a session. Their precision and adaptability mean they can be tailored to individual needs, ensuring natural, yet transformative outcomes.
Amidst this new wave of treatments, Skin Boosters have carved a unique space for themselves. As the latest entrants in the injectable family, they complement the benefits of their counterparts, adding an extra dimension of hydration, elasticity, and overall skin rejuvenation. Together, this arsenal of advanced treatments heralds a new age in skin care, where achieving one's desired aesthetic is more accessible and convenient than ever before.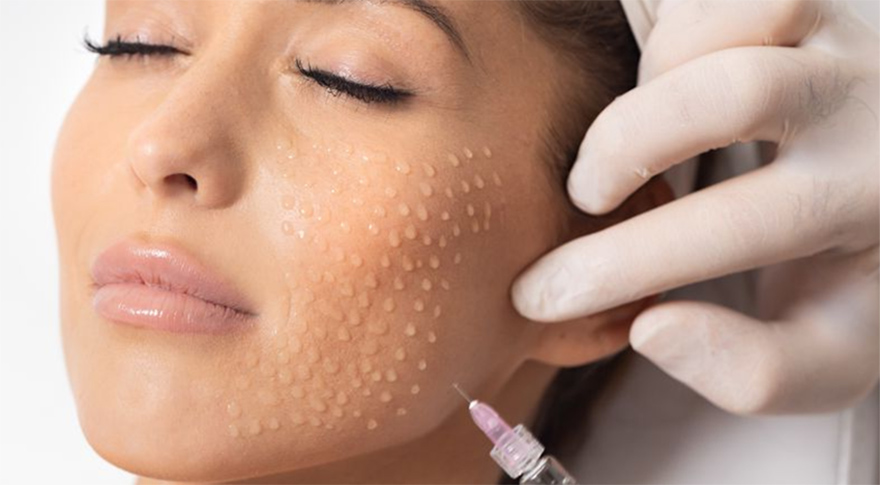 THE FUTURE OF DERMATOLOGY: SKIN BOOSTERS WITH DR. SCHWARZBURG AT SKINLY AESTHETICS
Understanding Skin Boosters
At Skinly Aesthetics in New York, Dr. Schwarzburg introduces Skin Boosters as the next generation of dermatological treatments. Infused with a powerful combination of hyaluronic acid, vitamins, and other rejuvenating elements, these "hydration injections" are meticulously designed to rejuvenate the skin from the inside out.
Diving Deeper into Their Mechanism
Dr. Schwarzburg's approach to skin boosters is comprehensive. Rather than just offering surface-level solutions, these treatments penetrate the deeper layers of the skin. Their aim? To provide enduring hydration, improved skin texture, and a visible reduction in fine lines, acting as an internal moisturizing reservoir for prolonged skin health.
Differentiation from Other Skin Treatments
While the aesthetic world is brimming with diverse treatments, skin boosters, as championed by Dr. Schwarzburg in NYC, offer a unique blend of subtle yet effective results. 
While other treatments might focus solely on surface corrections or temporary fixes, skin boosters offer a more holistic approach. They not only address visible signs of aging but also work proactively by enhancing skin health from within. Their results are subtle, yet cumulative, ensuring a naturally youthful look rather than a dramatic change. They strike a perfect balance between combating visible signs of aging and enhancing overall skin vitality.
REAPING THE REWARDS: THE TRANSFORMATIVE BENEFITS OF SKIN BOOSTERS AT SKINLY AESTHETICS
At Skinly Aesthetics, under the expert guidance of Dr. Schwarzburg, patients are discovering the myriad benefits of skin boosters. This revolutionary treatment is not just about addressing surface concerns; it's about holistic skin health and rejuvenation. Let's delve into the specific advantages that have made this treatment a favorite among those seeking radiant, youthful skin.
Enhanced Skin Elasticity
Skin boosters work wonders in rejuvenating the skin's natural elasticity. As the collagen fibers in our skin begin to lose their strength over time, these injections offer a solution, reinforcing the skin's structure and restoring its natural bounce and suppleness.
A Surge of Deep Hydration
It's not just about what's on the surface. Dr. Schwarzburg's approach ensures that skin boosters delve deep, providing layers of hydration beneath the skin's surface. The result? A complexion that doesn't just glow but radiates from within, showcasing health and vitality.
The Promise of Enduring Beauty
One of the standout qualities of skin boosters, as emphasized by the Skinly Aesthetics team, is their longevity. While some treatments may offer fleeting improvements, skin boosters promise results that stand the test of time. Patients can revel in their refreshed and revitalized appearance, with the benefits extending far beyond the initial post-treatment glow.
AREAS ENHANCED BY SKIN BOOSTERS AND THEIR UNIQUE BENEFITS
1. Face:
Benefits: The face reaps comprehensive benefits from skin boosters. The treatment revitalizes the overall complexion, addresses fine lines, and offers deep hydration.
Results: A radiant, plumped facial appearance with smoother skin texture and reduced visibility of superficial wrinkles.
2. Neck:
Benefits: The skin on the neck, often neglected and prone to signs of aging, can gain improved elasticity and hydration from skin boosters.
Results: A more youthful neck appearance with reduced fine lines and a firmer, more hydrated skin texture.
3. Hands:
Benefits: Our hands, constantly exposed to environmental factors, can lose their youthful appearance over time. Skin boosters restore hydration and combat signs of aging.
Results: Rejuvenated hands with diminished age spots, improved skin tone, and a refreshed, youthful appearance.
4. Décolleté (Chest Area):
Benefits: This sun-exposed area can show signs of premature aging. Skin boosters can address sun damage, dehydration, and fine lines.
Results: A revitalized décolleté with even skin tone, reduced visibility of sun spots, and a smoother skin texture.
5. Area around the Eyes:
Benefits: The delicate skin around the eyes benefits from the gentle hydrating properties of skin boosters, addressing crow's feet and under-eye dullness.
Results: Brighter, more youthful eyes with reduced fine lines and a more vibrant appearance.
6. Lips:
Benefits: Skin boosters can hydrate the lips without significantly altering their shape, addressing dryness and fine lines.
Results: Plumper, more hydrated lips with a natural appearance, free from the excessive fullness sometimes seen with traditional fillers.
Skin boosters offer targeted benefits based on the area of application, ensuring that each region's unique needs are met while preserving a natural, radiant look.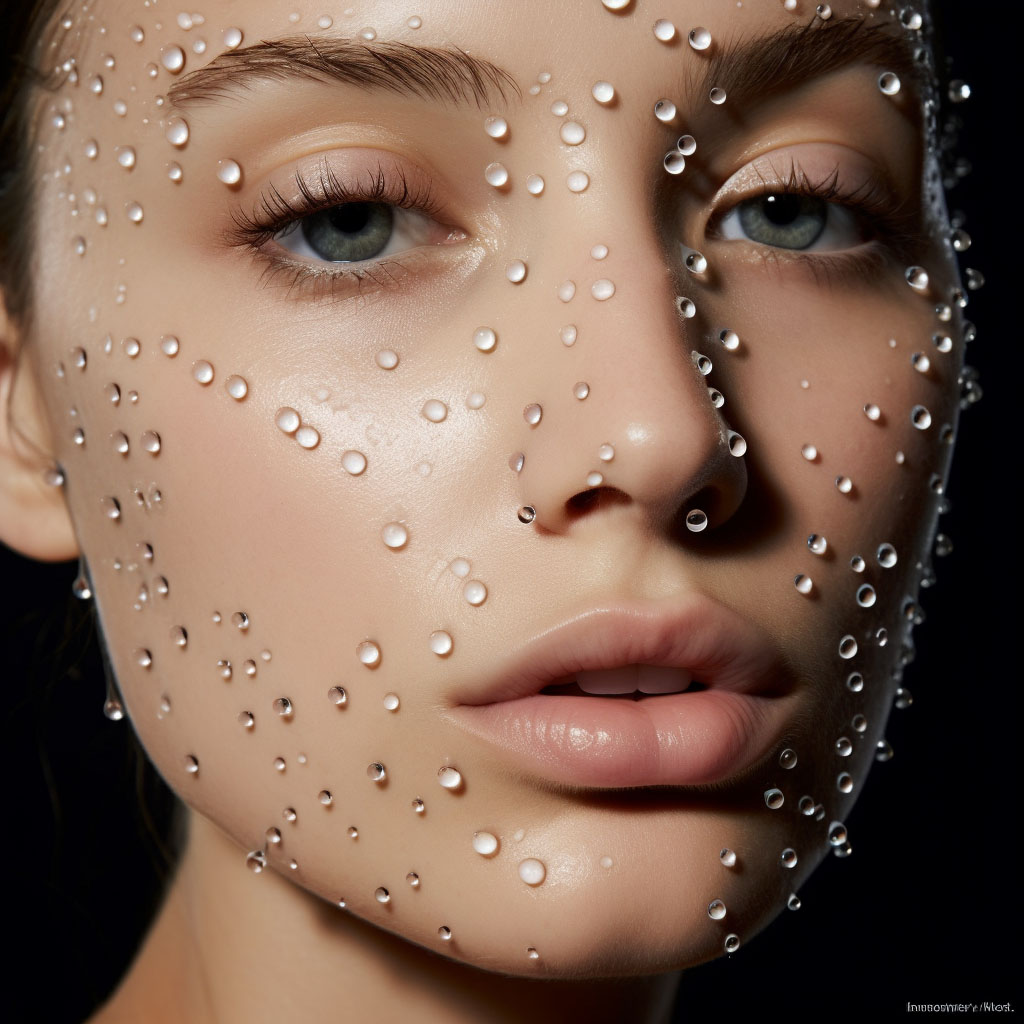 WHY SKINLY AESTHETICS IN NYC FOR SKIN BOOSTERS?
In the bustling heart of NYC, Skinly Aesthetics stands out, thanks largely to Dr. Schwarzburg's deep-rooted expertise in aesthetic medicine. His renowned background, peppered with Ivy League credentials, ensures that patients receive top-tier treatment. Beyond his technical skills, what truly sets him apart is his unwavering commitment to patient care, emphasizing individual needs and holistic well-being. For those seeking the best in skin boosters, Skinly Aesthetics remains the clear choice.
FREQUENTLY ASKED QUESTIONS
ASSESSING SUITABILITY – ARE SKIN BOOSTERS RIGHT FOR YOU?
Skin boosters' subtle and rejuvenating effects make them attractive to a wide range of individuals. But who stands to gain the most from these treatments? Dr. Schwarzburg delves into the profiles of those best suited for this innovative approach to skin revitalization.
Individuals with Early Signs of Aging
Those noticing the onset of fine lines, reduced skin elasticity, or minor skin sagging can benefit from the preventative and rejuvenating effects of skin boosters.
People with Dehydrated Skin
If your skin often feels dry or lacks the youthful dewy glow, skin boosters can provide deep hydration from within, addressing the skin's moisture imbalance.
Those Seeking Subtle Enhancements
Individuals looking for a natural, non-overdone aesthetic improvement rather than dramatic changes are ideal candidates. Skin boosters enhance one's inherent beauty without altering the basic structure.
Individuals with Active Lifestyles
For those who are always on the go and want a minimal downtime procedure that fits into their busy schedules, skin boosters are a suitable choice.
People Unwilling or Unable to Undergo Invasive Procedures
If you're hesitant about surgeries or more invasive treatments, skin boosters offer a minimally invasive alternative to rejuvenate the skin.
Individuals with Sensitive Skin
Given the gentle nature of skin boosters, they can be suitable for those with sensitive skin types, provided they undergo a thorough consultation to ensure compatibility.
Those Seeking Preventative Care
Younger individuals who wish to proactively address potential skin concerns and maintain their skin's health and radiance can also consider skin boosters.
GEARING UP FOR THE PROCEDURE: HOW TO PREPARE FOR SKIN BOOSTERS
Dr. Schwarzburg prepared the following checklist for those getting ready for their first Skin Booster session.
Consultation is Key:
Before anything else, schedule a consultation with Dr. Schwarzburg at Skinly Aesthetics. This will help assess your suitability for the treatment, clarify your expectations, and address any concerns.
Avoid Blood-Thinning Medications:
For about a week prior to the procedure, refrain from taking medications or supplements that can thin the blood, such as aspirin, ibuprofen, or vitamin E. This helps reduce the risk of bruising.
Stay Hydrated:
Drink plenty of water in the days leading up to your treatment. Hydrated skin can respond better to the procedure and might even enhance the effects of the treatment.
Skip the Alcohol:
Alcohol can increase the risk of bruising. It's best to avoid consuming alcohol at least 24-48 hours before the procedure.
Inform About Allergies or Skin Sensitivities:
If you have any known allergies, especially related to skin products or treatments, inform your practitioner in advance. This helps in choosing the right product formulation for your skin booster treatment.
Stay Sun-Safe:
Avoid excessive sun exposure or tanning for a week prior to the treatment. Sunburned or irritated skin might not be ideal for the procedure.
By taking these preparatory steps, you can ensure a smoother process and potentially enhance the results of your skin booster treatment. Always keep an open line of communication with your specialist to address any uncertainties or concerns.
WHAT TO EXPECT DURING THE PROCEDURE?
The skin booster procedure commences with a strong numbing agent to minimize discomfort. The defining characteristic of skin boosters is the meticulous microdroplet delivery. Practitioners use specialized needles to infuse small amounts of hyaluronic acid (HA) just beneath the skin's surface, ensuring precise dosing and depth. This method allows the HA to be distributed evenly throughout the dermis, resulting in a uniform, natural-looking rejuvenation.
IS THE SKIN BOOSTER PROCEDURE PAINFUL?
The sensation experienced during a skin booster treatment is typically described as a mild discomfort rather than pain. Dr. Schwarzburg uses a strong lidocaine-based numbing cream and additionally, many skin booster products are formulated with lidocaine to further enhance the patient's comfort. It's worth noting that individual pain thresholds vary, so while some may feel only a slight pinch, others might experience a bit more sensitivity. However, any discomfort is usually short-lived and is often considered manageable by those opting for the treatment.
WHAT IS THE POSTCARE FOLLOWING A SKIN BOOSTER TREATMENT?
After undergoing a skin booster procedure, it's essential to follow specific post-treatment guidelines to maximize results and ensure a smooth recovery. Here's what you should keep in mind:
Avoid Intense Physical Activity: It's advisable to skip strenuous workouts for at least 24 hours after the treatment. Excessive sweating can increase the risk of swelling or bruising.
Stay Sun-Safe: Protect the treated area from direct sunlight for a few days post-procedure. Excessive sun exposure can lead to prolonged swelling or discoloration.
Avoid Touching the Treated Area: Try not to touch, rub, or apply pressure to the treated areas for at least 24 hours. This allows the product to settle properly.
Stay Hydrated: Drinking plenty of water can help expedite the integration of hyaluronic acid into the skin, enhancing the hydrating effects of the treatment.
Skip the Sauna and Steam: Heat treatments, like saunas or steam rooms, should be avoided for at least 48 hours post-procedure. Heat will exacerbate swelling.
Remember, it's always a good idea to consult directly with your dermatologist or aesthetic specialist for any personalized post-care recommendations. They can provide guidance tailored to your specific needs and procedure details.
WHAT ARE THE SIDE EFFECTS AND DOWNTIME FOLLOWING SKIN BOOSTERS?
Skin booster treatments offer the advantage of minimal downtime, with most patients able to swiftly return to their daily activities. Nevertheless, certain side effects, although generally temporary, can be expected:
Mild Swelling: After the procedure, some swelling at the injection sites is typical. This usually diminishes within 24 to 48 hours.
Redness: A temporary flush or redness in the treated areas is a common immediate reaction, which typically dissipates within a day.
Bruising: Some individuals might experience bruising, especially if they are prone to it. While it can last for a few days, makeup can be used to conceal it after the initial 24 hours.
Tenderness: The treated area can feel sore or tender for a day or two post-treatment.
Welt-like Appearance: For several hours after the treatment, the skin might display a welt-like appearance due to the superficial microdroplet delivery. This is a normal reaction and typically resolves within a few hours, leaving the skin smooth.
These side effects are generally short-lived, and the actual "downtime" – when one might prefer to stay away from social events or work – is minimal to none.
WHAT IS THE DURATION OF THE SKIN BOOSTER APPOINTMENT?
The skin booster treatment is relatively swift, and designed to offer rejuvenation without consuming much of your day. Typically, an appointment lasts anywhere from 30 minutes to an 1 hour. The exact duration hinges on several factors:
Treatment Area: Larger or multiple areas may require more time than a single, smaller region.
Technique Used: Depending on the specific product and the patient's needs, the technique or injection pattern might vary, influencing the appointment duration.
Patient's Comfort: The practitioner will always prioritize the patient's comfort. Some individuals might need a little more time, especially if it's their first experience with injectables, to relax and feel at ease.
While the procedure itself is swift, it's advisable to not rush post-treatment and allow some time for any immediate reactions to subside before resuming your day.
TIMING AND LONGEVITY OF SKIN BOOSTER RESULTS
Immediate Improvements: After the skin booster treatment, there's an immediate improvement in their skin's hydration and glow. This is often due to the hydrating properties of hyaluronic acid which brings instant plumpness and luminosity to the treated areas.
Optimal Results: For the full effects of skin boosters, including improved skin elasticity and texture, most patients typically see noticeable results within 2 to 3 weeks post-treatment. This is the time it takes for the hyaluronic acid to fully integrate and draw moisture into the skin, achieving the desired radiant and rejuvenated appearance.
Duration of Results: The longevity of skin booster results varies based on the specific product used, the patient's skin type, and individual factors like lifestyle and skincare routine. On average, the results of skin boosters can last anywhere from 3 to 6 months. To maintain optimal skin quality and prolong the effects, Dr. Schwarzburg recommends periodic touch-up sessions.
WHAT IS THE RECOMMENDED FREQUENCY OF SKIN BOOSTER TREATMENTS?
The frequency of skin booster treatments is tailored to the individual's skin needs, the specific product used, and the desired outcome. Here's a general guideline provided by Dr. Schwarzburg:
Initial Series: For those new to skin boosters, it's often recommended to start with an initial series of 2-3 treatments spaced 3-4 weeks apart. This approach ensures optimal skin hydration and the cumulative benefits of the treatment.
Maintenance Treatments: Once the desired skin quality is achieved, maintenance treatments are typically recommended every 6 to 12 months. This helps to sustain the skin's hydration, elasticity, and radiant appearance over time.
Individual Factors: The exact frequency can vary based on individual factors like skin type, age, and specific skin concerns. For instance, someone with more pronounced skin dehydration might benefit from more frequent sessions initially.
WHAT IS THE COST OF SKIN BOOSTER TREATMENTS IN NEW YORK?
Investing in your skin's health and appearance has never been more straightforward. At Skinly Aesthetics, the pricing for skin booster treatments is transparent and designed to offer value, especially for those looking to commit to multiple sessions for optimal results.
Single Treatment: If you're looking to give skin boosters a try or need a quick refresh, a single treatment is priced at $800.
Package of 2 Treatments: For those aiming for more pronounced and long-lasting results, a package of 2 treatments offers a discounted rate of $700 per treatment, totaling $1,400.
Package of 3 Treatments: For the best value and maximum benefits, the package of 3 treatments is priced at $600 per treatment, bringing the total to $1,800.
These packages not only offer financial savings but also encourage a consistent treatment plan, ensuring that your skin receives the regular boost it needs to look its best.
DIFFERENT TYPES OF SKIN BOOSTERS
Skin boosters, while sharing the common goal of hydrating and revitalizing the skin, come in various brands and formulations. Here are some of the popular types:
Restylane Skinboosters: Produced by Galderma, Restylane Skinboosters (such as Restylane Vital and Restylane Vital Light) use stabilized hyaluronic acid to provide deep skin hydration, improving skin elasticity, and reduce fine lines.
Juvederm SkinVive: Manufactured by Allergan, Juvederm SkinVive aims to improve the skin's quality by increasing hydration, leading to smoother and more radiant skin.
RHA Redensity: From the Teoxane Laboratories, Teosyal Redensity I combines hyaluronic acid with a rejuvenating complex of vitamins, amino acids, and antioxidants. It's designed to both rehydrate the skin and provide essential nutrients.
Belotero Hydro: Merz's offering in the skin booster category, Belotero Hydro is a unique formulation combining hyaluronic acid with glycerol, aiming to improve skin elasticity, firmness, and radiance.
Sculptra: Unlike the typical hyaluronic acid-based boosters, Sculptra is based on poly-L-lactic acid. While it works differently, by stimulating collagen production, it too is sometimes categorized with skin boosters due to its skin rejuvenation effects, even if its primary function is volumization.
Profhilo: This is a bio-remodeling skin treatment that uses one of the highest concentrations of hyaluronic acid. It not only hydrates the skin but also stimulates the production of collagen and elastin.
Each of these skin boosters offers unique benefits and may be more suitable for specific skin types or concerns. It's essential to have a thorough consultation with Dr. Schwarzburg at Skinly Aesthetics, to determine the most appropriate skin booster for your individual needs.
COMBINING SKIN BOOSTERS WITH OTHER TREATMENTS:
Skin boosters offer profound hydration and revitalization benefits to the skin. But when combined with other treatments, the results can be further amplified, ensuring a comprehensive approach to skin rejuvenation. Here's how skin boosters can be paired with other popular aesthetic treatments:
Botox and Neuromodulators: While skin boosters address skin hydration and texture, neuromodulators like Botox target dynamic wrinkles by relaxing specific muscles. Pairing the two ensures a smoother, well-hydrated complexion with reduced lines and wrinkles.
Dermal Fillers: While both fillers and skin boosters use hyaluronic acid, they serve different purposes. Dermal fillers restore lost volume and contour the face, while skin boosters enhance skin quality. Combining them leads to a youthful, plump, and radiant skin appearance.
Fractional Radiofrequency Microneedling: Secret RF and Morpheus8 create micro and thermal injuries to stimulate collagen production. When followed by skin boosters, the increased collagen combines with enhanced hydration for rejuvenated, firm, and glowing skin.
Chemical Peels: After a chemical peel helps in shedding the outer layer of dead skin cells and revealing fresher skin, skin boosters can further enhance this new skin's texture and hydration.
Fraxel Laser Treatments: Following Fraxel Dual Laser treatments, the skin may be more receptive to hydration and nutrients. Introducing skin boosters post-laser can accelerate recovery and optimize results.
Plasma Skin Resurfacing: Hydration provided by skin boosters potentiates this innovative skin resurfacing treatment, which utilizes ionized nitrogen gas leading to better and more pronounced results.
AquaGold: Similar to Skin Boosters, AquaGold provides skin rejuvenation via patented micro-channel delivery of a mix of hyaluronic acid and neurotoxins into superficial skin layers.
When considering combined treatments, it's crucial to ensure appropriate spacing and sequencing to avoid potential complications and maximize the benefits. Expert guidance from professionals like those at Skinly Aesthetics can provide a tailored treatment plan that harmoniously integrates skin boosters with other procedures for optimal skin health and beauty.
REAL EXPERIENCES: BEFORE AND AFTER SKIN BOOSTERS AT SKINLY AESTHETICS
Hearing firsthand accounts often provides the most genuine insight into the transformative power of a treatment. Here are two testimonials from clients who experienced the rejuvenating effects of skin boosters under the expert guidance of Dr. Schwarzburg:
Rebecca, 34: "Before my skin booster treatment at Skinly Aesthetics, my complexion looked tired and lacked hydration. Just one session under Dr. Schwarzburg transformed it. My skin now radiates a glow, feels deeply hydrated, and those subtle lines? They've softened noticeably."
David, 40: "Fine lines on my forehead had always bothered me. After undergoing the skin booster treatment at Skinly Aesthetics, not only did my skin feel more supple, but those lines also seemed to fade. The results were natural, leaving people guessing about my newfound youthful appearance."
WHY DR. SCHWARZBURG AT SKINLY AESTHETICS FOR SKIN BOOSTERS?
In the realm of aesthetics, Dr. Schwarzburg has consistently showcased his dedication to excellence. His deep expertise means patients receive personalized and effective treatments. Emphasizing natural beauty, he delivers results that enhance without overdoing. The unwavering commitment to patient satisfaction at Skinly Aesthetics is further evidenced by a stream of glowing testimonials. Choose Dr. Schwarzburg and experience top-tier aesthetic care. Ready to transform your skin? Schedule your consultation at Skinly Aesthetics today.