Skinly Aesthetics
---
Start your facial and body rejuvenation journey
today!
at Skinly Aesthetics today!
---
Our Office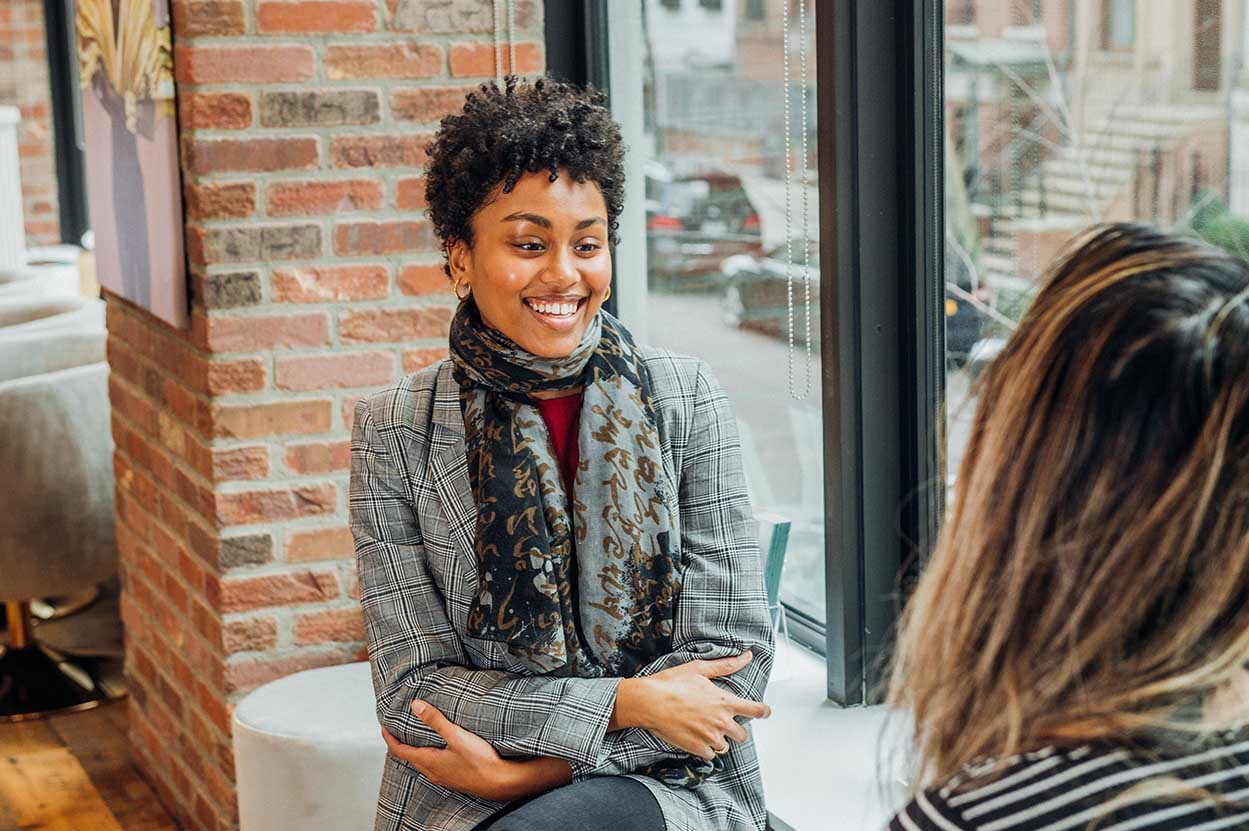 ---
DR. SCHWARZBURG'S GOAL AT SKINLY AESTHETICS
At Skinly Aesthetics our one and only goal is to ensure you get the latest and most advanced skin and body treatments to keep you youthful and naturally beautiful! Whether it is a few fine lines on your forehead that make you look angry, unwanted facial volume loss that makes you look constantly tired or fullness around your waist Dr. Schwarzburg will provide you with the best solutions in the safest environment!
WHAT DR. SCHWARZBURG OFFERS
Skinly Aesthetics, run by Dr. Schwarzburg, is the #1 destination in New York City for all your rejuvenative and restorative needs!
When you join club Skinly you will have industry's best tools at your disposal to maintain and restore your beauty through a series of minimally invasive and quick procedures for your body and face.
---
THE HOTTEST TREATMENTS AT SKINLY AESTHETICS
BABY BOTOX
Baby Botox is one of the most popular procedures at Skinly Aesthetics and is suited perfectly for those patients who are trying out Botox for the first time or those who want to preserve facial expressions but still to keep lines and wrinkles under control.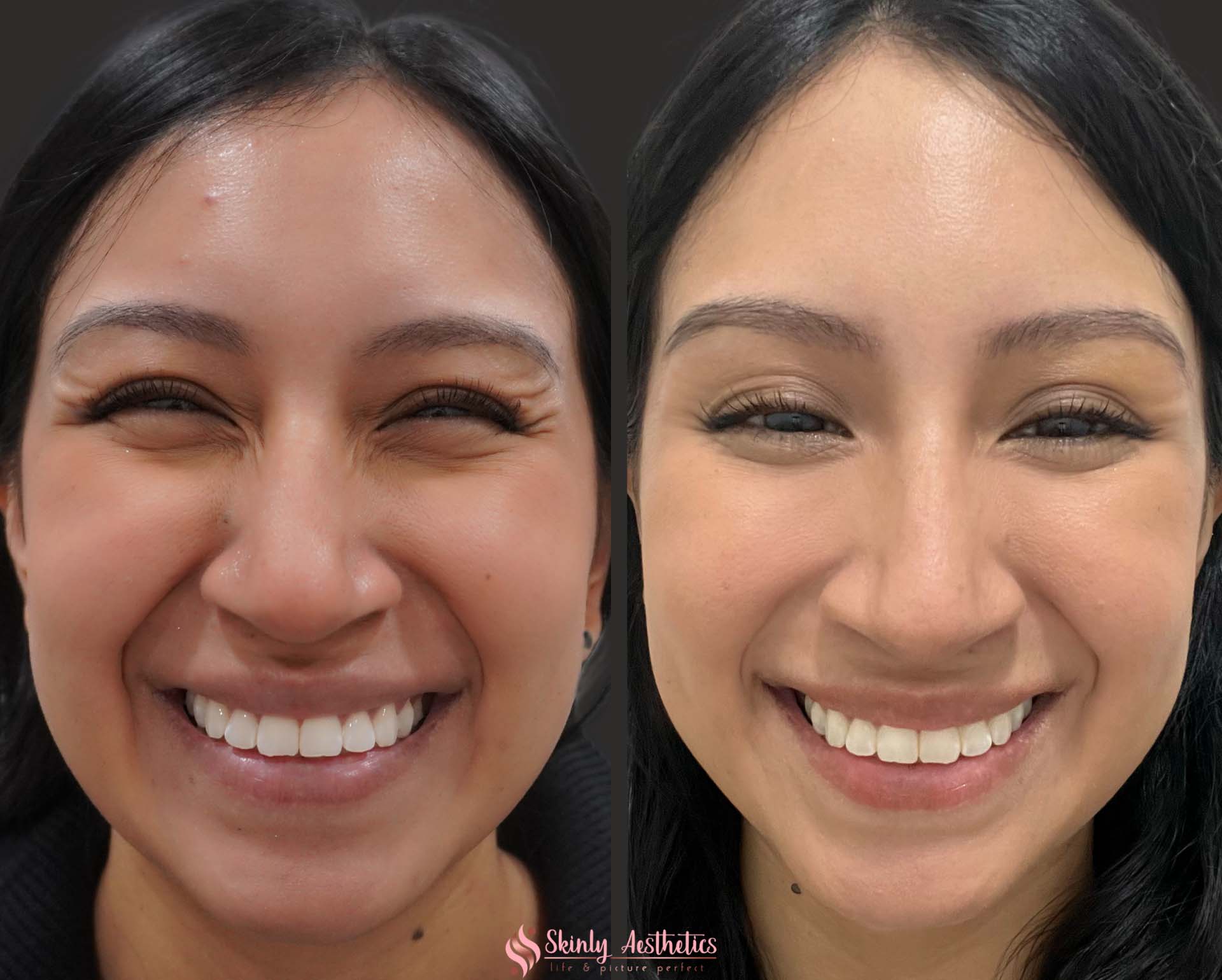 LIP FILLER
Lip fillers have become an indispensable lifestyle attribute of the current generation. Whether you have thin lips or want to enhance your lips to achieve that perfect pout Dr. Schwarzburg is the ultimate expert when it comes to lip injections. He patented various techniques that allow for achieving a perfect shape that looks natural and is not overdone.
RUSSIAN LIP FILLER
Russian lip technique redefined the way lips are sculpted and shaped. Unlike traditional methods, the filler is injected to enhance the vertical dimension of the lip with an appealing flattening effect. With this technique, the Cupid's bow is accentuated for a perfect pout and the appearance of duck lips is completely avoided. The results are instant and long-lasting.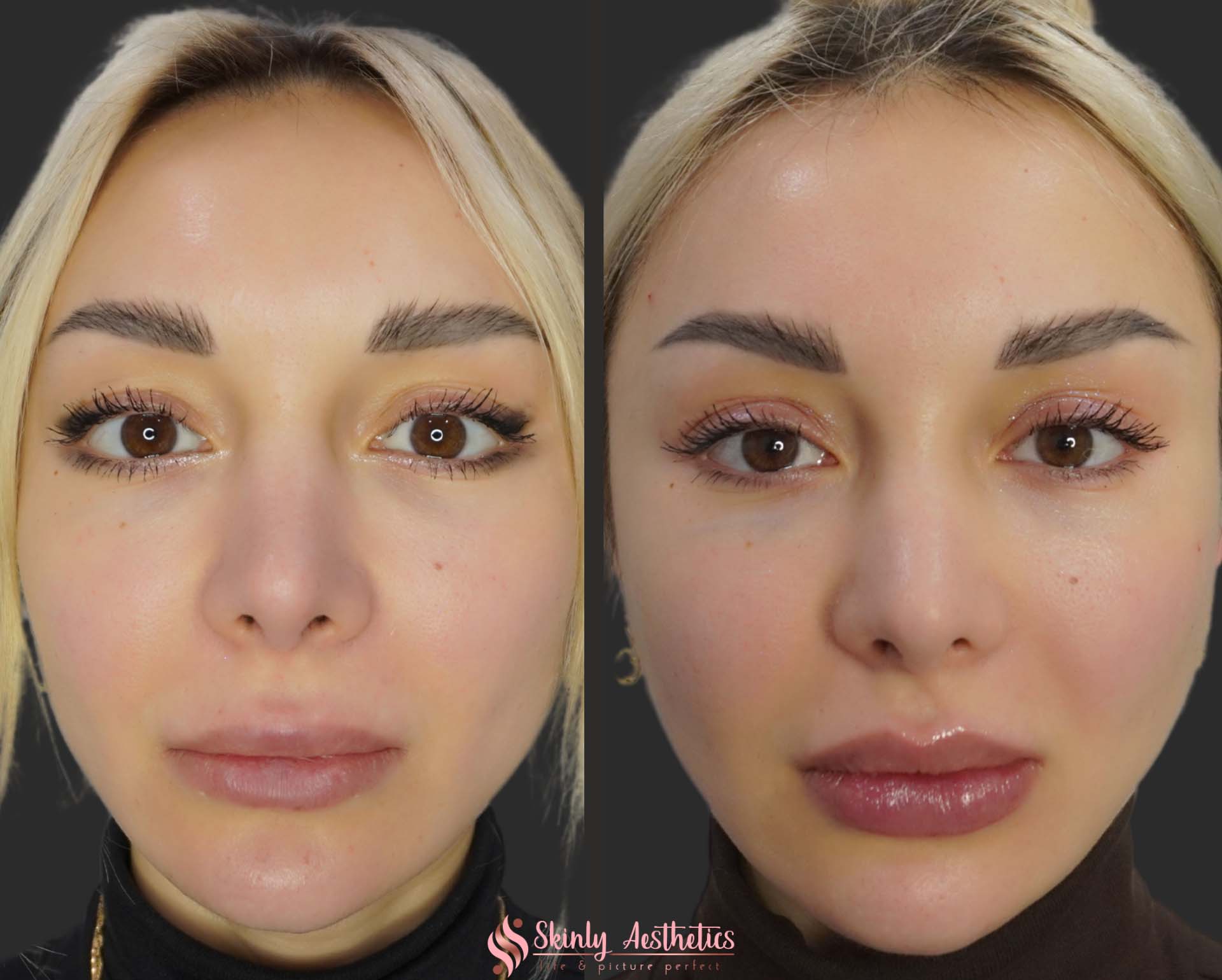 SCULPTRA BUTT LIFT
Whether you have a small butt or lost some volume in your backside over time, Scultpra butt injections are a definitive way to restore the beautiful and attractive shape of your buttocks. Sculptra works to naturally produce collagen under your skin to plump and enhance the area with a natural look and feel. Dr. Schwarzburg is the ultimate authority in Sculptra butt injections in New York with patients flying all over the country and the world to have their buttocks enhanced.
SCULPTRA HIP DIPS
Hip dips are a nuisance many of us have to deal with affecting our confidence and self-esteem. Frequently described as indents along the lateral aspect of the hips they develop secondary to minimal fat deposits and muscle mass in that area. Sculptra in combination with other fillers is a clinically proven way to fill in hip dips. Dr. Schwarzburg is the ultimate authority in Sculptra hip dip injections in New York with patients coming from all over the country and the world to see him for this life-changing procedure.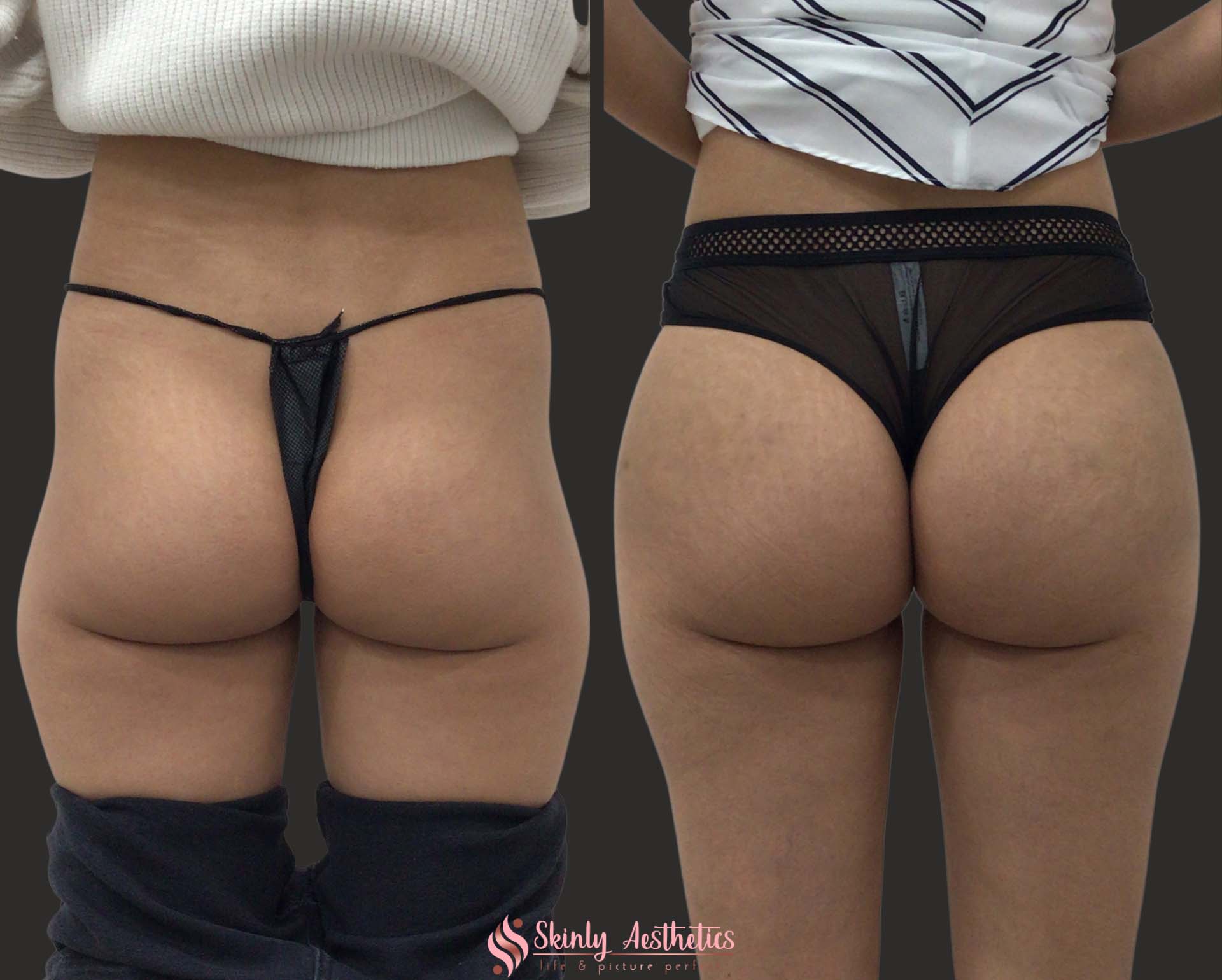 COOLSCULPTING
CoolSculpting has become a gold standard for non-invasive fat reduction without surgery, cuts or stitches. It works through the process of cryolipolysis also known as fat freezing and removes diet and exercise-resistant fat from double chin, stomach, waist, thighs and bra areas. With zero downtime and guaranteed results, CoolSculpting is the undisputed leader in non-surgical fat removal. CoolSculpting results are permanent as long as you maintain a healthy lifestyle following the procedure.
CHEEK FILLER
The aging process, gravity and stress result in the deflated and flat appearance of the cheeks with a loss of a youthful V contour. Dr. Schwarzburg has performed numerous procedures and understands complex anatomy to achieve beautiful and natural-looking results. Cheek filler injections are non-surgical with no downtime and immediate results.
UNDER EYE FILLER
Dark undereye circles are caused by genetics or fat loss in the periorbital region due to stress and aging. Under-eye bags make us look tired and unhealthy. Dr. Schwarzburg is an undisputed authority when it comes to rejuvenating the complex under-eye region. Dr. Schwarzburg consistently achieves perfect results because of his complete knowledge of facial anatomy and the unique properties of fillers used for this procedure. The results are immediate and long-lasting.
PDO THREAD LIFT
PDO thread lift is a revolutionary non-surgical facelift for patients with mild skin laxity. This highly advanced procedure is performed by Dr. Schwarzburg who is an undisputed leader in PDO thread lifting in NYC. Patients love instant results with lifted and tightened skin that immediately makes them look younger and attractive. PDO thread lift is commonly combined with dermal fillers for ultimate facial rejuvenation.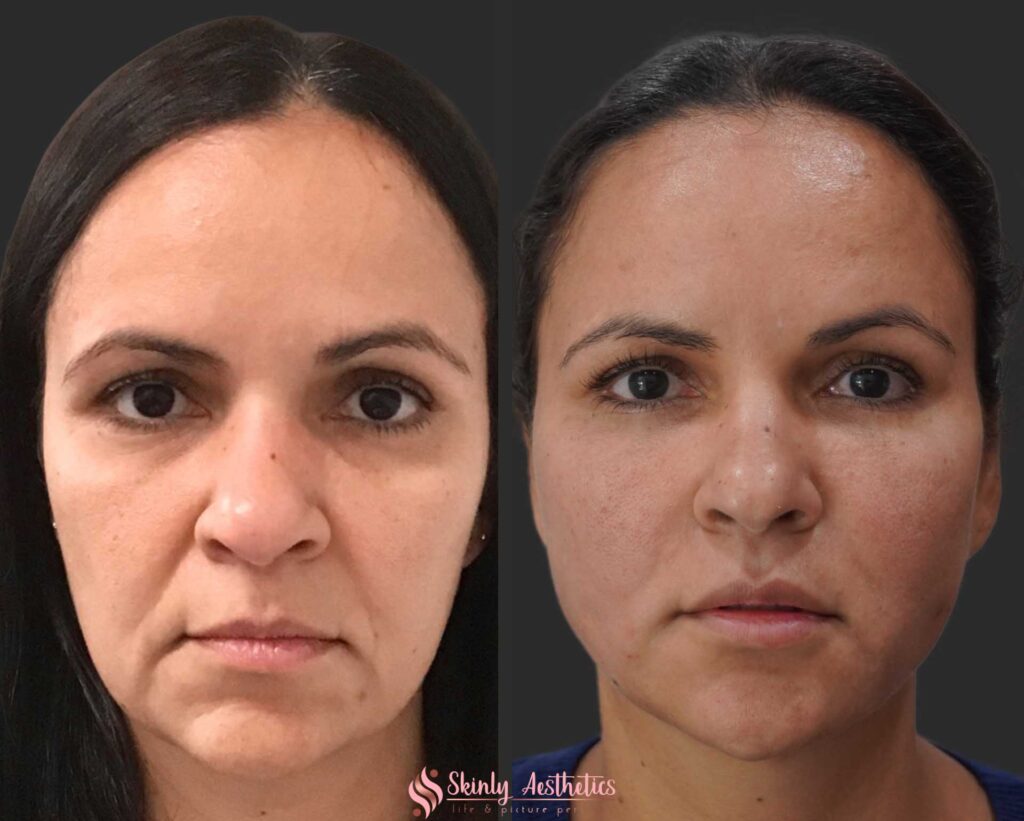 NON-SURGICAL RHINOPLASTY
Non-surgical rhinoplasty is an advanced procedure that allows the correction of nose irregularities and augments the nasal bridge. Nose filler injections are performed by Dr. Schwarzburg to artistically smooth the appearance of a bumpy nose surface or lift the nasal tip for immediate results with minimum downtime.
JAWLINE FILLER
Snatched and angular jawline is all the rage now and there's no better place to get it done than with Dr. Schwarzburg at Skinly Aesthetics. Creating an attractive jawline is both science and art and Dr. Schwarzburg mastered both! Immediate and long-lasting results are an added benefit of jawline augmentation with dermal fillers.
FRAXEL LASER RESURFACING
Fraxel laser is the gold standard in non-ablative skin resurfacing. Fraxel Dual laser targets a myriad of skin issues including dark spots, dull tone, sun damage, fine lines, and acne scarring. Minimal downtime and consistent results make it a go-to procedure to maintain youthful and healthy skin.
FRACTIONAL RADIOFREQUENCY MICRONEEDLING
Secret RF fractional microneedling is a highly effective procedure that causes targeted coagulation of deep dermal and subcutaneous layers resulting in dramatic improvement of skin laxity and crepey skin. Skin tightening after Secret RF radiofrequency microneedling is long-lasting and carries no downtime.
---
I have been a patron of Skinly Aesthetics for 2 years now. I have always loved the services I receive with them! They never try to force services on me.... read more They really listen to my skin concerns and give me the best possible results! I'm a youthful 40-something. I'm not wanting to look 20, but I want to look my best. Skinly Aesthetics and their staff always make me look like the best version of my age and self!!! I always leave there feeling beautiful and supported 🙂

Megan Church


Dr. Schwarzburg is the absolute best! He closely listened to all of my areas of concern and did an exceptional job. I recently had a poor experience so he had... read more to dilute everything and start from scratch. I was so nervous but he was extremely calming and careful to address every minor detail. I couldn't be happier with the end result.

bella zilber


Always so pleased with my visits to Skinly! I never feel pressured to get more than what I'd want, and I trust Dr. Schwarzburg to always give me exactly what... read more I'm looking for. Sarah is also always super responsive and makes me feel right at home when I walk in!

Molly Chaiban


Dr.Schwarzberg has been my cosmetic doctor for several years. He is very knowledgeable and has answers to my questions that other cosmetic offices did not have. i highly... read more recommend him Jimmy of Forest hills. p.s. it is worth the trip in from and outer borough.

jimmy green


Loved the experience I had at Skinly and love the results even more!! Sam at the front desk was so nice and the place was really clean. I got 20... read more units in my forehead- it took less than 5 minutes and no numbing cream was used! It was completely painless. Saw the results within 4 days and then the deep wrinkle that i was targeting was completely gone within 8 days but i can still move my face. I never felt pressured to get more stuff done. Will definitely be going back.

Emily Tankersley


Clean facility, receptionist was super helpful in answering my many questions and setting up the appointment. During my actual appt, Dr.Schwarzburg was educational and friendly, making me feel at ease.... read more Will return! Receptionist also takes your temperature as soon as you walk in as part of COVID precautions.

Deborah Mercado


I have had nothing less than an AMAZING experience here! The office is professional, especially clean, beautifully set up, safe & secure and most importantly of all; sanitary! They take... read more every precaution necessary and beyond to make sure no one gets/is sick. As for my experience with staff and the Doctor; Sarah is amazing. She is friendly, especially knowledgeable & gets back to you [seriously] immediately! Dr. Schwarzburg is awesome! He's professional, friendly, understands the face of each person and can see where and what needs fillers. He is amazing at what he does. As for my experience with my fillers; I first came in on 6/2/20 for a Juvederm Lip filller, which came out WONDERFUL. I was so satisfied and ecstatic about my new look! So as I was told by the Doc and his team, they will be swollen and we'll see the final result within about 2-3 weeks. So about after a month, they settled at just a little bit larger than my original lips (which were very thin to begin with). So I called in with my concerns which Sarah said it happens sometimes where your body basically eats up the filler. So her and the doc consulted and told me to come on in, the Doc was going to generously give me half of a syringe at no cost to me. So I went in and Dr. Schwarzburg ended up giving me an entire syringe of Juvederm Voluma to make sure I left completely satisfied. I would highly recommend ANYONE thinking about getting fillers to go to Dr. Schwarzburg at Skinly Aesthetics. I guarantee you won't regret it. And as for pricing- completely fair pricing, actually I might even say great pricing for the job the Doc does and the hospitality you get while there. Thanks so much Sarah and Dr. Schwarzburg for being amazing and helpful from beginning to end! You guys literally ch aged my life by giving me the confidence I've been yearning for since I was 12 years old. You WILL be seeing me again haha!

ToniAnn Brooks


I have dealt with several hit or miss med spas in NYC and this one is a winner! Dr. Schwarzburg is super professional, mild mannered, and on top of... read more his botox game. The injections are painless and the results truly last longer than anywhere else. He has been my go to for several years now and I have always been happy with the results. The have recently moved to a posh, light-filled office space with all new upgraded equipment. The staff is super friendly and welcoming. I have referred several friends here and theyre always ecstatic with their results as well.

Norbert Peti


I have been going to Skinly for several years now for botox and Dr. Schwarzburg is hands down the best in NYC! The results are natural and not... read more frozen and his botox literally lasts for 4-5 months!! I have been to other med spas where they dilute the product and it starts to fade after a month. Not here! Even though they have recently upgraded their space to a swanky new location, they still offer some of the best prices in NYC. You are treated by a real doctor in a suit, not some technician. Highly recommend!

Jon Barwick


My experience was wonderful! I will use this Dr. for anything I can. The office is clean and bright & Leah one of the receptionists was so helpful and accommodating.... read more 5 star service! Can't wait to come back

marissa sabatelli


I had a terrific experience at Skinly with Dr. Schwarzburg. He is a great listener and took time to go through all the questions that I had about the procedures,... read more results and outcomes. My injections turned out so beautifully natural I can't believe it's real. I will be coming for other procedures too!

Victoria Mccann


What a pleasant experience going to this office. I've been wanting to find a new cosmetic practice for a while. Chose Skinly on a whim and couldn't be happier. Aside... read more from an incredible personality and bedside manner, the doctor really knows what he's doing and is extremely meticulous. Also, he doesn't suggest things you don't need simply to make a sale. He's extremely straightforward, as well as selective in what he does. Can't wait to come back!

Tay Der


I got lip fillers for the first time a few days ago and I am OBSESSED! sarah the receptionist made me feel so at ease because I was so nervous... read more before. I stressed how I didn't want a fake or "duck" look and Dr. Schwarzburg did a phenomenal job! The swelling and bruising finally went down after a few days and I have the most natural beautiful look ever. 10/10 would recommend and will definitely be going back in about a year for more. The office was very clean and they were also very cautious with COVID. I felt so safe and secure and my results are AMAZING!!!!

Anna Benvignati


It's not easy to find a Dr to trust, but I've had great results every time. Staff is efficient and welcoming. I highly recommend!

Rani Balsamo


I cant express how happy i feel when i come to this place! The doc is super professional with his work and until is not perfect wont give up untill... read more he succeeded his final result even if he adds on his behalf, Leah is also very attentive, nice and professional with her suggestions!! Wont stop coming here! 3rd time, and im happy with EVERYTHING! Don't doubt coming

Amanda Garcia


We called very last minute to get in and the receptionist and the aesthetics nurse made an effort for us to stay open and squeeze us in last minute. They... read more price matched our Groupon for us as well. After a few days my face is looking wonderful! They did a great job and were incredibly friendly. My friend and I went together and they kindly let us have the experience together and we were so grateful!

Samantha R Olmsted


I had a wonderful experience at Skinly Aesthetics! My best friend and I called last minute and the receptionist Leah went above and beyond to fit us into the schedule... read more before closing. Even weeks after treatment she followed up with me and made sure things were going well! This was my first time receiving treatment and I appreciated the doctor listening to my concerns and treating the areas. Thank you to the whole staff for your professionalism and letting my first experience with my best friend absolutely SUPERIOR!!

Antonia Marice Sotto


My experience at Skinly Aesthetics has always been top-notch. The staff and doctor are absolutely professional and are always kind and helpful with any of my questions. I'm so glad... read more I was able to find this place and they are super responsive with making appointments. I highly recommend coming here - you will not be disappointed! 🙂

Michelle Song


My thin lips always made me feel insecure, but I was scared of injections as I thought they were painful and would look unnatural. I came along MiracleFace as I... read more was researching my options and was impressed with their before and after lip filler gallery. I decided to give them a try and wasn't disappointed! After a few days of swelling and minor bruising my lips looked gorgeous without anyone realizing what was done to them. They absolutely looked stunning and natural. I waited a few months to write this review to make sure results were lasting and they definitely are. I wholeheartedly recommend them for lip injections!

Yana Zalukin


I loved my visit. Everyone was so friendly and made me feel very comfortable. The office is beautifully decorated and my results were amazing. My forehead wrinkles have disappeared!

Murphy McVey


Such a great experience! I highly recommend this place. Everyone is so friendly, and listened to my needs/gave me exactly what I asked for. I'll be returning! Excellent, 5/5.

Grace Kellogg


Highly recommend if you're considering Kybella! The facility is very modern and clean; and kudos to the doctor for putting at ease throughout all of the injections. Would happily return... read more for future services.

Devon Ivie


I was very impressed with my filler experience at Skinly. I just turned 40 and noticed how my face sank overnight. All of my friends have been doing this for... read more a long time, but I was always scared of the needles and how they would change me. But I trusted one of my friends who's been a client at Skinly for a long time and decided to move forward. I have absolutely no regrets. I haven't looked that good in a decade! Everything is natural and everyone thinks I'm rested and just came from a vacation. I'm hooked and can't imagine my life without these injections now!

Tracey Peters


Unparalleled experience with lip fillers at Skinly. Dr. Schwarzburg used his custom technique to create a beautiful upper, which nobody was able to do before that. It looks 100% natural... read more and so beautiful. Will return and definitely recommend to my friends!

Theresa James


This is one and only place I would ever go to for any injectables. Dr. Schwarzburg was very thorough with his assessment and had fully explained to me what I... read more should expect from the procedure. The results were actually much better than expected and the nose hump that I had is now gone all because of his great injection technique. I already recommended a few friends.

Anna Berry


Incredibly pleasant office and staff. Cannot recommend the doctor enough. He is super knowledgeable, honest, kind and most importantly, talented!

taylor segal


This place is the best! The staff is super nice and my lips look amazing! Will definitely be back!

Sarah Kagasoff


I'm new to medical aesthetics, and it was long overdue. I was always scared of needles and any change to my face, but the time has finally arrived, when I... read more just could look at my soggy face... I tried to find a place where I could do all the things that were necessary. I'm so happy I found Skinly! I had a few things done with them and the most life changing was PDO threads. My face is still my face but many years younger looking and absolutely natural. I told all my friends about them!

Miranda Boyle


Cheers from CATALINA - Great spa and great services; As well as awesome treatments they offer! Dr Schwartzburg is a really funny guy and has a great sense of humor! -CATALINA

Catalina Burma DR


Dr. Schwarzburg is a very polite and knowledgeable doctor. He had done my tear trough and check filler. He also does my sisters as well. She swears by him, and... read more so I went in for both treatments and was def satisfied! He is very skilled, and knows what he is doing. I don't trust many people with the tear trough procedure, but I trust him. I'll be back again for more treatments! Thank you!

Anna Bella

Get Best Deals In Your Inbox!
---
FINANCING OPTIONS AT SKINLY AESTHETICS